---
McDonald's Accuses Former CEO Of Lying And Fraud In Lawsuit Seeking To Clawback Comp
As major corporations burn billions of dollars on "virtue-signaling" to avoid being targeted by the 'cancel culture' mobs, McDonald's is apparently trying to offset some of these costs by going after compensation it already paid out to former CEO Steve Easterbrook, who was abruptly fired over an "inappropriate" relationship with a subordinate.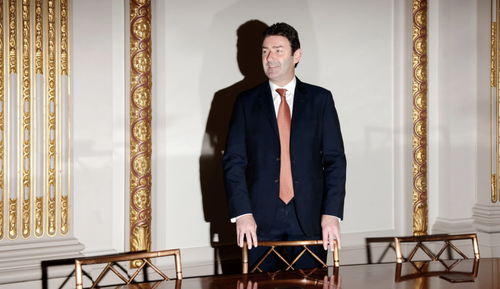 Back in November of last year, McDonald's fired Easterbrook then released a statement claiming the CEO "violated company policy and demonstrated poor judgment involving a recent consensual relationship with an employee." He had allegedly been caught "sexting" with the other employee. We speculated at the time that McDonald's press release, which verged on shaming Easterbrook over what was admittedly a consensual relationship, had been crafted by Easterbrook's boardroom enemies to make an example of the CEO, whose initiatives to change up the menu by adding all-day breakfast boosted sales, but clearly ruffled some feathers. Easterbrook was also removed from the board.
But according to a new securities filing and a lawsuit filed with the Delaware court of chancery, new whistleblowers from inside the company have apparently come forward over the past few months to accuse Easterbrook of having consensual relationships with 3 McDonald's employees in the year before his ouster.
These whistleblowers also alleged that the CEO, who walked away with more than $40 million, awarded a huge grant of shares to one of these employees during their relationship.
The lawsuit filed by McDonald's accuses Easterbrook of fraud by concealing evidence of these affairs from the board and the company on his way out the door. They argue that this information would have impacted negotiations over his exit.
McDonald's filed a lawsuit against Mr. Easterbrook, accusing him of lying, concealing evidence and fraud.

The lawsuit, filed in state court in Delaware, alleges that Mr. Easterbrook carried on sexual relationships with three McDonald's employees in the year before his ouster and that he awarded a lucrative batch of shares to one of those employees. McDonald's said it was seeking to recoup stock options and other compensation that the company last fall allowed Mr. Easterbrook to keep — a package worth more than $40 million, according to Equilar, a compensation consulting firm.
The lurid allegations are reportedly backed up by "photographic evidence". Easterbrook was fired without cause, but the suit seeks to claw back some of the money paid out to him by changing the nature of his firing to "with cause".
Easterbrook's successor, current MCD CEO Chris Kempczinski, has called for a new corporate emphasis on integrity, inclusion and supporting local communities as part of McDonald's "core mission".
"McDonald's does not tolerate behavior from any employee that does not reflect our values," Kempczinski wrote in an internal memo reportedly shared with the NYT. "As we recommit to our values, now, more than ever, is the time to lean in to what we stand for and act as a positive force for change."
With the lawsuit, McDonald's joins a handful of companies that have aggressively sought to deny compensation to CEOs over #MeToo-related indiscretions. Perhaps the most similar case is that of former CBS Chairman and CEO Les Moonves, who was denied his $120 million retirement package over allegations he interfered in an internal company probe. That dispute is now in arbitration, according to the most recent media reports.
During the internal probe, Easterbrook assured investigators that he had never engaged in a sexual relationship with an employee, and alleged that the "sexts" with the still-unnamed fellow employee constituted harmless flirting. However, the notion that "photographic evidence" has been brought to bear against Easterbrook would suggest that he has been caught in a different affair.
However, as the NYT reports, a clause in Easterbrook's contract says that if it can be proved that he should have been fired "for cause", that the company would have the right to recoup Easterbrook's lucrative stock options awarded as part of his retirement package, which the company admitted he was eligible to receive.
But sources inside the company said their internal probe was "insufficient", and that new information, including information taken from Easterbrook's former corporate email account, proves he carried on a physical affair with at least two other employees, and even awarded one of them a block of hundreds of thousands of shares during the affair.
From the NYT:
But McDonald's severance plan, which the company said applied to Mr. Easterbrook, contained an important clause: If, in the future, McDonald's determined that an employee was dishonest and actually deserved to be fired for cause, the company had the right to recoup the severance payouts.

Last month, after McDonald's received the anonymous tip alleging that Mr. Easterbrook had had a sexual relationship with another employee, the company opened a new investigation.

In its review last fall, McDonald's did not thoroughly search through Mr. Easterbrook's email account; the company's outside lawyers had only looked at messages that were on his company-issued mobile phone. And Mr. Easterbrook, according to McDonald's lawsuit, had deleted certain emails from his phone.

This time, McDonald's said, its investigators conducted a more detailed search, and in Mr. Easterbrook's email account they found evidence of him carrying on sexual relationships with three employees in the year before his firing.

"That evidence consisted of dozens of nude, partially nude, or sexually explicit photographs and videos of various women, including photographs of these company employees, that Easterbrook had sent as attachments to messages from his company email account to his personal email account," McDonald's said in the lawsuit. The company said the emails were sent in late 2018 and early 2019.
This doesn't look good. And whether the company succeeds in clawing back Easterbrook's money could have important ramifications for how companies deal with C-Suite "misconduct."
To sum up: For a company that invented the slogan "you deserve a break today," it clearly doesn't feel inclined to cut any slack to the CEO who revitalized its lagging stock with fresh ideas and all-day breakfast.