---
New Robinhood Traders Are Getting Their Stock Market Education From TikTok "Rattlesnakes"
In what is undoubtedly an egregious case of "the blind leading the blind", new Robinhood traders are now getting their investing education from TikTok influencers who are - needless to say - not investing professionals.
Not only are many TikTok influencers that talk market not investing professionals, some of them aren't even out of college yet. But this hasn't stopped new traders from flocking to these videos, aimed at rookie traders, a stunning new report from Bloomberg notes. 
Like Errol Coleman, for instance - a TikTok influencer with 158,000 followers that can be found explaining thinks like support and resistance on his channel. "We already know this is a resistance, because it tried to push up and got rejected," he says in one of his videos. Crafty advice, Errol. Thanks.
But the demand for these types of how-to videos is "off the charts". Videos that use the hashtag #RobinHoodStocks have more than 3.1 million views and Coleman is the head of the pack. He is a senior at Adams State University studying business marketing.
The Robinhood crowd couldn't be happier getting their answers from their "peers", Bloomberg notes. Ben Pryor, a 22-year-old influencer, said it "makes other people feel like, 'hey, I can do this stuff too.'"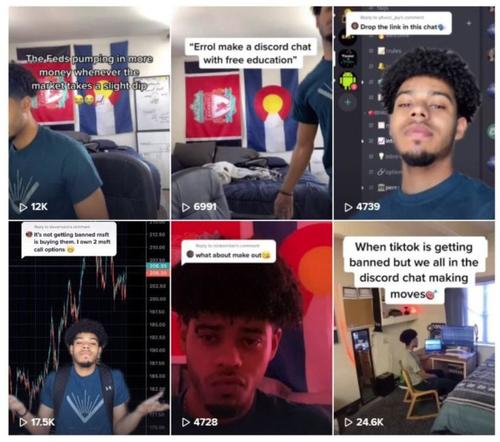 Pryor has 109,000 followers on TikTok. Among them is Sam Masten, a first year student at NC State University, who said learning about the market has made him "way more involved in the news and what's going on in the U.S. than I was before."
Pryor has at least learning one valuable lesson: the less stocks you recommend, the less trouble you can get in. He told Bloomberg: "I tell them, I can't predict the future -- you're entitled to make your own decisions."
But it isn't all fun and games for everybody - the influx of new traders is upsetting some who have been in the business for years. Brad Klontz, a psychologist and certified financial planner said: "What I saw was a bunch of people telling people what stocks to buy, and this was directed at young, impressionable, middle-class people who were just like me -- desperate to try and improve their situation."
John Stoltzfus, chief investment strategist at Oppenheimer & Co. is similarly worried, "especially for people who are novices and don't understand the ramifications." 
He said of the TikTok influencers: "It's like a rattlesnake in the garden. If there's a rattlesnake in the garden, you better not go in there barefoot."
But in addition to pumping their stock picks, there's money to be made as an influencer. YouTube ads can provide income for some users and some influencers, like Pryor, chart $10 for an educational course. 
Maybe the TikTok ban in the U.S. isn't looking like such a bad idea after all.
4 requests this week for "hey I want to start trading, can you help me?" Just sending this to everyone. Also everyone should (re)read Panic by Michael Lewis pic.twitter.com/YxLBvY7No9

— ArtkoCapital (@ArtkoCapital) August 23, 2020