---
401(k) Millionaires Surge To Record Level Under Trump
A Fidelity Investments press release on Thursday said the number of customers with more than $1 million in their 409k  401k soared to record levels in 4Q19 fueled by higher savings rates and surging stock markets. 
There's a reason why President Trump touted 401k growth during his State of the Union address last week, because balances are increasing, and it will help him win the election. 
Fidelity noted that 401k millionaires soared last quarter, reaching a record level. Customers with the brokerage house that have over one million dollars in their 401k hit 233,000, up from 200,000 in Q3, a 17% jump M/M.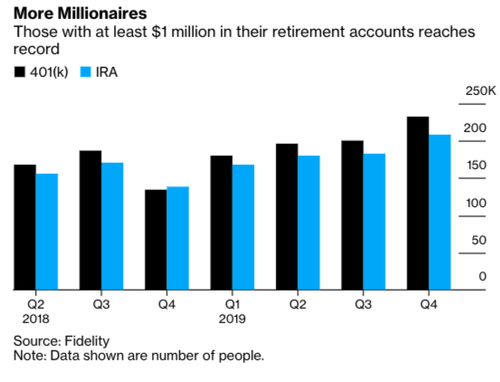 The number of IRA millionaires increased to 208,000, also a record high and an increase from 182,400 in Q3. 
All of these new 401k and IRA millionaires were created through President Trump's pressure on the Federal Reserve to unleash easy money policies to boost the stock market.
And, of course, as we all know, JPM's drain of liquidity via Money Markets and reserves parked at the Fed promoted a liquidity crisis that resulted in "Not QE," which allowed even more liquidity to flow into the stock market starting last September, the same period when all of these investment accounts soared in value. Coincidence?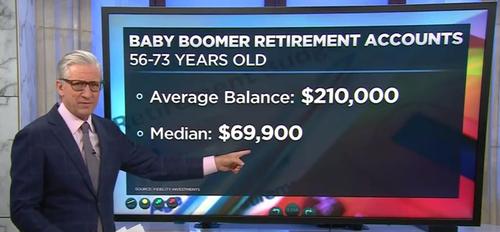 Kevin Barry, president of Workplace Investing at Fidelity Investments, noted in the release that "growth in savings levels over the last 10 years demonstrates the positive impact of taking a long-term approach to retirement, and recent Fidelity research demonstrates workers who do so have reason to feel increasingly confident about their retirement readiness."
"However, as we enter a new decade and continue to see markets rise and fall, it's more important than ever to remember some of the important elements of a successful retirement strategy – these include maintaining positive savings habits, ensuring your account has the right balance of stocks, bonds, and cash, and continuing to focus on your long-term savings goals," Barry added.
Sven Henrich via NorthmanTrader.com recently discussed the topic of soaring investment accounts, called it: "FOMO by executive order I called it."
Every chance Trump gets, he tweets or tells everyone that their 409k 401k is performing great. 

Raoul Pal of Real Vision had a good take on it:
The irresponsiblity of this, telling the average person to take more risks this late in the cycle is simply staggering, regardless of what the markets do. To make them think a 50% return is low lacks any fiduciary responsibility. This is worse than the Greenspan housing comments. https://t.co/UqrFbYmoXM

— Raoul Pal (@RaoulGMI) January 9, 2020
It seems that the Fed's easy money policies over the last year, juicing markets to all-time highs, could be a vote of confidence by the central bank to get Trump reelected.