---
Short-Sellers Help Lead Surge In SEC Whistleblower Tips
In addition to publishing scathing reports about companies they suspect of wrongdoing, short sellers are also taking their findings to the Securities and Exchange Commission's whistleblower program.
After publishing reports, short sellers like Carson Block of Muddy Waters Research, Kyle Bass and Nate Anderson of Hindenburg Research often share their findings with regulators, a new report from Bloomberg says.
Should the Securities and Exchange Commission conduct an investigation and impose a fine, a short seller could be eligible to receive a maximum of 30% of the collected amount. This potential reward is in addition to any gains they may realize from their bet on the stock's downturn.
The SEC's whistleblower program is open to everyone, including short sellers, company insiders, and even casual online investors, the report notes.
The allure of this program is evident, with more than 18,000 formal tips received in the fiscal year 2023. To put this in context, this annual figure is twice the sum of all enforcement actions undertaken by the SEC in the previous decade.
The Bloomberg report notes that tips submitted from short-seller research may offer the SEC an early advantage in investigations, but they also may present complex perceptual issues.
Despite the valuable insights they provide, some within the SEC feel uneasy about utilizing information from short sellers, even as it sometimes proves instrumental in significant cases, the report says.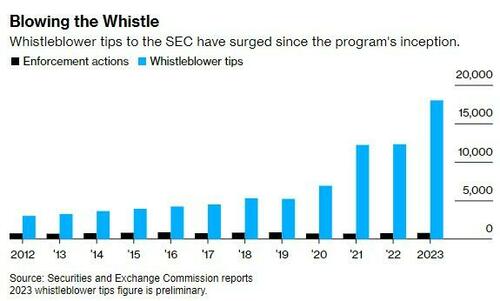 Alexander Platt, a University of Kansas law professor, told Bloomberg: "The center of gravity in this program is shifting to short sellers. I think the taxpayers should know when $14 million of our money goes to Carson Block."
Bloomberg says that Block received a $14 million reward for one of his contributions, a portion of the over $1.3 billion the SEC has distributed in more than 300 cases since the inception of the program in the previous decade.
Block started providing tips shortly after the program's launch. In 2022, he earned the $14 million for a tip about Focus Media, a Chinese media company. In 2015, Focus Media and its CEO settled an SEC investigation related to insider dealings for $55.6 million, neither admitting nor denying the SEC's allegations. The SEC acknowledged that the investigation was largely initiated based on Block's research.
Block responded: "Many of the really good external fraud detectives are short sellers. If you want the whistleblower program to be open to external whistleblowers, you have to be open to short sellers and can't discriminate against them."
Nathan Anderson of Hindenburg Research says he has submitted tips since 2014. He says he prefers to submit tips before he publishes a report. He sends them in where "we suspect fraud," he said. "We can identify red flags and high-level evidence of fraud, but as an outsider we can't subpoena or compel the information needed to finish an enforcement-ready investigation."
Christian Lamarco, who runs Culper Research added: "There's so little incentive now to root things out, so if you're providing that, that's a good thing."
You can read Bloomberg's full writeup here. 
Loading...