---
Small Firm Bust Accelerates As Bankruptcies Soar In September 
Policies promoted by the White House and the Federal Reserve to support small firms have been widely insufficient as bankruptcy filings are back to levels not seen since the dark days of the virus pandemic, according to Bloomberg, citing a new report via bankruptcy court data firm Epiq AACER.
At least 620 companies filed for Chapter 11 protection in the first 25 days of September, a 48% increase over the same period last year. Bankruptcy filings in June and July saw 609 and 644, respectively. 
Chris Kruse, senior vice president at Epiq, said, "we're seeing a continued strong flow of Chapter 11 filings in September, consistent with what we saw in June and July," adding that "they range from businesses with small footprints to high street retailers."
Fed Chairman Jerome Powell has admitted the Fed's lending program for smaller businesses has been challenging. 
 "Trying to underwrite the credit of hundreds of thousands of very small businesses would be very difficult," Powell said.
As a result, most of the Fed's liquidity flowed to mega-corporations while smaller ones were shut out, leaving them widely exposed to bankruptcy as a fiscal cliff, which started on July 31, has ravaged small firms and households for the last two months.
With Republicans and Democrats still far apart on agreeing on the next round of economic stimulus, downward pressure on small firms and households will continue. The failure to pass the next stimulus bill, in a timely fashion, could result in a double-dip recession. 
Deirdre O'Connor, managing director of corporate restructuring at Epiq, said, "we will continue to see filings for companies that had been the most disrupted by Covid and are operating in a zero revenue environment." 
Data compiled by Bloomberg shows 193 bankruptcy filings year-to-date of companies with more than $50 million in liabilities were recorded for the first nine months of the year. If filings continue to accelerate into fall/winter, then this year could rival the 271 high, recorded in 2009.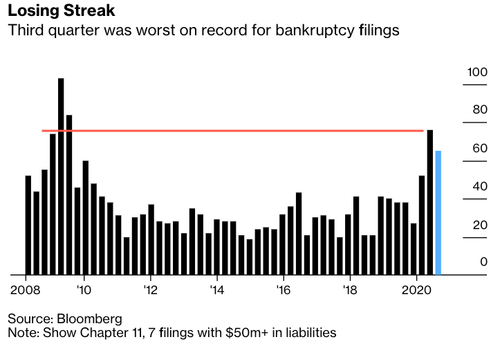 For more color on small firm health nationwide via high-frequency data, we turn to Opportunity Insights' Economic Tracker of the percentage change in the number of small businesses open as of Sept. 13, suggesting nothing but disaster for mom and pop shops ahead of the fourth quarter.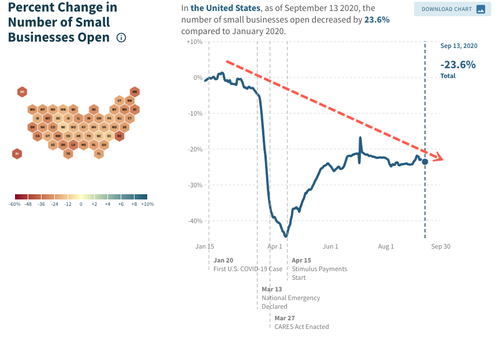 We noted in early September how seasonal shifts to colder temperatures would make it extremely challenging for restaurants, clubs, and entertainment venues to serve patrons in outdoor spaces.
With consumers spending less and steering clear of brick and mortar retail stores because of the virus pandemic, the second round of the economic crash could be dead ahead. Stimulus and reopenings of the economy have proven worthless as the small business bust could erupt further in the fall/winter. 
As a reminder, small firms are the lifeblood of the economy, without them, there can be no "V" shaped recovery.