---
French Banking Giants SocGen And Natixis Oust Execs After Massive Q2 Losses
While U.S. banks seemed to have no issues reporting sold earnings a week ago on the backs of stellar trading revenues offsetting a bad debt-driven plunge in net interest income, France's largest investment banks - Societe Generale SA and Natixis SA - posted giant losses.  SocGen posted a second quarter loss of 1.26 billion euros, its worst since 2008 when Jerome Kerviel nearly blew up the bank's trading desk. SocGen's crosstown neighbor, Natixis, posted a 57 million euro second quarter loss.
As a result, both banks have seen top executives pushed out.
SocGen CEO Frederic Oudea pushed out two of his top executives on Tuesday, including his head of investment banking, "just hours" after Natixis' Board of Directors pushed out CEO Francois Riahi, according to Bloomberg. 
The oustings show that not every bank in the world is dealing with the pandemic induced recession well. Much of these two banks' losses came from structured derivative products, prompting what Bloomberg calls the "personnel moves". The losses come in stark contrast not only to U.S. banks, but to overseas peers like BNP Paribas, who posted great results in its last quarterly report.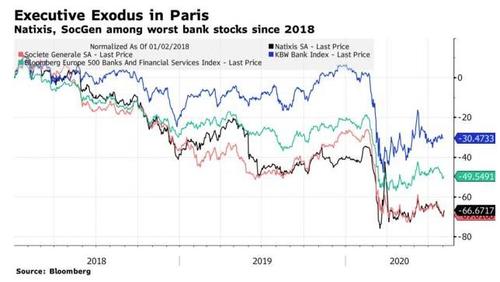 Jakub Lichwa, a credit strategist at Royal Bank of Canada in London, said: "Management change looks to me like a knee-jerk reaction at this stage that will obviously not address immediately the composition of the business. As with all restructurings, there will be more costs and uncertain outcomes."
Shares of SocGen responded by climbing 5% in Paris while Natixis rose 8.5% as a result. Each bank is down about 66% over the course of two years, outpacing a 44% drop for the Bloomberg Europe 500 Banks and Financial Services Index.