---
Stock Buyback Monster Apple Commits To Invest $430BN In The US Over Five Years
The company that has repurchased more stock than any other corporation in the history of the world, Apple, buying back a whopping $67BN in 2019 alone, appears to be preparing to unleash another tidal wave of stock buybacks which explains why it is busy engaging in virtue signaling diversions this morning, when three years after its initial pledge to invest in the US, it recommitted this morning to plunking billions more into the US over the next five years, and now expects to spend $430BN by 2026, a 20% increase compared to its initial estimate.
The iPhone maker - which was quick to note that it is the largest taxpayer in the US and has paid almost $45 billion in domestic corporate income taxes over the past five years alone, or about 20% of how much stocks it repurchased - will create 20,000 new jobs in innovative fields like silicon engineering and 5G technology across the country - or roughly how many part-time jobs each new Amazon warehouse creates - and fund a new campus in North Carolina, the company said in a statement Monday.
"At this moment of recovery and rebuilding, Apple is doubling down on our commitment to U.S. innovation and manufacturing with a generational investment reaching communities across all 50 states," said Chief Executive Officer Tim Cook.
"Apple today announced an acceleration of its US investments, with plans to make new contributions of more than $430 billion and add 20,000 new jobs across the country over the next five years. Over the past three years, Apple's contributions in the US have significantly outpaced the company's original five-year goal of $350 billion set in 2018. Apple is now raising its level of commitment by 20 percent over the next five years, supporting American innovation and driving economic benefits in every state. This includes tens of billions of dollars for next-generation silicon development and 5G innovation across nine US states."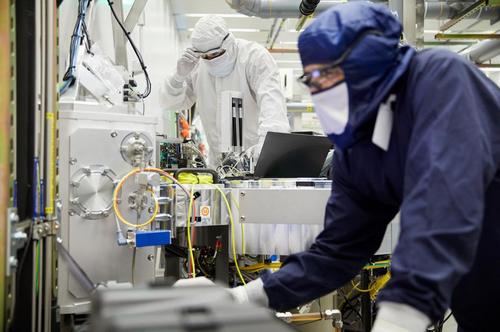 In the past three years, Apple's investments have outpaced its original five-year goal of $350 billion in investments set in 2018 although it wasn't clear just how much it has actually invested, with the bulk of this capital likely spent on the company's new UFO-like headquarters.
As part of its expansion, Apple plans to invest more than $1 billion in North Carolina to build a new campus and engineering hub in the Research Triangle area. The investment will create at least 3,000 new jobs in machine learning, artificial intelligence, software engineering, and other advanced fields.
According to the release, Apple supports more than 2.7 million jobs across the country through direct employment, spending with US suppliers and manufacturers, and developer jobs in the thriving iOS app economy.