---
Stocks Are "Overbought And Frothy" Warns Wall Street's Most Accurate Analyst
Two weeks ago we dubbed Morgan Stanley's Michael Wilson, the bank's chief US equity strategist, Wall Street's most accurate forecaster. Here's why:
Over the past year, Morgan Stanley's Michael Wilson has done something virtually none of his colleague have been able to do: he called market moves correctly before they happened and also timed the market's inflection points with uncanny precision: turning bullish at the depths of the March crisis, when most of his peers were apocalyptic, then remaining bullish until just over a month ago, when he warned "brace for a very difficult trading environment over the next five weeks" - which followed with the early September tech dump - and then two weeks after he again correctly predicted that US stocks were due for their second 10% correction in as many months as "investors were a bit too complacent on the uncertainty surrounding the election outcome, unlikely passage of a fiscal stimulus before the election and second wave of Covid-19", the S&P 500 has indeed fallen 9% while the Nasdaq and Russell 2000 have fallen 10% and 7%, respectively.

He was, again, right.

Then, at the start of November, he reversed his bearish bias, when as we reported he predicted that "the correction we expected is now mostly finished and adding to equities on further weakness this week is recommended."

Since then, the S&P is up +13.5% to a new all time high, the Nasdaq is up +10.8% also to a record high, and after today's Pfizer news, the Russell has exploded 16% higher.

In short, he was right again.
As we also pointed out, just ahead of the "Pfizer vaccine" news,  Wilson said he remained a "committed bull" even though the S&P had broken above his price range of 3,150 to 3,550, it appeared clear that most of the "good news" associated with a covid vaccine has been priced in. That did not prevent stocks from continuing to rise as they shifted their attention away from covid vaccines to the fiscal stimulus debate in Congress where a targeted deal now appears imminent.
Wilson, however, was not impressed, and cautioned that in the last few remaining weeks of 2020 he saw the risk of yet another drawdown in stocks, which would be the third 10% correction since September. This will be catalyzed by the market's realization of the "bad news" that "the vaccine won't be ready for mass distribution for another 3-4 months as case counts and deaths increase." Still, once this small correction is in the rearview mirror, which perhaps may even trigger additional Fed easing during the Dec FOMC meeting when the Fed is expected to extend the maturity of its TSY purchases, Wilson remains "a steadfast bull on a 12-month view in terms of both the earnings outlook and the market."
Wilson's most important point, as we discussed two weeks ago, is not that stocks may or many not dip before grinding higher, but his conviction that rising 10Y yields will hit tech stocks and other equities with record-high duration, while propping up cyclical and value names...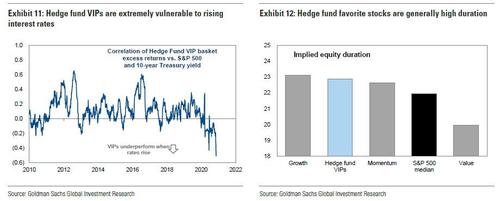 ... to wit: "With our economists forecasting 7.5% nominal US GDP growth next year, a 1% 10-year Treasury bond looks awfully mispriced on a 12-month view. This has implications for equity valuations, especially longer-duration ones like the Nasdaq and S&P 500. Conversely, shorter-duration cyclical stocks should get a boost from better growth and higher interest rates – hence the rotation we have been witnessing in the equity markets from the Nasdaq to the small-cap Russell 2000 over the past few months as markets contemplate a full reopening of the economy. We think this rotation has further to go if we are right about the economy and rates."
Since then the 10Y has continued to rise, with the 10Y briefly hitting a post Nov high of 0.96% yesterday before easing modestly on Thursday even as sticky breakevens remained at the highest level in 18 months.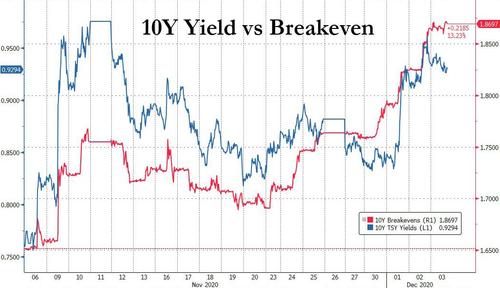 This dynamic, which is precisely what Wilson warned about a month ago, is why the Morgan Stanley strategist appeared on BBG TV overnight, again warning that equities are overbought and at risk of a correction after their recent surge.
And as he did a month ago, Wilson said that one key risk that most people are overlooking is that Treasury yields continue to march higher, which could create jitters that send stocks lower.
"The market is overbought and the market is probably a little bit overvalued quite frankly because interest rates are finally now starting to catch up," Wilson said on Bloomberg TV adding that "the risk in the market now is that as 10-year yields finally start catching up, we have a valuation reset because stocks are a long duration asset, particularly the U.S. stock market."
Needless to say, so far stocks are ignoring his warning and the risk that higher rates will hit long duration equities and even the Nasdaq is up 25bps this morning. We expect that to change as soon as the 10Y rises above 1.0% in the next few days/weeks.
Finally, as in November, Wilson remains bullish and said any selloff in stocks may be a buying opportunity. "It's gotten a little frothy here in the last couple of weeks," he said. Any correction would be welcome, "because it would make me more comfortable putting additional capital to work."