---
NYC Mayor Says Indoor Dining Will Be Shut In "Next Week Or Two"
Mirroring their response to initial reports about NYC's latest round of school closures, stocks are sliding Thursday following comments from NYC Mayor Bill de Blasio that it's "just a matter of time" before restaurants in the city are forced to close indoor dining once again. Except for this time, they won't be able to rely on outdoor seating to make up for some of the lost revenue.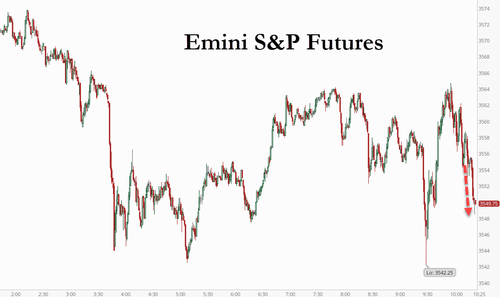 During his morning press briefing, Mayor de Blasio said indoor dining, gyms will likely close in "a matter of time," possibly in the next week or two.
It's just the latest sign that the US, unlike Europe, won't hesitate to shutter schools once again as the holiday approaches. To be sure, there's plenty of data showing schools aren't a major locus of viral spread. In fact, among younger students, the rate of infection can be much less than that of the broader community, though there appears to be some sort of correlation to cases in schools vs. the broader community.
On Wednesday, Gov. Andrew Cuomo had warned that the entire city could be placed into the state's orange-zone category of COVID-19 problem areas, which means indoor dining must cease and outdoor dining must be limited to four people per table. Restaurants were closed for more than five months during the initial outbreak, and have been limited to 25% capacity since Sept. 30.
With the governor and mayor once again on different pages, we can't help but wonder if the mayor might be willing to shut down the rest of New York's economy just to try and make it look like he's not being dictated to by the teacher's unions?
What a strange conversation on Morning Joe about NYC school closures. There's a lot of criticism for the decision. And they all clearly know — event hint that they know — teachers unions are driving this, but no one will criticize them.

— Jonah Goldberg (@JonahDispatch) November 19, 2020
Even some liberals seem to think so.
Meanwhile, as one reporter pointed out this morning, NYC is leading the country in terms of the level of service it provides to residents who test positive.
Under-appreciated reason to get a Covid test in NYC: if you test positive it will unlock a whole menu of supportive services.

* To help you quarantine at home, City will provide delivery of food and Rx if needed. Free dog walking and pet drop-in services also available.
(1/3)

— Mark D. Levine (@MarkLevineNYC) November 19, 2020
* You will receive two at-home test kits for people in your household or other contacts
* You will receive a package including a digital thermometer and pulse oximeter, plus masks, hand sanitizer, and wipes.
(2/)

— Mark D. Levine (@MarkLevineNYC) November 19, 2020
* You can access a free hotel room to safely isolate from your family, which include meals, Rx delivery, free wi-fi, medical staff on site, and transportation to and from hotel and medical appointments (3/)

— Mark D. Levine (@MarkLevineNYC) November 19, 2020
* A contact tracer will call you if you test positive, to walk you through all the services available. (so make sure to take the call!)
* If you have questions on this or need to access services, call the City's covid hotline: 212-COVID19. (4/4)

— Mark D. Levine (@MarkLevineNYC) November 19, 2020
Stocks quickly rebounded, however, as the Nasdaq ripped to new highs, as the rotation into momentum returns.