---
Stocks Tumble, Yield Surge After Catastrophic 30Y Auction Stops With Biggest Tail On Record As Foreign Demand Craters
Complete disaster.
That's the only way one can describe today's 30Y auction, which many expected could be challenging after a mediocre 3Y and a subpar 10Y auction earlier this year, but nobody expected... this.
The bond priced at a high yield of 4.769%, which was below last month's 4.837%, and just shy of the April 2010 high. But more importantly, it tailed the When Issued by a whopping 5.3bps, which was... well... terrible, because as shown in the chart below, this was the biggest tail on record (going back to 2016).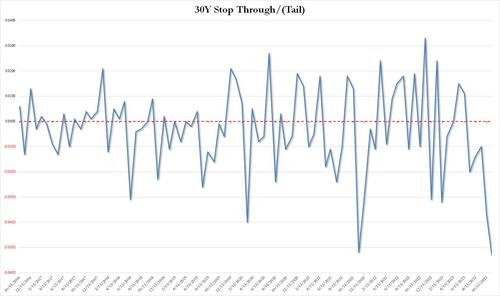 The bid to cover was just as bad: at 2.236 it was the lowest since Dec 2021.
The internals were even worse as foreign bidders (Indirects) tumbled from 65.1% to 60.1%, the lowest since Nov 2021, and with Directs taking down only 15.2%, banks (Dealers) were forced to step up and take the balance, or a whopping 24.7%, double the recent average of 12.7%, and the highest since Nov 2021.
This is a big warning flag because every time we have seen a surge in Dealer takedowns, some sort of Fed intervention - QE or otherwise - has usually followed and we doubt this time will be different.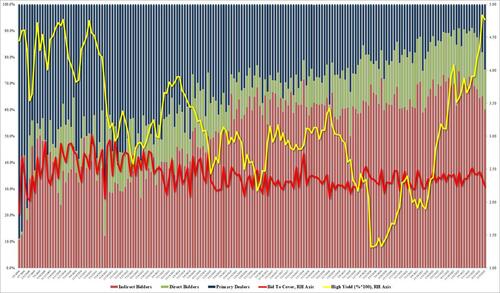 So what happened? Well, maybe the bond market read our note from earlier this week in which we explained "How Treasury Averted A Bond Market "Earthquake" In The Last Second: What Everyone Missed In The TBAC's Remarkable Refunding Presentation." It may be difficult to fool the bond market for a second time.
The market reaction to the catastrophic 30Y auction was immediately, sparking a swift and painful response across markets with bonds and stocks hammered lower and the dollar spiking.
Treasury yields  - as you would expect - exploded higher, with 30Y Yields back up to pre-payrolls levels...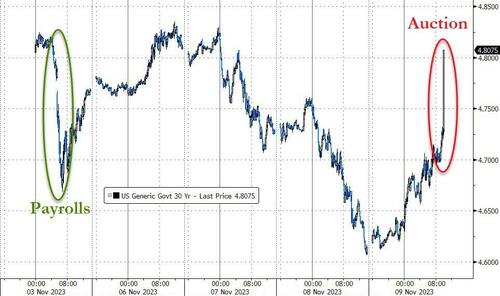 That is the biggest spike in 30Y yields since March 2020...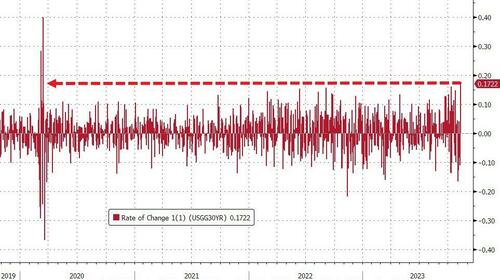 But the entire curve is higher in yields...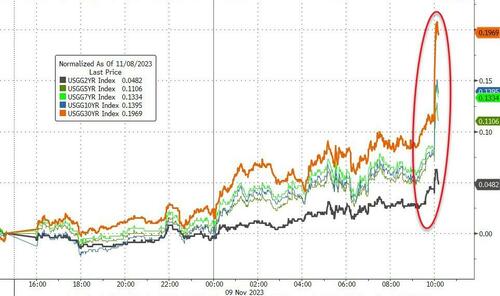 Stocks tanked...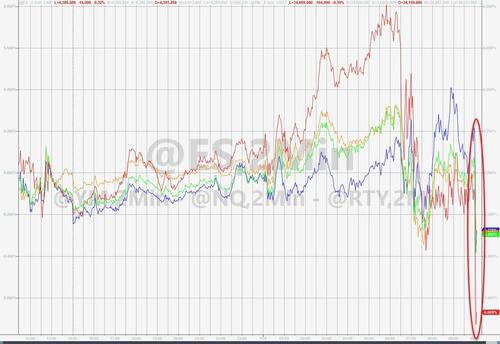 Regional bank stocks tumbled...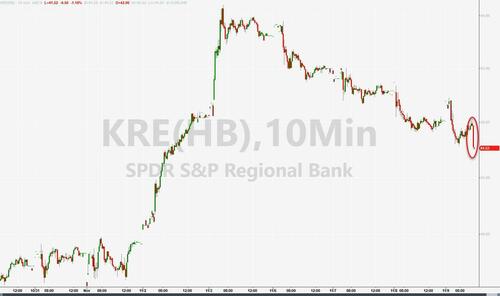 The dollar ripped back up to pre-payrolls levels...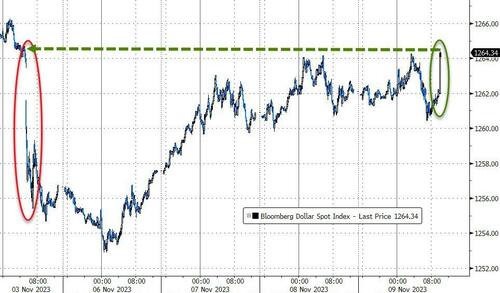 Finally, we note that this ugly auction comes as Treasury Liquidity is evaporating dramatically...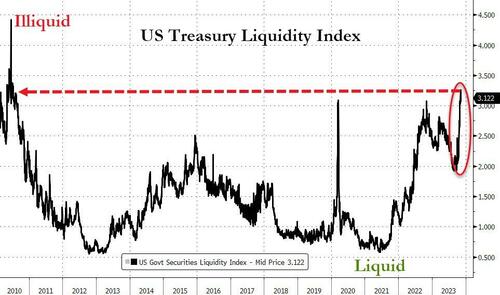 The Fed (and The Treasury) have a problem!!
Loading...