---
Gundlach Warns Stock Market Likely To Fall From "Lofty Perch" Despite "Superman" Powell, Says Buy Gold
Full Gundlach Slideshow:
Here are the key takeaways from Jeffrey Gundlach's DoubleLine Total Return Bond Fund webcast:
The stock market is likely to fall from its "lofty" perch. "The big, experienced smart money is skeptical of this little-guy created, epic rally."

The Fed violated the Federal Reserve Act of 1913 by buying high-yield bonds and ETFs. Gundlach expects Fed Chair Jerome Powell to follow through on controlling the yield curve should the 30-year rate come unhinged.

Traders think that Powell is Superman, and that the chairman will keep the fed funds rate at zero for the next two years.

Quantitative easing and zero rates don't work, otherwise "we wouldn't be back at them on steroids 10 years later."

Negative rates are the biggest kryptonite of all, given that they're "fatal" for the banking system, he said.

In the long term, the bond manager is bullish on gold, saying it will reach new highs. Alternatively, he's sticking to his weak-dollar call, saying the greenback can devalue against most other currencies.

Coming in waves: Gundlach sees waves of corporate credit downgrades and white-collar unemployment. He said the lockdown has him questioning the usefulness of middle-management, supervisor-types and that he could "easily see" layoffs hitting people earning $100,000 a year.
*  *  *
Update: Gundlach said Copper/Gold Ratio points to UST10Y around 1.05%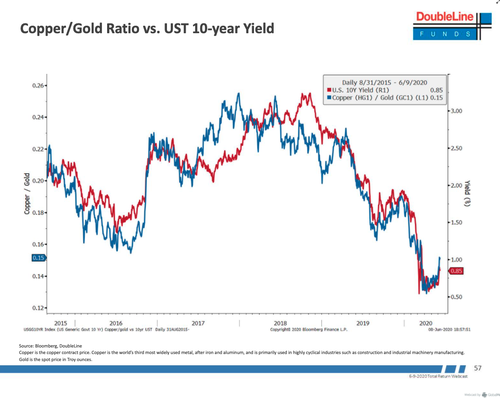 *  *  *
Update: Gundlach said look what happened when "superman Powell" showed up -- Corporate BBB vs. BB yields were monkey hammered lower.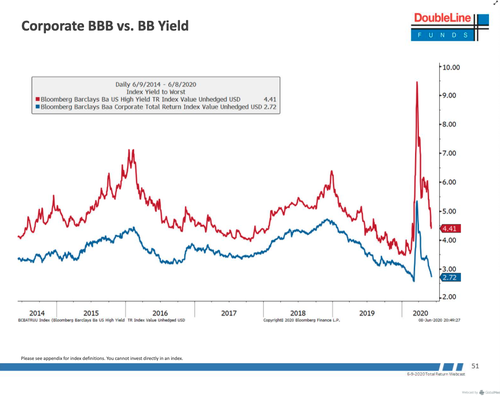 *  *  *
Update: Gundlach said Powell's "kryptonite" is negative interest rates -- shows how banking stocks in Europe and Japan (two areas where central banks (ECB & BOJ) dove into negative policy) died a slow death over the last decade.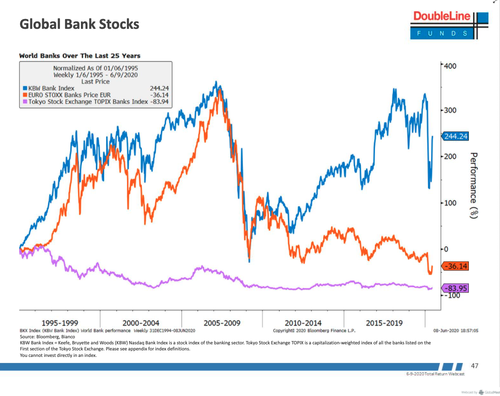 Update: Gundlach said "the shape of these lines" could be the reason for social unrest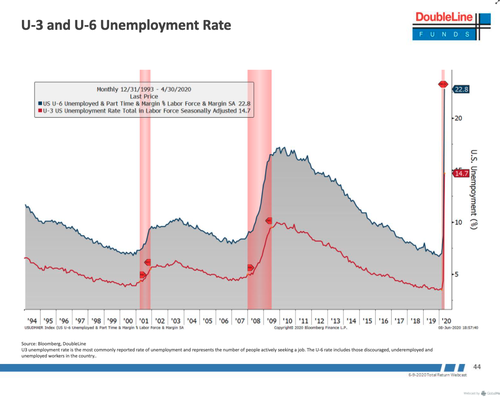 *  *  *
Update: Gundlach's one bullish chart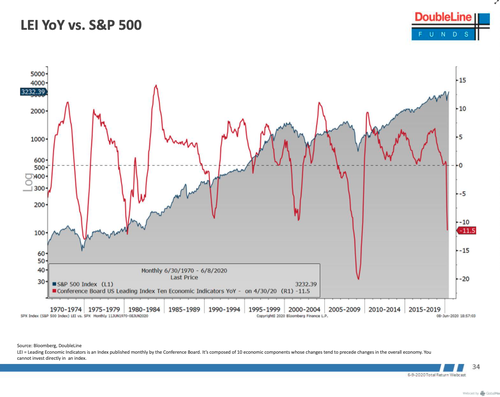 *  *  *
Update: Dollar vs. Twin Deficits (2-year Lead) slide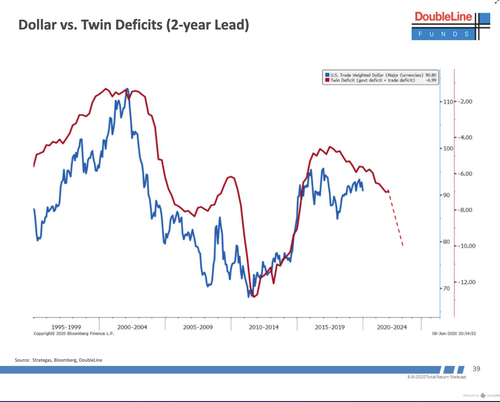 *  *  * 
Update: Gundlach thought E-Mini S&P500 resistance would be at 2900 
*  *  *
Update: Gundlach must be a reader of Zero Hedge -- outlines how Robinhood trading accounts have surged during "historic rally" from March lows.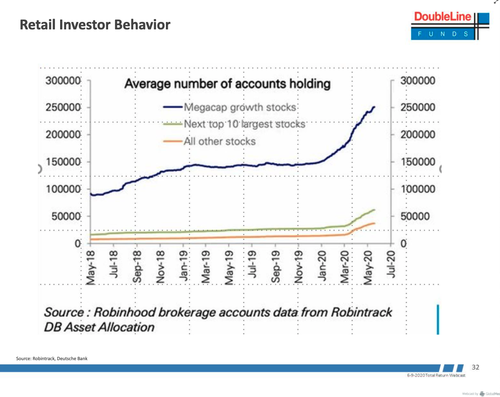 Gundlach said institutional money isn't really participating in the stock market rally. "I'm happy to watch other people push it [stock market higher." Something else we've pointed out -- new retail trading accounts have surged since late last year when online brokers started offering zero commission trading.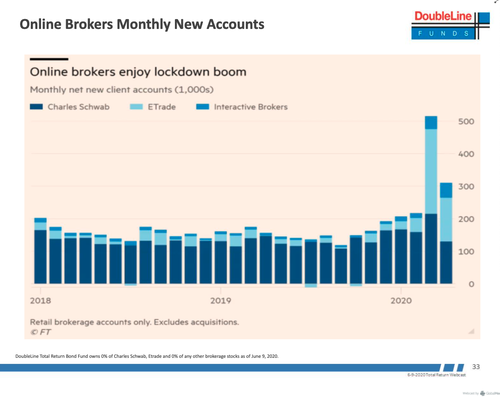 Read several of our pieces detailing the insanity behind retail day trading the pandemic: 
*  *  *
Update: Gundlach said the decline in small business optimism is concerning...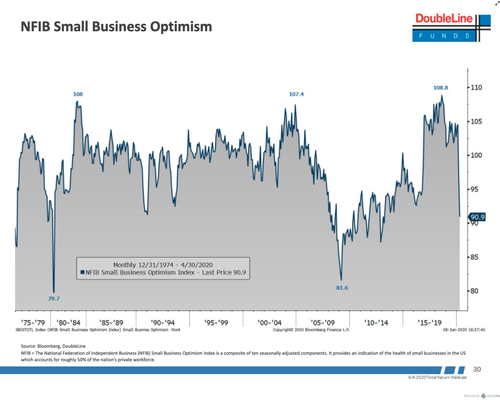 *  *  * 
Update: Gundlach points out the "super 6" (Facebook, Apple, Alphabet, Amazon, Netflix, & Microsoft (FAAANM)) - said trajectory of FAAANM stocks is not sustainable. Btw --> as readers know entire outperformance in S&P 500 since 2015 is widely due to FAAANM.
S&P500 EX-FAAANM is seeing much worse earnings deterioration vs. FAAANM EPS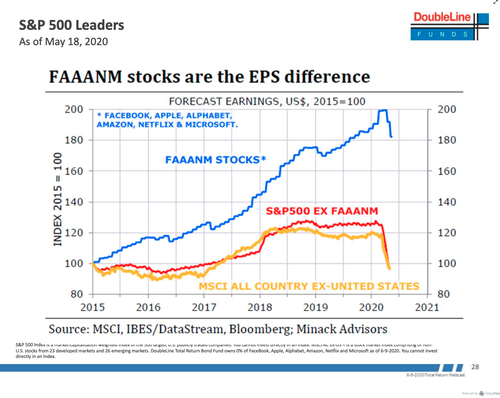 *  *   *
Update: Gundlach's slide on U.S. Equity Prices vs. Rest of World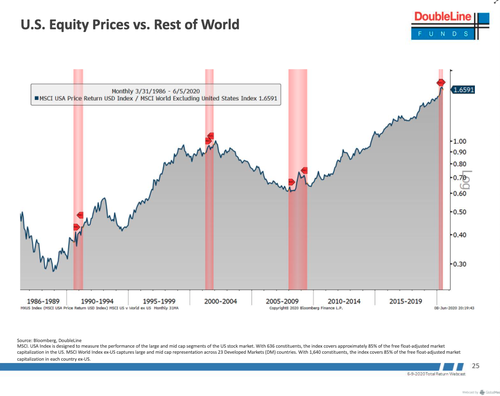 *  *   *
Update: Gundlach said volatility was crushed post Secondary Market Corporate Credit Facility (SMCCF) announcement. 
*  *  *
Update: Gundlach's Market "All-in" on Fed's Commitment side -- said the investors are betting Powell will keep fed funds futures near the zero lower bound. 
*  *  * 
Update: Gundlach said he's bearish on the dollar, even if the stock market falls...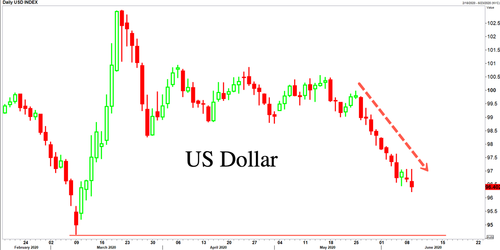 *  *  * 
Update: In terms of widening fiscal deficits -- Gundlach said the US is the largest offender.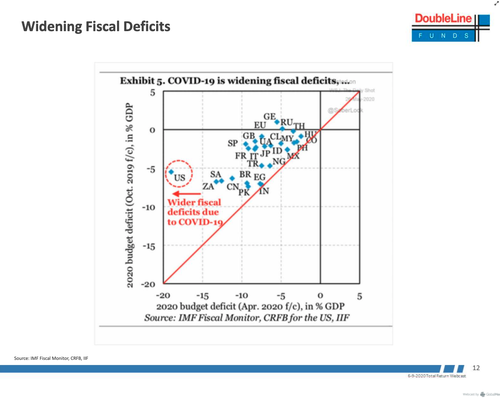 *  *  *
It's that time again when "bond king" Jeffrey Gundlach, founder of DoubleLine, will hold his periodic live webcast with investors in his fund and anyone else who wants to listen in. As usual, readers are invited to join at this following link, or by clicking on the slideshow below.
This month's webcast is titled "Superman", which we assume refers not to Gundlach himself, but rather to the V-shaped recovery the market appears to have priced in recent weeks.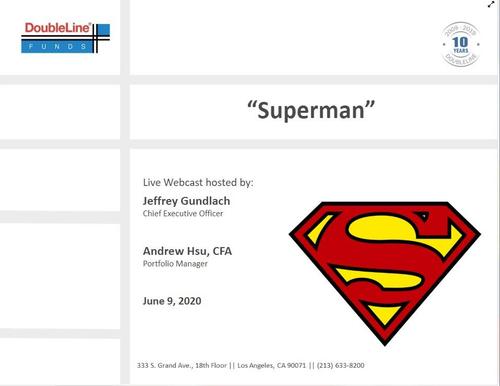 As usual, we will share excerpts from the presentation and select observations as soon as it is available.