---
"Surprised" Clarida Downplays Soaring CPI, Which Is Due To "Transitory Forces"
While we, like everyone else, were shocked by the strongest core CPI print since 1981 when as a reminder, the Volcker Fed was engaged in a nightmarish fight with "non-transitory" inflation, pushing the Fed Funds rate as high as 20%, we were quick to note that the Fed is focused on jobs, not inflation which is "transitory", and today's blistering inflation print - where used car prices accounted for a third of the jump - "does not change delayed tapering." At least when viewed from the Fed's skewed perspective.
Remember, Fed is focused on jobs, not inflation which is "transitory"

This does not change delayed tapering

— zerohedge (@zerohedge) May 12, 2021
Pantheron Macro echoed this view explaining that People need to go back to work, but reluctance to use public transportation has driven up demand for used cars, and prices have surged. This won't go on forever. Outside the Covid-sensitive components, the numbers are benign."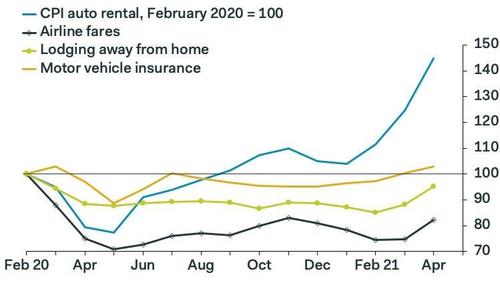 Moments later, the Fed's Vice Chair - and former managing director at bond giant PIMCO Richard Clarida, said that while he was "surprised" by the strong CPI print, he said it was due largely to transitory forces, downplaying the significance of soaring "transitory" inflation.
 "I was surprised, this number was well above what I and outside forecasters had expected" Clarida said, but added that "readings on inflation on a year-over-year basis have recently increased and are likely to rise somewhat further before moderating later this year," he said in the text of remarks to be delivered to the National Association for Business Economics on Wednesday. However, "I expect inflation to return to -- or perhaps run somewhat above -- our 2% longer-run goal in 2022 and 2023."
While Clarida said inflation was being boosted by base effects - i.e., current price levels are elevated compared to depressed readings a year ago, when the economy was virtually shut down - and by some supply bottlenecks, that did not explain why core CPI soared by a whopping 0.9% from March of this year.
And while we doubt Clarida would answer that question, what is more important he suggested that the Fed is still some ways away from scaling back the massive stimulus it is providing to the economy. "The economy remains a long way from our goals, and it is likely to take some time for substantial further progress to be achieved," he said in prepared remarks.
He underscored this during the Q&A following his prepared speech at the NABE conference, saying the Fed "would not hesitate to act" to bring inflation down to its goals if needed, adding that there will be some imbalances as the U.S. economy reopens from the pandemic and these can put upward pressure on prices
"We have pent up demand in the economy" the Vice Chair said, adding that "it may take some time to supply to rise up to the level of demand."
Clarida also focused on the "disappointing April employment report" which was a downside surprise "and may reflect labor-market frictions as the economy reopens. There may be a period of time in which there is an elevated level of job search required" due to changes in the economy.
While 5Y breakevens exploded higher in kneejerk reaction to the blistering CPI, rising as high as 2.82% the highest since 2005, Clarida's comments eased some of the market panic and they have since retraced some 3bps of the move higher.