---
Tech Wrecks, Ether Erupts, Commodities Crumble As Dollar Gives Up 2021 Gains
That was quite a day. The tech wreck continued, leading the drop in stocks. Commodities did the unthinkable and tumbled on the day but Gold and Cryptos gained as the dollar dumped into the red for the year...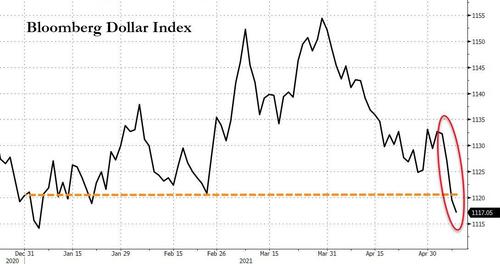 Source: Bloomberg
Dallas Fed's Kaplan warned that he was "cognizant of excess risk-taking in financial markets". Maybe turn the taps off then?
💦 Monetary policy since March 2020.. pic.twitter.com/kPgQXol3VJ

— PiQ (@PriapusIQ) May 10, 2021
The Dow topped 35k for the first time ever but was unable to hold gains and ended its win streak at 5 days. The US cash open sparked panic-selling in Small Caps and Big-Tech and they never really looked back. All major indices were hit to the downside around 1415ET (ahead of margin call time). Stocks closed ugly at the lows of the day...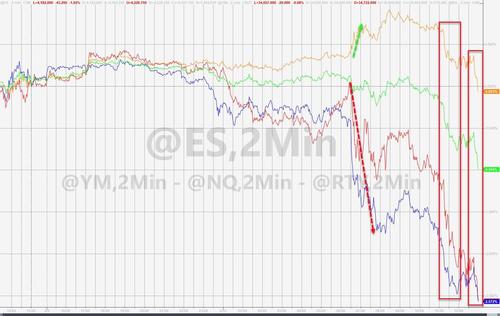 The Dow's recent dramatic outperformance pushed it above the March highs relative to Nasdaq...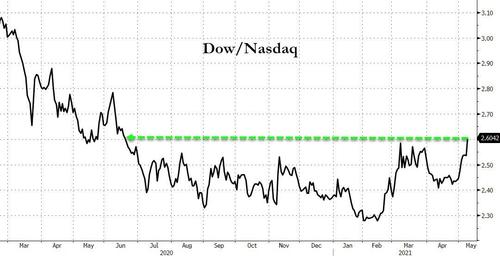 Source: Bloomberg
Nasdaq broke down to its 100DMA...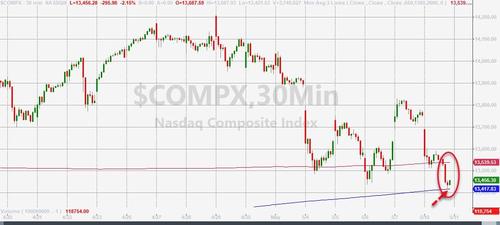 Small Caps closed below their 50DMA once again...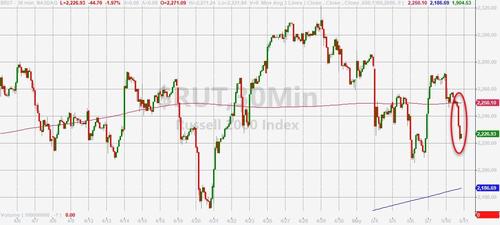 FANG Stocks continued to slide...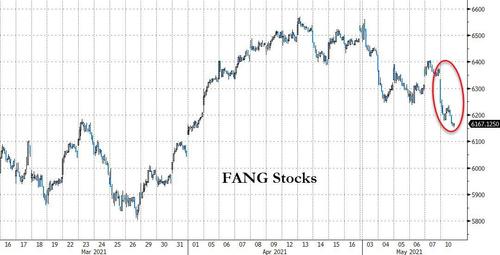 Source: Bloomberg
AMZN dropped 3% as it issued upside $18.5bn debt...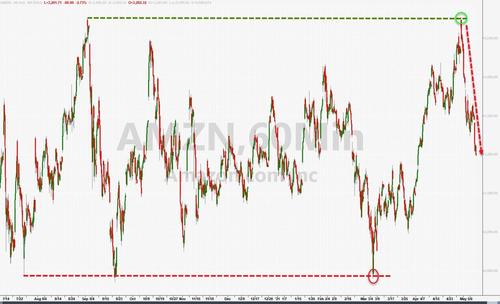 AMZN closed below its 200DMA...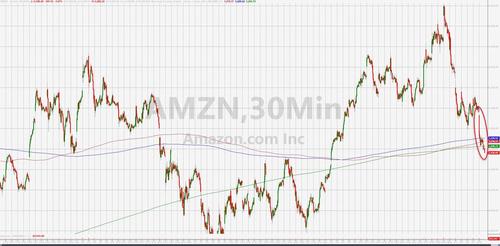 Unprofitable Tech company stocks are are down 17% YTD (and -36% from their February highs)...
Source: Bloomberg
IPOs continue to tumble (as Jessica Alba's Honest Co crashes)...
Source: Bloomberg
ARKK continues to sink, now at its lowest since mid-Nov 2020...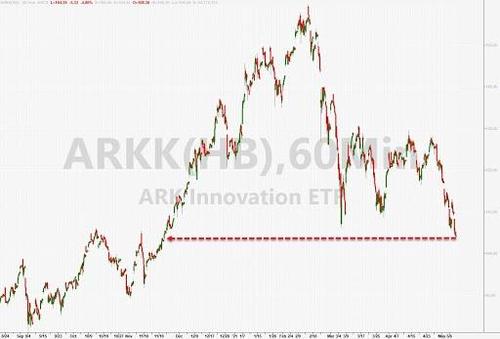 VIX surged in the last hour, breaking back above its 50DMA and closing above it for the first time since March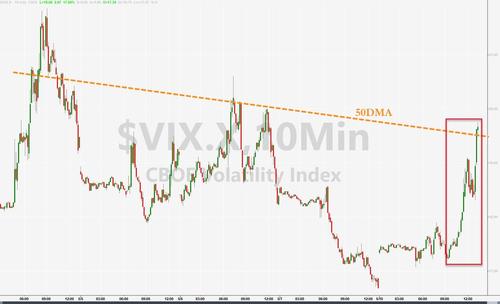 Despite the carnage in stocks, bonds were also under pressure today (likely due to the major AMZN issue) with the long-end underperforming (30Y +4bps)...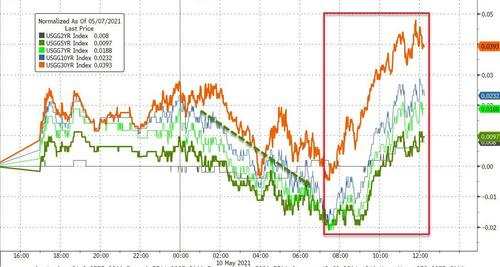 Source: Bloomberg
Commodities did the unthinkable today... and closed lower (biggest daily drop in over 5 weeks)..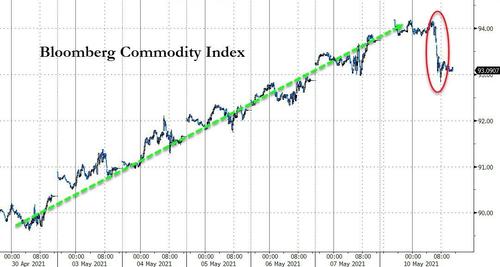 Source: Bloomberg
Lumber tumbled by the most since March today - ending the winning streak at 13 days...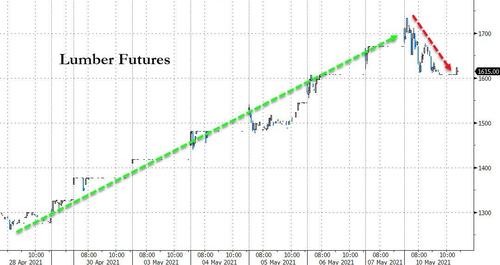 Source: Bloomberg
Wheat also plunged today - its biggest drop since Aug 2019...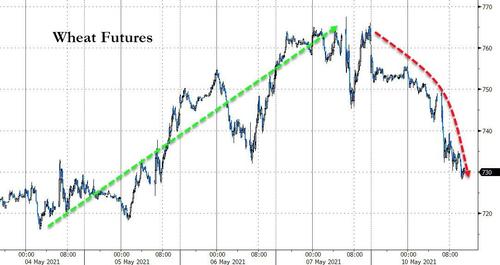 Source: Bloomberg
Overnight saw surges in a number of industrial metals in China (Iron Ore, Steel, Copper), but they also started to tumble as the day wore on...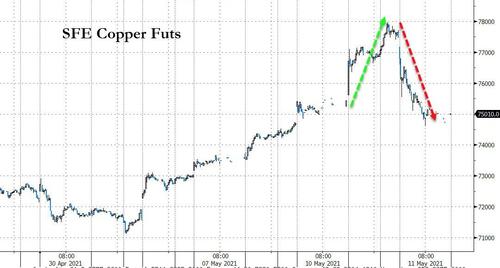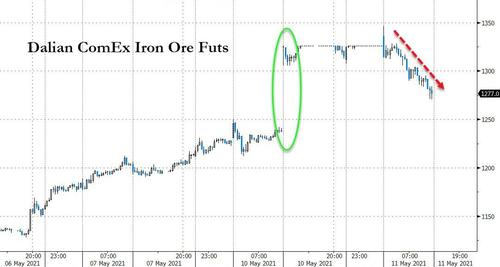 Source: Bloomberg
Cryptos were mixed as the dollar dropped with Ether outperforming, hitting $4200 record highs...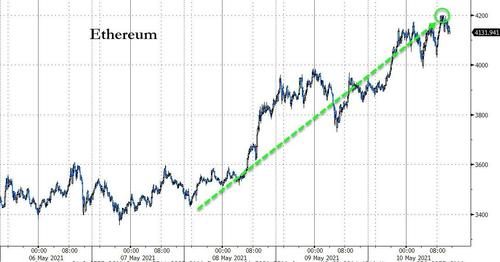 Source: Bloomberg
And Bitcoin disappointing (back below 57k)...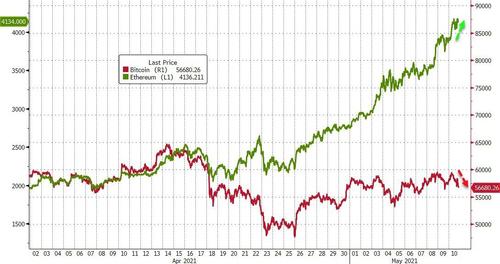 Source: Bloomberg
Sending ETH/BTC to its highest since June 2018...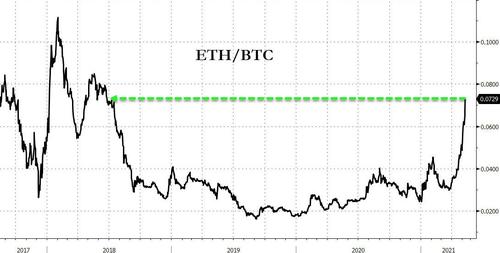 Source: Bloomberg
Gold ended the day only marginally higher (despite the USD's notable weakness). Silver was a laggard and crude and copper also lost ground today...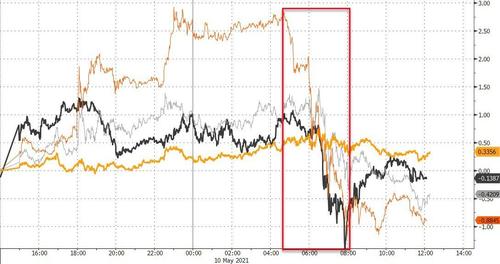 Source: Bloomberg
Finally, it's probably nothing, but US stocks have never, ever, ever been this expensive...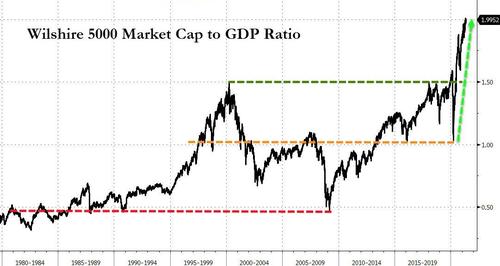 Source: Bloomberg