---
Tesla Solar Panel System "Explodes": Customer Claims 
Tesla solar panels have become a nightmare for some businesses and homeowners over the years. Readers may recall one of the biggest Tesla solar roof panel scandals was in 2019 when Walmart sued Tesla over roof fires. 
There have been multiple reports Tesla didn't properly maintain the panels in states from Maryland to Arizona. In one instance, Briana Greer, a homeowner in Colorado, had her roof catch on fire in 2019 after leasing SolarCity panels, now owned by Tesla. Greer is not the only one, and other customers with Tesla panels have caught fire too.
In the latest installment of Tesla solar systems catching on fire, the Twitter user "EcoSocYogi" claims her "Tesla inverter exploded." 
"This is our Tesla inverter after it exploded. Apparently, we're lucky your house didn't burn down. The Tesla online forms are filled with people who solar systems do not work," she tweeted.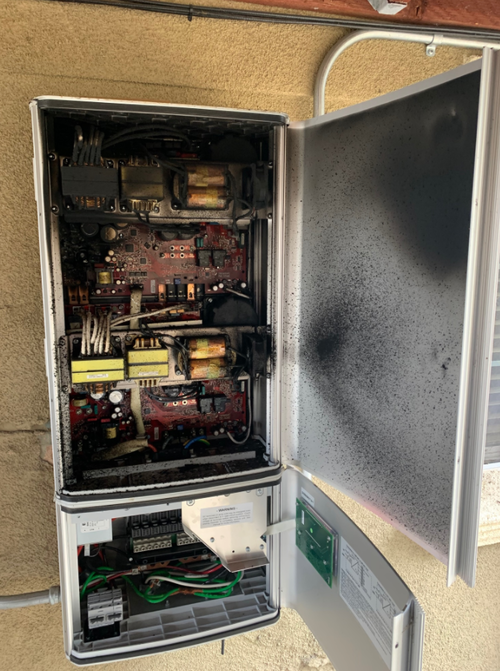 EcoSocYogi said, "Our system was installed in 2013 by SolarCity which is now Tesla. If they had been here six months ago when I made the original complaint, this wouldn't have happened. Also, when you call, hold times are over an hour."
She said the maintenance crew who showed up said the solar panels had "water damaged and were shorting out," adding that "they had never seen anything like this as well. It all began with a very loud clicking sound." 
The fire was contained in the metal inverter box. She was able to shut the system down before "it escaped the box." 
Greer, whose Tesla solar panels caught fire a few years back, told Bussiness Insider that Tesla "purposely kept a lot of people in the dark."
Like in EcoSocYogi's case, could older Tesla/SolarCity solar systems be ticking timebomb fire hazards?