---
Turkey In Turmoil Again: Erdogan Fires Second Central Bank Chief In 4 Months, Sparking Foreign Capital Panic
On Thursday, moments after the Central Bank of Turkey unexpectedly hiked rates by a whopping 200bps - double the consensus expectation - to 19% from 17%, the highest rate since the country's panicked scramble to contain the collapse of the Turkish lira during the economic turmoil of 2018, we said that "unfortunately for Turkey - whose economy will now grind to yet another halt -  it had no choice: inflation had accelerated for a fifth month in February as oil rallied and the impact of last year's lira weakness lingered, while capital outflows soared. The upward trend fueled expectations the central bank would try to rein in prices by raising interest rates... but nobody had expected a 200 bps rate hike."
Also in our kneejerk response to the rate hike decision, we said that the relatively new CBRT head, Agbal, "was damned if he did and damned if he didn't: on one hand the lira was plunging angering Erdogan, so he had to stabilize it... on the other the only way to do so was by hiking rates, which would anger Erdogan even more."
We also quoted from the CBRT's decision, noting that the bank has decided "to implement a front-loaded and strong additional monetary tightening," explicitly stating that this "statement is guaranteed to enrage Turkey's dictator."
Bottom line: Erdogan would be furious either way.
Finally, we quoted SocGen EM strategist Phoenix Kalen who tried to justify the rate hike with some lofty sleight of logic by saying that "in a challenging context of domestic business and political pressure against further interest rate hikes, the CBRT has stepped up to the plate and delivered a resounding home run to underline its commitment to an inflation-targeting framework." Kalen then said that the move "will go a long way toward bolstering both retail and foreign investor confidence that the CBRT under Governor Agbal will stay engaged in addressing deterioration in inflation expectations."
While we were impressed with Kalen's attempt to make 5-D chess out of what was basically total chaos, our take was far more cynical
Maybe... or maybe it will just force Erdogan to replace yet another CBRT governor.
Two days later, our cynical view proved correct again, because shortly after midnight on Saturday, and just two days after the larger than expected rate hike, Turkey's President Recep Tayyip Erdogan fired the country's third central bank governor in less than two years and replaced him with a fan of lowering interest rates.
Naci Agbal, Turkey's former finance minister who was appointed central bank chief last November, was fired by Erdogan and was replaced with Sahap Kavcioglu, according to a decree published after midnight on Saturday in the Official Gazette. Agbal's abrupt termination is a clear retaliation by Erodgan for last week's unexpectedly big rate hike, one which does not fit within the absurd confines of "Erdoganomics" whereby lower rates are somehow needed to fight inflation.
And while Erdoganomics appeared to have ended some time in late 2020 when shortly after Agbal's appointment, Erdogan's son-in-law Berat Albayrak - then finance minister - also unexpectedly quit in a move that encouraged battered foreign investors to redeploy capital into the capital-starved Turkey as monetary orthodoxy appeared to be making a comeback, it is now clear that this was just one giant fakeout, and that Erdogan was merely biding his time before he pulled the rug from under a new cohort of offshore investors who are about to suffer devastating losses on their Turkish exposure.
Agbal took the job as Turkey's top banker last November after weeks of declines in the lira and raised the benchmark one-week repo rate by a cumulative 875 basis points since, boosting the central bank's damaged credibility among investors.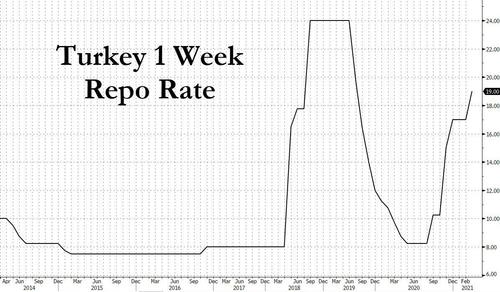 Meanwhile, Erdogan, the man behind the eponymous bizarro monetary policy which posits that high interest rates cause inflation, was oddly silent during the latest rate hike episode even though he had for years frequently chastised the central bank when he thought it was keeping borrowing costs too high.
Well, we now know that the Turkish despot was - like a dormant volcano - merely building up his anger and frustrations, and finally exploded early on Saturday morning in a move that will decimate any leftover trust in Turkey.
Erdogan's latest pick for central bank head is Sahap  Kavcioglu, a professor of banking at Marmara University in Istanbul and a columnist at the pro-government Yeni Safak newspaper. The paper attacked Agbal's latest interest-rate increase on its front page on Friday...
Erdogan assigns Şahap Kavcioglu, an academic and a columnist for conservative pro-gov't Yeni Şafak, as replacement to the Turkish Central Bank

Yeni Şafak on Friday attacked Agbal from the front page, accusing him of conducting an operation against the Turkish economy by hikes pic.twitter.com/5MV3NP9X7U

— Ragıp Soylu (@ragipsoylu) March 19, 2021
... saying the decision "turned a deaf ear" to Turkey's 83 million people, would hurt economic growth and primarily benefits "London-based owners of hot money."
As Turkey's correspondent for the Middle East Eye, Ragip Soylu, further notes, last month Kavcioglu said that:
CBRT shouldn't insist on its high interest rate policy
Many countries with domestic/foreign problems have negative real interest rates so could Turkey
Rate hikes indirectly creates inflation
Turkey's new governor of Central Bank in February:

• CBRT shouldn't insist on its high interest rate policy
• Many countries with domestic/foreign problems have negative real interest rates so could Turkey
• Rate hikes indirectly creates inflation https://t.co/sY518SKSiI

— Ragıp Soylu (@ragipsoylu) March 19, 2021
As Bloomberg further notes, in a column on Feb. 9, Kavcioglu said it was "saddening" to see Turkish columnists, bankers and business organizations seeking stability in high interest rates at a time when other countries had negative interest rates.
"The central bank shouldn't insist on high interest rates," he wrote. "When interest rates in the world are close to zero, raising interest rates here won't solve our economic problems. To the contrary, it'll deepen them in the period ahead."
He also seconded Erdogan's unorthodox theory on the relationship between interest rates and inflation, saying that raising interest rates would "indirectly open the way to increasing inflation." And while most central bankers are idiots, one thing that is relatively accurate is that raising interest rates does generally control excessive inflation.
But wait, it gets worse: Kavcioglu, who's also a former lawmaker for the ruling Ak Party, defended reserve policies executed from 2018 to 2020, when Turkey began spending its foreign-currency reserves to try and prop up the lira in times of volatility. The use of the central bank's foreign-exchange coffers then helped to rein in inflation, interest rates and the exchange rate, he said.
In other words, the new head of the CBRT is not only an ideological carbon copy of Erdogan (which explains his ascent to the monetary throne), but is a firm believer in Erdoganomics. Which means that last week's rate hike will be prompted reversed, perhaps as soon as Sunday, leading to yet another episode of "Turkey in Turmoil", and all out current account panic as foreigners pull all their money from Turkey now that the country has lost any last trace of credibility and collapses into an Erdogan singularity, a process which will most likely culminate with economic collapse, domestic conflict and/or civil war.