---
Unfriendly Skies: Southwest Airlines Wants You To Call Out Bad Behavior
Perhaps we can expect a lot more delayed flights and passenger infighting and general craziness over this next year as Southwest airlines has just implemented a controversial new policy. 
As part of its required pre-flight emergency briefing, Southwest Airlines will now encourage passengers to report any "unwelcome behavior" that occurs to the flight attendants.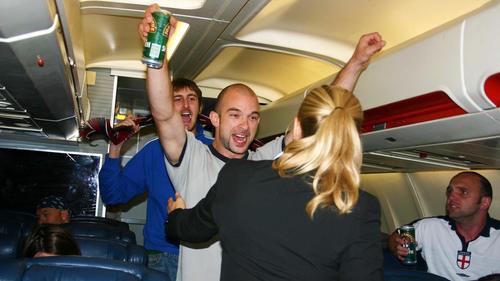 The policy went into effect January 22, and the statement comes immediately after instructions over operating the oxygen masks. CNN recorded an announcement at Hartsfield-Jackson Atlanta International Airport as saying: "We are here for your comfort and safety. Please report any unwelcome behavior to your flight attendant. Thank you for your attention."
Southwest spokesman Brian Parrish told CNN: "This change reflects Southwest's commitment to ensuring a safe and welcoming environment at all times." He added that passengers should see the flight attendants as "an approachable, professional resource for reporting any unwelcome behaviors or conduct during a flight."
However, in these times of heightened paranoia, there's a hundred ways this could go wrong, given the hundred different interpretations and thresholds different people have for what's deemed vaguely as "unwelcome behavior" (won't share an elbow rest? talking too loud? bad breath? someone merely doesn't like that there's a Muslim on board?).
Recently an American Airlines flight was delayed when a man who boarded wearing a gas mask (and not merely a surgical mask), made neighboring passengers uncomfortable to the point of causing enough of a panic to significantly delay the flight. And in a Southwest Airlines incident which made national news, a dad and his toddler were kicked off a flight because the 2-year old threw a minor tantrum upon boarding. This happened even after the child had calmed down. 
There have also been multiple instances over the past years of flights canceled or delayed simply because passengers and crew members felt "uncomfortable" upon seeing men wearing Muslim garb on board. 
The new Southwest Airlines policy appears aimed at preventing in-flight sexual assaults or harassment, which authorities say have been on the rise. According to FBI figures cited by CNN:
FBI investigations into midair sexual assaults increased by 66% over a four-year period, from fiscal year 2014 to 2017. The bureau reported that it had opened 63 investigations into sexual assault on aircraft in 2017, compared with 57 in 2016, 40 in 2015 and 38 in 2014.
If notified of an assault or harassment, the airline says its crew members have been given a variety of options depending on the situation — from demanding the offending passenger stop their behavior to notifying the captain, or to alerting law enforcement on the ground should a significant incident take place.