---
Walmart Layoffs At Fulfillment Centers Signals Ominous Sign For Economy
Over the next three months, hundreds of workers at five Walmart warehouses handling e-commerce orders will be laid off. This situation could be a worrisome indication that consumers are tapped out. 
A Walmart spokesperson told Reuters about 200 warehouse workers in Pedricktown, New Jersey, and hundreds of others at Fort Worth, Texas; Chino, California; Davenport, Florida; and Bethlehem, Pennsylvania locations were asked to find new jobs before summer due to the need to reduce headcount. 
"We recently adjusted staffing levels to better prepare for the future needs of customers," Walmart said in a statement. 
Layoffs at Walmart are considered an indicator of retail trends due to its size in the retail space, and might serve as a warning sign of potential economic turbulence ahead.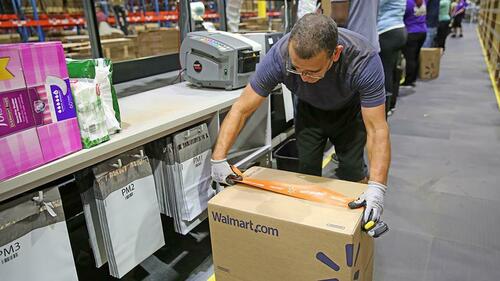 Earlier this month, we noted "consumers hit a brick wall" as credit demand - function of soaring interest rates - slumped amid a surge in tightening lending standards.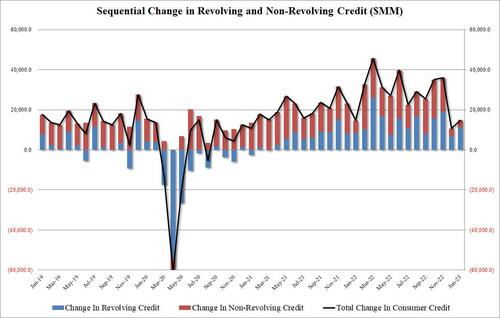 We've shown readers consumers have racked up insurmountable credit card debts while draining personal savings to near-record-low levels.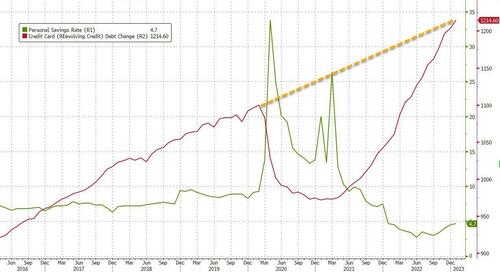 While the 23rd straight month where Americans cost of living has outpaced their wage growth...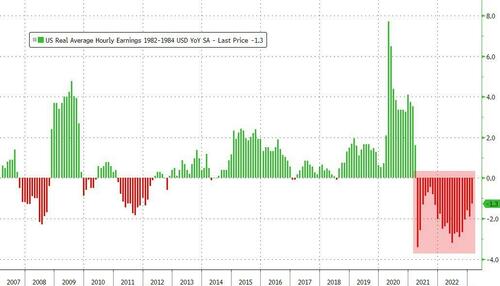 Earlier this week, Goldman's consumer retail trader Scott Feiler informed clients that the first signs of a slowdown among low-income earners have surfaced. 
Bottom line: US consumer is 70% of the US GDP, and the Walmart layoffs are yet another sign that the 2023 GDP is set to take a tumble. 
Loading...