---
This Is What Hedge Funds Bought And Sold In The Second Quarter
In addition to the widely publicized changes in Berkshire Hathaway's portfolio, where as we previously reported Warren Buffett dumped a material amount of his bank holdings in addition to completely selling out of airlines, while making his first ever foray into precious metals with a new $563MM stake in Barrick Gold, there were other quite notable changes in hedge fund portfolios during Q2 as disclosed in the barrage of 13Fs filed on Friday.
As Bloomberg recaps, the 13F filings show that even more hedge funds leaned in to the stay-at-home trade amid the Covid-19 pandemic. Of note, Home Depot was a top new buy for Balyasny Asset Management, while Pershing Square Capital Management and Adage Capital Partners boosted stakes in Lowe's. Coatue Management boosted its stakes in Peloton and Zoom Video Communications.
Netflix was one notable exception as Appaloosa, D1 Capital Partners and Viking Global Investors cut their stakes. The streaming giant was a new buy at Tudor Investment Corp.
Some funds alswo snapped up shares in Alibaba Group Holding Ltd. Ray Dalio's Bridgewater Associates and Stan Druckenmiller's Duquesne Family Office were among those that boosted stakes in the Chinese internet company. Maverick Capital, on the other hand, trimmed its holdings.
In any case no matter what they did, hedge funds continue to dismally underperform not only the broader market but a basket of stocks beloved by retail investors.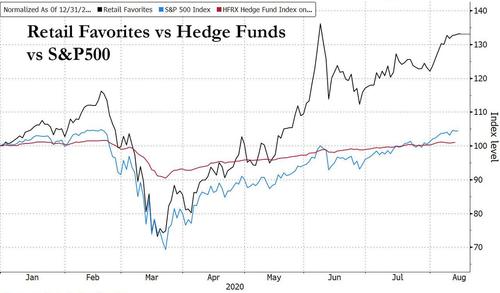 Worse, the Sharpe ratio of equity long/short hedge funds is now a negative 0.6. Perhaps it's time hedge fund paid investors to "manage" their money.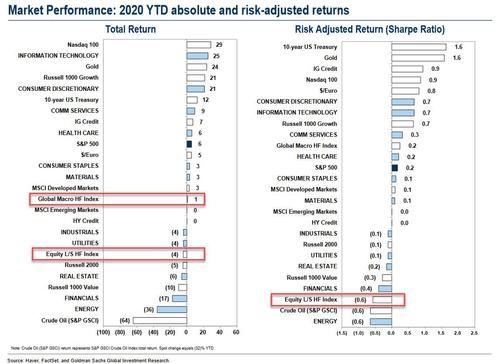 In any case, for those who still care, below is a summary of what the most prominent hedge funds did in the second quarter, courtesy of Bloomberg:
ADAGE CAPITAL PARTNERS
Top new buys: RPRX, ABBV, W, HZNP, FIVE, ST, CCK, TRV, USB, JCI
Top exits: BMY, GILD, ETN, PNC, MAS, EXC, AON, CCMP, NI, CX
Boosted stakes in: BURL, PYPL, FTV, ITT, LOW, GOOGL, TMUS, EYE, AZO, BMRN
Cut stakes in: LMT, JNJ, PFE, HON, VZ, VRTX, TGT, VMC, PXD, LLY
APPALOOSA
Top new buys: T, V, MA, PYPL, DIS, SYY, EMR, MO, SQ, TEN
Top exits: INTEQ, XLU, BKLN
Boosted stakes in: TMUS, BABA, MU, HCA, MSFT, BSX, TWTR, WFC, CRM, GT
Cut stakes in: PCG, UNH, TSLA, HUM, VST, AMLP, AVGO, NFLX, QCOM, ADBE
BALYASNY ASSET MANAGEMENT
Top new buys: SCHW, ABT, TGT, HD, ADBE, SHOP, ITW, COST, C
Top exits: JCI, AMTD, INTC, CHTR, KR, TMUS, TTWO, NVDA, ICE, ROST
Boosted stakes in: PYPL, FISV, BABA, JPM, FLT, NSC, LITE, DKS, QCOM, LHX
Cut stakes in: BSX, LOW, DG, FIS, ABBV, BAX, INTU, JD, BK, ETFC
BAUPOST GROUP
Top new buys: HCA, VRNT, VTR, SSNC
Top exits: LNG, ET, XPO, SPR, CARS
Boosted stakes in: LBTYK, TBIO, QRVO, ATRA, HDS
Cut stakes in: FB, GOOG, PCG, UNVR, ABC, HPQ, CLNY, VIST, AKBA
BERKSHIRE HATHAWAY
Top new buys: GOLD
Top exits: DAL, LUV, UAL, AAL, QSR, GS, OXY
Boosted stakes in: STOR, KR, SU
Cut stakes in: WFC, JPM, SIRI, PNC, MTB, BK, MA, V, CHTR, USB
BRIDGEWATER ASSOCIATES
Top new buys: UPS, ZLAB, CSX, ECL, TT, RNG, PAYC, ROP, GWW, FICO
Top exits: TLT, HYG, EMB, RY, TD, TIP, CNI, BNS, TRP, BCE
Boosted stakes in: SPY, GLD, IVV, FXI, BABA, MCHI, IAU, JD, PDD, VEA
Cut stakes in: EWZ, LQD, INDA, EWY, EEM, IEMG, VWO, EWW, BAM, EWT
COATUE MANAGEMENT
Top new buys: BA, DOCU, INO, DXCM, WYNN, HWM, LYV, ALGN, TDG, DHT
Top exits: RNG, SNAP, BYND, LKNCY, GLUU, ISRG, CGC, STNE, MCD, VGK
Boosted stakes in: DIS, PYPL, ZM, SQ, CRWD, PTON, LRCX, SHOP, MU, PODD
Cut stakes in: MSFT, LBRDK, BABA, TWTR, JD, NKE, GPN, CREE, GH, NFLX
CORSAIR CAPITAL MANAGEMENT
Top new buys: IWO, IWM, WMB, NATR, MFIN
Top exits: LAUR, RHP, ECPG, ATKR, NMRK, TROX, KRA, FSK, HHC, SATS
Boosted stakes in: VRT, WSC, GDDY, CC, BH, BBCP, METC, BRK/B
Cut stakes in: HGV, HMHC, FMC, NWSA, REPH, GOOG, CHDN, C, CUBI, PLYA
CORVEX MANAGEMENT
Top new buys: TMUS, EXC, EVRG, CMCSA, JPM, IAA, TIF, LYV, PCG
Top exits: ZEN, CRM, FANG, UNP, VMC, MPC, UNH, ANTM, SPY
Boosted stakes in: MGM, GLD, BABA, CNP, NFLX, HUM, CNC, MSGS
Cut stakes in: ADBE, ATUS, ATVI, AMZN
D1 CAPITAL PARTNERS
Top new buys: JPM, AVB, EXPE, TGT, DEI, AAP, ESS, CVNA, SMAR, PNC
Top exits: LIN, GWRE, TME, NKE, UNH, BAC, PDD, DHI, INMD
Boosted stakes in: BABA, USB, JD, LVS, MSFT, HPP, KRC, CCC, LYV, HLT
Cut stakes in: NFLX, FB, AMZN, DIS, RACE, ORLY, PPD, AZO, SBUX, GOOGL
DUQUESNE FAMILY OFFICE
Top new buys: TMUS, JPM, XBI, SBUX, BKNG, SMAR, CCL, WFC, LYV, CB
Top exits: ABT, QCOM, NOW, ADBE, INDA, COUP, TWOU, EDU, SNE, TWLO
Boosted stakes in: MSFT, JD, FCX, FSLY, BABA, CRWD, RETA, PLAN, FLEX
Cut stakes in: NFLX, FB, AMZN, WDAY, ATVI, GOOGL, GE, IQV, FIS, DISH
ELLIOTT MANAGEMENT
Top new buys: WELL, FSCT
Top exits: LQD, RRTS, ESI, HYG, XOP, NEWR, CSOD, NTNX, CNHI, EGHT
Boosted stakes in: DELL, TWTR, RYAAY
ENGAGED CAPITAL
Top new buys: JACK, MGLN, SMPL, IWM
Top exits: APOG
Boosted stakes in: STKL, NCR
Cut stakes in: HAIN
FIR TREE
Top new buys: SQ, LYV, PS, SNAP, VG, EIX, SABR, EXPE, J, PCPL
Top exits: FLT, FPAC, BKNG, SHLL, CCH, GOOG, APXT, OAC, DMS, EXPC
Boosted stakes in: CNC, CTXS
Cut stakes in: DIS, MSFT, TMUS, LAUR, ANTM, DELL, EXC, CMCSA, SLM, TRNE
GREENLIGHT CAPITAL
Top new buys: GDX, AAWW, TECK, REZI, JACK, GLD, APG, TPX, SATS, WHR
Top exits: ATUS, ADNT, CNC, MO, PAYX, AXP, GS, DHR, BRK/B, DIS
Boosted stakes in: AER, CHNG, NBSE, GPOR
Cut stakes in: CNX, XELA, CC
ICAHN
Top exits: HPQ, HTZ, FCX
Boosted stakes in: IEP, LNG, TEN
Cut stakes in: CLDR
IMPALA ASSET MANAGEMENT
Top new buys: LAD, DRI, NSC, HES, CMI, VAC, TOL, ADNT, DOOO, MU
Top exits: MSFT, PCAR, CSX, KBH, VMC, MA, AMZN, FDX, EXP
Boosted stakes in: HOG, RIO, AAWW, FUN, WYNN, UFI
Cut stakes in: TGT, QCOM, KSU, SBLK, TTWO, SIX, KNX, TCKRF, NVR, TECK
JANA PARTNERS
Top exits: NEWR, JACK
Boosted stakes in: PRSP, SPY
Cut stakes in: AXTA, HDS, HI, BLMN, ELY, CAG
LAKEWOOD CAPITAL MANAGEMENT
Top new buys: HDS, CRL, LBTYK, LBTYA, UE, CDK, NKLA, ABG, CROX, SHAK
Top exits: WUBA, AMZN, ICE, FNF, TWO, YY, RNR, TPR, WW, REAL
Boosted stakes in: FAF, BABA, ANTM, AXS, BIDU, BHC, HCA, SKX, C, ACGL
Cut stakes in: GOOGL, CI, FB, MA, DELL, GS, AGNC, APO, CMCSA, BC
LANSDOWNE
Top new buys: C, VMC, LUV, ED, FCX, RYAAY, AES, COG, TMUS, BKNG
Top exits: DHT, NKLA, AGI, TT, IQ, BABA
Boosted stakes in: MU
Cut stakes in: UAL, DAL, FSLR, GE, ETN, ADI, REGI, LRCX, TSM, SMMT
LONG POND
Top new buys: PEAK, LVS, DEI, EQR, SHO, WELL, SEAS, UDR, INVH, MAR
Top exits: H, DHI, VNO, PEB, PGRE, MGM, VAC, RRR, JLL, CUZ
Boosted stakes in: CPT, AVB, MAA, AIV, HLT, ESS, FR, KRC, JBGS
Cut stakes in: WH, HGV, RHP, HPP, SBRA
MAGNETAR FINANCIAL
Top new buys: ADCT, NVS, PKI
Top exits: HPQ, TSG, DLR, DKNG, ET, EPD, KMI, LHCG, CRL
Boosted stakes in: GRUB, WLTW, LH, BDX, LCA, CPAA, SYNH, ABBV, CRSA, DGX
Cut stakes in: PFE, ADSW, TIF, UBER, NVST, BAX, WMB, PPD, MEET, FREE
MAVERICK CAPITAL
Top new buys: AXP, LIVN, VFC, MKC, GE, BGS, THS, GIS, CRI, FL
Top exits: QSR, COMM, ALKS, H, BX, GME, WING, ARMK, ORCL, LB
Boosted stakes in: FB, AMZN, DLTR, MSFT, LRCX, APD, ATRA, NFLX, NKTR, UBER
Cut stakes in: FLT, BABA, DD, CCK, STNE, PRSP, TMUS, CNC, ADBE, KKR
MELVIN CAPITAL MANAGEMENT
Top new buys: DOCU, TWLO, SE, GOOGL, AEO, LOW, NUAN, HLT, TPX, PINS
Top exits: TTWO, CPRT, EDU, DG, ADYEN, EFX, ADI, LKNCY, IQV, QSR
Boosted stakes in: FISV, AZO, BKNG, JD, PYPL, LB, AAP, MA, FICO, DPZ
Cut stakes in: FIS, FB, CSGP, LH, NFLX, DRI, VRSN, AMZN, EL, PLAN
OAKTREE CAPITAL MANAGEMENT
Top new buys: PCG, GTH, API, SRNE
Top exits: CEO, SRLP, WMB, BRFS, ASRT, ORCC, PVAC, MDRIQ
Boosted stakes in: TMHC, AU, TSM, CX, ITUB, MELI, BIDU, AFYA, IBN, AZUL
Cut stakes in: BABA, BCEI, CZR, CCS, SMCI
OMEGA ADVISORS
Top new buys: DNRCQ
Top exits: GOOGL, SSSS, TWO, GPMT
Boosted stakes in: COOP, JPM, FOE, GTN, MGY, SNR, SRGA, AMCX
Cut stakes in: VICI, GCI, FCRD, NBR, ASPU, OCN, EFC, MVC, PE, ABR
PERSHING SQUARE
Top exits: BRK/B, BX, PK
Boosted stakes in: QSR, LOW
Cut stakes in: HHC
SOROBAN CAPITAL
Top new buys: RTX, CMCSA, HLT, MAR, YUM
Top exits: LHX, QSR, NSC
Boosted stakes in: BABA, SNE
Cut stakes in: NOC, UNP, CSX, ATUS, AMZN, MSFT
SOROS FUND MANAGEMENT
Top new buys: IGSB, SLQT, HAIN, PCG, DKNG, DRI, SPSB, BAC, MS, C
Top exits: XLU, WMGI, UNH, LNT, SHW, ALL, CBOE, LEN, DIS, CVE
Boosted stakes in: LQD, TMUS, NLOK, VICI, TDG, ARMK, BK, GS, ETFC, FOCS
Cut stakes in: PTON, TIF, TCO, ORCC, VST, KKR, CLVS, AVTR, ATVI, DHI
STARBOARD
Top new buys: IWM, IWR
Top exits: REZI
Boosted stakes in: MD, ACIW
Cut stakes in: EBAY, IWN, CERN, NLOK, CVLT, BOX, MMSI, GDOT
TEMASEK HOLDINGS
Top new buys: BLK, PDD, SBUX
Top exits: BMRN, UNVR, RDS/B, PAGS, STNE, TOUR, FSLY, WORK
Boosted stakes in: BGNE, HDB, IBN, CBPO, VMW
Cut stakes in: BABA, FIS, VIRT, NIO, DDOG, VNET, INFO
TIGER GLOBAL
Top new buys: ZI, API, DADA
Top exits: IQ, LVGO, BILL, STG, JCPNQ
Boosted stakes in: JD, AMZN, MSFT, CRWD, SPOT, PDD, DDOG, CRM, WDAY, ZM
Cut stakes in: ATH, SVMK, RDFN, MA, STNE, PYPL
TUDOR INVESTMENT
Top new buys: ADSW, PCG, TMUS, TME, LHX, ATHM, BXMT, NFLX, ESS, EQR
Top exits: TIP, DEI, ABBV, FHN, KRC, GLPI, COP, PEG, LAD, MS
Boosted stakes in: AMTD, ETFC, GLIBA, SOXX, X, O, AAPL, UBER, CRWD, TCO
Cut stakes in: SPY, JAZZ, CERN, TEAM, HPQ, MCD, EA, LRCX, CUZ, PSB
VIKING GLOBAL INVESTORS
Top new buys: TMO, HLT, APG, NUAN, MCO, PH, ADI, SHW, DRI, ZNTL
Top exits: ANTM, GOOGL, FB, NSC, ORLY, A, NOW, PGR, BMRN, AJG
Boosted stakes in: AXP, CMCSA, FIS, LVS, TMUS, PLAN, JPM, AON, CB, SE
Cut stakes in: NFLX, BSX, JD, LOW, UBER, CME, MELI, MU, CRM, CHNG
WHALE ROCK CAPITAL MANAGEMENT
Top new buys: SQ, NXPI, MELI, CREE, VRM, ZI
Top exits: DIS, BABA, INTC, MU, MIME, ZS, ATVI, TSM, KLIC, PLAN
Boosted stakes in: FSLY, SHOP, DOCU, TSLA, COUP, AMZN, W, FB, OKTA, BILL
Cut stakes in: NOW, MSFT, NET, PTON, SMAR, FTNT, CRWD, AVLR, ZM, DDOG
Source: Bloomberg, HSBC