It was a seesaw day for Chinese stocks which started off on the wrong foot despite an Australian jobs number that was so good even the Australian media and economists aren't buying it, perhaps aided by a Chinese new loans number that missed badly (new loans of CNY514Bn, Exp. 800Bn, aggregate financing CNY477Bn, Exp. CNY1.05Tr) and suggests the recent surge in credit creation may be tapering, however the afternoon session once again saw the arrival of the National Team with stocks recovering all losses before closing 0.48% in the red.
The intervention did not help commodities, however, as Shanghai steel futures fell more than 1% to another record low pressured by shrinking demand in top consumer China that has dented appetite for raw material iron ore. With falling prices seen forcing more Chinese steel mills to either cut output or close, demand from the biggest iron ore buyer is at risk, keeping ore prices lower for longer as top suppliers fight for more market share. Copper prices also continued their slide following a note from Goldman overnight predicting even more downside for the "Doctor" which in turn has pushed shares of Glencore back under 100p again.
But the biggest event overnight came from Europe, where Draghi managed to once again jawbone the Euro lower by ober 50 pips when he told European lawmakers in a prepared testimony that downside economic risks are "clearly visible," repeating his October press conference statement, adding that the ECB will reexamine degree of accommodation in December as "inflation dynamics have somewhat weakened."
And the statement that crushed the Euro: "If we were to conclude that our medium-term price stability objective is at risk, we would act by using all the instruments available within our mandate to ensure that an appropriate degree of monetary accommodation is maintained." I.e., another "whatever it takes" moment.
The immediate result:
Another immediate result:
GERMAN TWO-YEAR NOTE YIELD DROPS TO RECORD-LOW MINUS 0.372%
This means that even if Draghi cuts to -0.30%, 2 Year bonds will still be below the yield floor and thus not eligible for purchases, which will then force the ECB to cut even more sending yields even more negative and so on in a cat and mouse game of twilight zone monetarism.
What is perhaps more disturbing is that despite the aggressive jawboning by Draghi, while the Euro obediently tumbled, neither European stocks nor US futures rebounded and the latest market snapshot can be seen below:
S&P 500 futures down 0.1% to 2067
Stoxx 600 down 0.7% to 376
MSCI Asia Pacific up 0.4% to 134
US 10-yr yield down less than 1bp to 2.32%
Dollar Index up 0.07% to 99.08
WTI Crude futures up 0.2% to $43.03
Brent Futures up 0.2% to $45.90
Gold spot up less than 0.1% to $1,087
Silver spot up 0.5% to $14.40
One reason for the market's lack of euphoria is that today we get another surge in Fed speakers later today, which means the risk of being caught offside to some ridiculous algo momentum ignition is very high, and why liquidity will be lower than usual. Specifically, speaking today we have Janet Yellen, No.2, Stanley Fischer, and four other Fed stooges. Look for much more December rate hike jawboning; the question is whether it will be hedged with talk focusing on the latest swoon in stocks and the resumed collapse in oil prices.
The speaker calendar:
9:15am: Fed's Bullard speaks in Washington
9:30am: Fed's Yellen speaks in Washington
9:45am: Fed's Lacker speaks in Washington
10:15am: Fed's Evans speaks in Chicago
12:15pm: Fed's Dudley speaks in New York
6:00pm: Fed's Fischer speaks in Washington
Another catalyst that may have prevent a rebound in Europe (and US) were earnings by enginemaking giant Rolls Royce whose shares sank the most in 15 years after a stark profit warning, which tumbled by 20%. Some £2 billion ($3 billion) of market value disappeared after the company said 2016 earnings will be hurt from declining demand for business jet engines and lucrative maintenance services on bigger turbines. This year's profit will also be at the lower end of the forecast range. New CEO Warren East will unveil plans to reorganize the company on Nov.24. Shares have plummeted 37 percent in 2015, on track for the worst annual performance in seven years.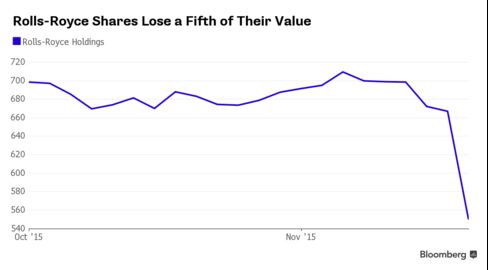 Back to the overnight markets, where in Asia stocks traded mixed, following the tepid lead from its US counterparts. ASX 200 (+0.5%) pared initial energy inspired losses after the strong Australian jobs report signalling an improvement in the economy, while the Nikkei 225 (-0.1%) oscillated between gains and losses. Shanghai Comp. (-0.5%) plunged the most in a week led by tech names with growing concerns that the recent 25% bounce back from the August low has been overdone amid a raft of weak data from the nation. JGBs rose 12 ticks amid light volumes, subsequently shrugging the relatively lacklustre 30-yr auction.
Notable was China's monetary data which came decidedly mixed. As Goldman summarizes, October M2 growth was above market expectations while loan and TSF growth were well below market expectations. However, the weakness in TSF came in more volatile components. 
New CNY loans: Rmb 514 bn in October (RMB loans to the real economy: Rmb 557.4 bn) vs. GS forecast on loans to the real economy: Rmb 700 bn, Bloomberg consensus: Rmb 800 bn. September 2015: Rmb 1,050 bn; October 2014: Rmb 548 bn. Outstanding CNY loan growth: 15.4% yoy in October (14.3% SA ann mom, estimated by GS); September 15.4% yoy (14.6% SA ann mom).
Strong M2 growth was supported by two factors: (1) very supportive fiscal policy with October fiscal spending at 36.1% yoy, (2) less drag from FX flows compared with September as indicated by the FX reserve data (though we would like to see more data such as FX position data to get a better sense). Both are supportive of domestic liquidity conditions.
Loan supply was modestly weak but seasonally adjusted sequential growth remained firm.
The downside surprise of TSF data was mainly the result of a large drop in discount bills, which tend to be a very volatile category. Despite the downside surprise the month-on-month growth of the TSF stock, after adjusting for local government bond issuance, was 14.8% annualized, only slightly slower than September.
The mixed picture from money and credit data is broadly consistent with the lackluster activity data in October. Given activity growth is still on the soft side of officials' comfort zone, and CPI inflation has been decelerating (it has surprised on the downside for two months in a row and is likely to remain low at least in November), policy is still likely to maintain a loosening bias. We continue to expect another cut in RRR (50 bps) and benchmark rates (25 bps) before the end of the year.
Hong Kong's Hang Seng Index rebounded 2.4% after a five-day drop, the longest since Aug.24, becoming Asia's best-performing stock market on Thursday. The gauge has suffered from a series of weaker-than-forecast Chinese economic data even as China's own stocks rebounded.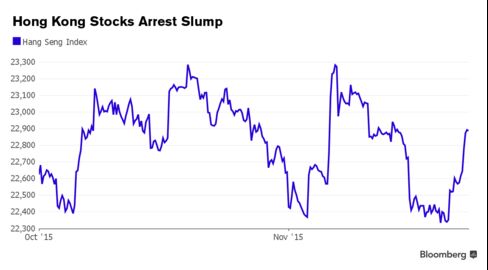 The price action in the European morning session was governed by comments made by ECB's Draghi, whereby he continued the dovish rhetoric from last month's press conference, most notably stating that the ECB will examine monetary policy accommodation at the December meeting. As such, this leaves the door open for both an extension for the current QE program and a cut in the deposit rate.
European equities (-0.7%) also saw modest upside on the back of ECB's Draghi's comments, however major European indices remain in negative territory as sentiment remains downbeat after the latest soft data out of China, combined with the uncertainty with regards to the form of ECB easing in terms of whether the ECB may cut the deposit rate or expand QE . Separately for equities, multinational companies may benefit from ECB monetary easing, however may also have to contend with the possible December rate hike by the Fed, which could counter effects from the ECB action.

On a stock and sector specific basis, equities were led lower by a spate of poor earnings releases from the likes of Rolls Royce (-20%) and RWE (-8.0%), while seeing the energy sector underperform after WTI and Brent erase all their overnight gains shortly before the European cash equity open.
As a consequence, EUR is weaker across the board as market participants continue to price in further monetary easing, with significant weakness being seen this morning against both the USD and CHF; while in the more long term view and given previous rhetoric from the SNB, a sustained move lower in EUR/CHF may be a concern for the Swiss central bank.
In Asia, AUD outperformed amid positive Australian jobs data, as the headline reading topped expectations printing the highest figure since March'12 (58.6K vs. Exp. 15.0K), which also saw OIS price in as little as a 5% chance of a rate cut from the RBA in December compared with a 60% probability before the release.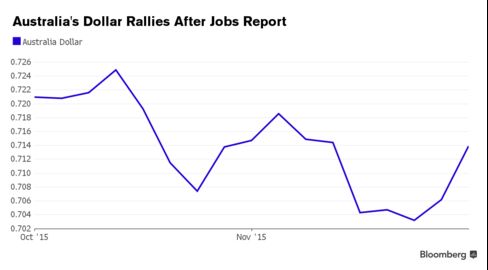 In fixed income markets, Bunds also benefited from ECB's Draghi's comments and peripheral bond yield spreads are seen broadly tighter. However gains were capped by supply out of Italy, with the equivalent of 36k bund futures set to be issues. Front-month Euribor was also bid on the prospect of lower rates and further policy intervention.
In commodities, WTI continues to trade around 2 month lows amid the continuing supply glut, as demonstrated by Tuesday's API crude oil inventories printing a build for the seventh straight week, which has been exacerbated by the stronger USD. Softness continues to be seen in base metals as copper continued its downward trajectory, falling for the fifth session out of six in Asia following yesterday's weak Chinese industrial production data. Base metals continued to sell off during European trade, as a result of more weak Chinese data releases, with Chinese New Yuan Loans CNY (Y/Y 513.6B vs. Exp. 800.0B Prey. 1050.0B) and Aggregate Financing CNY (Oct 476.7B vs. Exp. 1050B Prey. 1300B, Rev. 1302B) both missing expectations. Of note, copper is now closing on the year low of USD 4,855 which it reached in August.
Today's key events in the US this include the initial jobless claims reading, shortly followed by more employment data in the September JOLTS job openings read. Later we'll also get the October Monthly Budget Statement. It's a particularly busy day for Fedspeak as mentioned with Bullard (2.05pm GMT), Yellen (2.30pm GMT), Evans (3.15pm GMT), Dudley (5.10pm GMT) and Fischer (11pm GMT) all expected to speak at various points.
Top news:
Draghi Says Inflation Weakening as December Policy Choice Nears: Likelihood of inflation returning to the ECB's desired level has declined and economic risks are rising, Mario Draghi said at hearing in the European Parliament on Thursday
China Credit Growth Falls as Tepid Economy Dents Loan Demand: Aggregate financing slumped to 476.7 billion yuan ($75 billion), lower than all 25 economists' projections
Global Banks Agree Contract Updates to Stave Off Another Lehman: Agreed to rewrite trillions of dollars of financial contracts as the industry seeks to persuade regulators that they can fail without bringing down the global economy
Rolls-Royce Plunges as 2016 Profit to Suffer Near $1 Billion Hit: Will drop as demand for business-jet engines and lucrative maintenance services on bigger turbines declines
Siemens Raises Dividend and Plans $3.2 Billion Share Buyback: Will buy back as much as EU3b of shares over the next 3 years
Lenovo Loss Slimmer Than Expected Amid Shift Away From China: 2Q net loss of $714m vs $803m avg expected by analysts; sales climbed 16%, also beat ests.
Salini Buys Lane Industries for $406 Million to Expand in U.S.: Has been looking for an acquisition in North America for more than a year as CEO seeks business in fast-growing mkts for infrastructure investments
Russia Sees Syria War Endgame Stretch to 2017 as Talks Renew: Will propose a political transition in Syria lasting as long as 18 months at the next round of talks starting Saturday in Vienna
Major Oil Companies Have Half-Trillion Dollars to Fund Takeovers: Exxon tops the list with total of $320 billion for potential acquisitions, followed by Chevron with $65 billion in cash and its own shares, then BP with $53 billion
Apache's Snub of Anadarko Approach Puts Both Explorers in Play: For Anadarko, an acquisition of the $20 billion company would have served as a defense from any potential suitors
Overnight Summary from RanSquawk and Bloomberg
Dovish comments from ECB's Draghi sees weakness in EUR but failed to pull equities out of negative territory
Bunds also benefited from ECB's Draghi's comments and peripheral bond yield spreads are seen broadly tighter, however gains were capped by supply out of Italy
Looking ahead, today sees US weekly jobs data, JOLTS and DoE inventories as well as a host of Fed and ECB speakers
Treasuries gain amid as stocks decline on weak earnings, slowing credit growth in China; quarterly refunding ends today with $16b 30Y bonds, WI 3.110% (highest since June) vs 2.914% in October.
Mario Draghi signaled that the ECB is ready to boost its stimulus programs next month as economic prospects worsen and "signs of a sustained turnaround in core inflation have somewhat weakened". Draghi says QE "is actually working," had "powerful effects" on banking, markets
Industrial production in the euro area fell more than forecast in September, declining 0.3% vs -0.,1% est
Goldman expects ECB to cut deposit rate by 10bp to -30bp in Dec., leave main refi rate unchanged at 5bp, extend QE through end of 3Q 2017
China's broadest measure of new credit slumped to the lowest in 15 months in October, adding to evidence six central bank interest-rate cuts in a year have yet to spur a sustained pick up in borrowing
Hermes International SCA and Burberry Group Plc reported sputtering sales growth in America, adding to the woes of luxury-goods makers already reeling from an Asian slump
Sweden has imposed temporary border controls to stem a record inflow of refugees as the Nordic nation pleads with the rest of Europe to help deal with the biggest migration wave seen in the region since World War II
Russia will propose a political transition in Syria lasting as long as 18 months at the next round of talks starting Saturday in Vienna, where diplomats will resume the search for a settlement to the country's civil war.
$7b IG priced Tuesday, $200m HY. BofAML Corporate Master Index OAS holds at +161, YTD range 180/129. High Yield Master II OAS widens 8bp to +602, YTD range 683/438
Sovereign 10Y bond yields lower. Asian stocks mixed, European stocks and U.S. equity-index futures decline. Crude oil and copper fall, gold gains
US Event Calendar
8:30am: Initial Jobless Claims, Nov. 7, est. 270k (prior 276k)


Continuing Claims, Oct. 31, est. 2.155m (prior 2.163m)

8:45am: Bloomberg Nov. U.S. Economic Survey
9:45am: Bloomberg Consumer Comfort, Nov. 8 (prior 41.1)
10:00am: JOLTS Job Openings, Sept., est. 5.370m (prior 5.370m)
2:00pm: Monthly Budget Statement, Oct., -$130b (prior - $121.7b)
Central Banks
o    9:15am: Fed's Bullard speaks in Washington
o    9:30am: Fed's Yellen speaks in Washington
o    9:45am: Fed's Lacker speaks in Washington
o    10:15am: Fed's Evans speaks in Chicago
o    12:15pm: Fed's Dudley speaks in New York
o    6:00pm: Fed's Fischer speaks in Washington
•    Supply
o    11:00am: U.S. to announce plans for auction of 3M/6M bills, 10Y TIPS
o    1:00pm: U.S. to sell $16b 30Y bonds
DB's Jim Reid completes the overnight recap
It was fairly quiet in markets again yesterday, which was unsurprising with the US Treasury market closed for Veterans Day. As you'll see in the day ahead at the end of the report it's a very busy day for Fedspeak today with five officials due to comment including Fed Chair Yellen shortly after lunchtime, so expect news-flow to pick up. Yesterday US equity markets were open and traded with a bit of a softer tone for much of the session. The S&P 500, Dow and Nasdaq all finished the session -0.32%. In fact, this was an incredibly rare event. Running the numbers since the commencement of the Nasdaq in 1971, we calculate that this has only ever happened on one other day which was 15th August 1978 (assuming returns are calculated to 2dp's). Meanwhile, prior to this European markets had actually moved higher with the Stoxx 600 +0.65% while European sovereign bond yields edged down a couple of basis points as another dovish ECB story out of Reuters made the rounds which we'll touch on shortly.
The commodity complex was again the centre of some of the sharper moves. Metals were weak reflecting the softer than expected Chinese IP data yesterday with Silver (-0.73%), Platinum (-2.07%), Zinc (-2.25%), Copper (-0.78%) and Lead (-1.51%) all under pressure. Oil markets also tumbled which sent energy stocks sharply lower yesterday. WTI finished the session -2.90% to close back below $43/bbl for the first time since August 24th. Brent was weak too, finishing down over 3% and back below $46/bbl. It feels like most days at the moment we see fresh negative headlines suggesting the glut in prices is set to be prolonged and yesterday saw the latest American Petroleum Institute numbers show inventories increased by 6.3m barrels last week which was far higher than analyst expectations of 1.1m according to the WSJ, sparking the sell-off. On top of this, news that Iraq has loaded 10 tankers to supply US crude to American ports also weighed on sentiment, as did the EIA raising its forecast for US crude production for the remainder of the year.
Back to that Reuters story yesterday on the ECB. The article suggests that the Bank is considering the possibility of buying debt of cities and municipalities as part of its asset purchasing programme, possibly as soon as March next year. Reuters suggests that almost $500bn of bonds issued by cities and muni's are in circulation currently, with the article suggesting that options are being studied. There was little mention of the possibility of buying corporate debt other than it being 'much sought after and therefore difficult to buy' according to the article. In any case, it's another clear dovish hint from the ECB that some sort of further stimulus is likely. While the expansion into cities and muni's for Q3 wouldn't materially raise the overall universe, it does potentially increase the time horizon for countries seeing a shortage of assets.
Staying with the ECB, late last night we also heard from board member Coeure who, while noting that the decision is yet to have been made, confirmed that 'the debate is open' with regards to possible further easing. Coeure added that Euro area growth is accelerating 'but it remains weak, while inflation expectations have stopped improving and underlying inflation has hit a ceiling'.
Turning to the latest in Asia this morning markets are somewhat mixed. The Hang Seng (+1.0%) is up for the first time in 6 days largely led by Tech and Consumer names. The Nikkei is flat but the Shanghai Composite is down just around 1% as we type partly driven by Financials and Energy stocks. Asia credit is trading reasonably firm with high quality corporates around 2-3bps tighter. Staying in China, there has been a few updates over the last 24 hours but one of the interesting macro stories was a Bloomberg article which reported that the central Government may increase the municipal debt-swap program quota up by 25% to CNY3.8-4.0trillion this year. Chinese rates are slightly higher on the back of potentially more long dated bond supply. Recall the plan was first established earlier this year to ease financing conditions at the local government level in the hope of supporting infrastructure spending.
Overall easier policy is perhaps starting to show and we got more signs of that from yesterday's Chinese data. Indeed in a note yesterday our China Chief Economist, Zhiwei Zhang, noted that some of these indicators stabilized in October. Some of the positives that Zhiwei touches upon in particular were leading indicators for FAI. He points out that funds available for FAI rose by 7.3% yoy last month, compared to 6.8% in September having been driven by improving funds from state budget. On top of this, planned investment for new projects grew along with ongoing project investment, suggesting fiscal policy easing is working. In addition land sales as reported by the NBS improved sharply in October, jumping to -9.1% from -42.8% in September. This is consistent with other recent lands sales data and again reinforces the view that fiscal revenue will improve in Q4 and Q1. On the negative side, new housing starts failed to maintain the strong momentum of September, casting uncertainty on the property sector outlook. Overall Zhiwei maintains his growth forecast of 7.2% yoy in Q4 and 6.7% in 2016. As a baseline case he expects no more IR or RRR cuts for the rest of the year, but notes that the chance of one more IR cut is rising post the soft CPI data.
Switching tracks a little and back to markets, one of the most interesting themes we've been discussing with credit clients over the last few days has been the latest data from the NY Fed showing US corporate debt inventories turning negative for the first time on record. Rather like the fact that swap spreads are now deeply negative in the US, this again shows the relationships and ideas we knew from the past are changing in this heavily regulated market and financially repressed world. In both markets year-end pressures are exacerbating the issue. We still believe that when this credit cycle ends the lack of liquidity will be a major issue but for now other factors are still more dominant for the direction of spreads and we don't think there has been an increase in the liquidity premium in recent times. In fact with inventories run down so uickly, and with the in ows we ve s een in recent weeks, had it not been for still huge US supply, credit could have gapped tighter. At the moment supply is offsetting positive inflows and remains a big issue for US credit. However in some ways it does reflect that there is still demand for the asset class. The worst periods in credit markets are when you can't give new deals away. At the moment record supply is being taken down which is causing spread indigestion rather than anything more serious at the moment.
Trying to gauge the volume of supply in US that we've seen and post Tuesday's c.$7bn of issuance, we're standing now at nearly $57bn alone for the month of November so far and $1.4tn YTD. Putting it into perspective, that's currently running about 17% higher YoY.
Just wrapping up yesterday and specifically the data, the only release of note was out of the UK where there some mixed signals from the latest employment rate. On the positive side the ILO unemployment rate fell in September, declining one-tenth to 5.3% (vs. 5.4%). However wages data were softer than expected. Ex-bonus earnings fell three-tenths to 2.5% yoy which was lower than expected (vs. 2.6% expected).
Looking at the day ahead now, this morning there'll be close attention on the final October German CPI reading while we'll also get last month's French CPI data. The September Euro area industrial production print is also expected shortly after these. In the US this afternoon we'll get last week's initial jobless claims reading, shortly followed by more employment data in the September JOLTS job openings read. Although the data is released with a one-month lag, the data nonetheless is important given it's closely followed by Fed Chair Yellen. Later this evening we'll also get the October Monthly Budget Statement. It's a particularly busy day for Fedspeak as mentioned with Bullard (2.05pm GMT), Yellen (2.30pm GMT), Evans (3.15pm GMT), Dudley (5.10pm GMT) and Fischer (11pm GMT) all expected to speak at various points. On top of this the ECB's Draghi is set to speak to lawmakers in EU parliament this morning at 8.30am, while later on we are due to hear from BoE Chief Economist Haldane.