Remember Hamid Karzai? That was Bush's puppet in Afghanistan, post Taliban. Thanks to Karzai, Afghanistan's opium production rose an impressive 20x under his rule -- fulfilling an insatiable appetite for drug addled Americans in need of firm opiate-laced needles in their necks.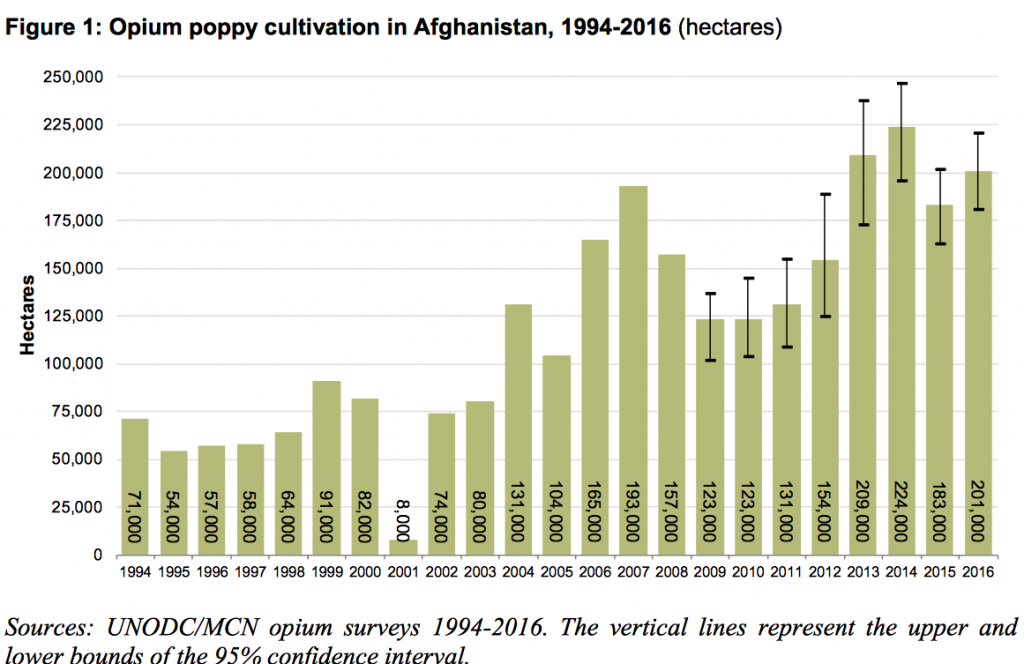 Now retired, he's pissed off that the current Afghan ruler, Ashraf Ghani, permitted the United States to drop the MOAB on their ISIS loving asses, saying, "How could you permit Americans to bomb your country with a device equal to an atom bomb? If the government has permitted them to do this, that was wrong and it has committed a national treason." Ghani's  answer to Karzai's charges was, err, freedom: "Every Afghan has the right to speak their mind. This is a country of free speech." Clearly, Karzai doesn't agree with Fox and Friends assertion that the MOAB is equal to freedom.
Why should Afghanistan suffer in such a massive way with a bomb so big, so dangerous that they themselves call it the 'mother of all bombs'.

— Hamid Karzai (@KarzaiH) April 16, 2017
More from the former Afghan leader, calling the bomb 'poison' and bad for the environment -- because ISIS is all about preserving a low carbon footprint. Local villagers said they thought the end of the world was upon them, after the U.S. dropped a MOAB on the terrorists traversing underneath the ground in elaborate tunnels.  
Via Daily Caller:   "The earth felt like a boat in a storm," one villager told The Guardian. He continued, "My ears were deaf for a while. My windows and doors are broken. There are cracks in the walls." Achin's Mayor Naweed Shinwari said "my relatives thought the end of the world had come."   "Last night's bomb was really huge, when it dropped, everywhere, it was shaking," one resident told Reuters. He characterized the strike as a "positive move" to rid the village of ISIS fighters. One man who lived two miles from the blast area told CNN "we were all scared and my children and my wife were crying. We thought it had happened right in front of our house."
  Freedom. Content originally published at iBankCoin.com