Content originally published at iBankCoin.com
The media is working over time to give retailers good press, seeing that they're all but destroyed now. Long stories filled with anecdotal quotes from store managers litter the internet today, exclaiming the virtues being able to touch and feel items on sale, as opposed to merely buying them via Amazon. Who does that anyway, buy items online? Poppycock. According to all media reports, retailers are back to banking coin again. But don't tell the shareholders of M, JCP or SHLD, whose stock values have dropped by more than 40% for 2017. I'll have you know, the cold weather in the northeast has 'blessed' them and people are throwing sharp elbows at each other with the hopes of being able to snag a discounted coat or two, maybe a sweater.
A Macy's spokeswoman later confirmed that more than 16,000 people were lined up outside the Herald Square store before it opened Thursday evening. By 7 a.m. Friday, Macy's had already sold 200,000 coats, and was on track to sell more than 1 million coats, sweaters and fleece jackets by the end of the weekend.   The Northeast has been "blessed ... with cold weather," Gennette told CNBC.
  Despite all of this 'touch and feel' nonsense, online sales continue to surge, slowly but surely designating department stores as showcases for Amazon.  
Black Friday online spending was a record $5.03 billion, up 16.9 percent over last year, according to Adobe Systems Inc. Much of that shopping is now occurring on phones, with mobile devices accounting for 54 percent of visits. Adobe said it expects Cyber Monday to be the biggest online shopping day in history, with $6.6 billion in predicted sales, a 16.5 percent increase over 2016.
The media headlines cannot give the brick and mortar retailers enough praise. Here are two wonderful headlines from CNBC and Bloomberg, one featuring what looks like my neighbor.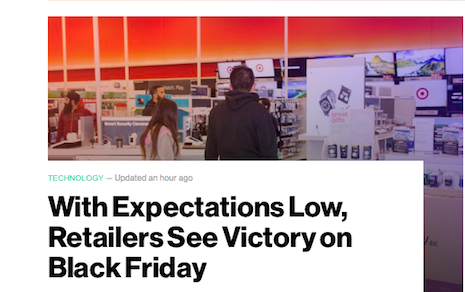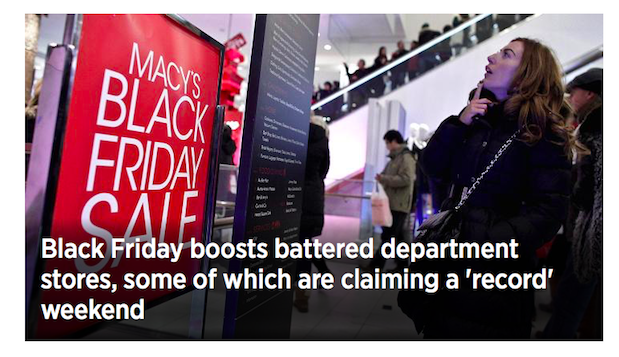 And physical store traffic looks to be down anywhere from 4-6%.  
Physical-store traffic, meanwhile, was down 4 percent to 6 percent, Cowen & Co. analyst Oliver Chen estimates.   Retailers have tried to avoid becoming showrooms for Amazon, meaning customers look at products in their stores and then buy it from the e-commerce giant. To keep shoppers from straying, Wal-Mart and others have pumped billions into their web operations.   Sights and Sounds   Macy's overhauled its rewards program, aiming to keep consumers loyal regardless of whether they're online or off. A customer who shells out at least $500 a year gets free shipping and 25 percent off a day of shopping.   But the 159-year-old chain also is touting its traditional retail experience as a way to hook shoppers.   "Customers today want to go to a store -- the sights, the smells, the sounds," Chief Executive Officer Jeff Gennette said in an interview Friday.   Some retailers have more of an uphill battle. Sears Holdings Corp. saw same-store sales fall 17 percent at its flagship chain last quarter and 13 percent at its Kmart brand.   At a Sears in upstate New York, a quiet store greeted 47-year-old Nadine Charles on Friday. She's been a regular Sears customer for years, but feels like the selection has gone downhill.   "I don't find anything good anymore at Sears," said Charles, a nurse with four children. "They don't have good brands. Now I can buy things in Wal-Mart -- they are cheaper and last longer."
  Please.