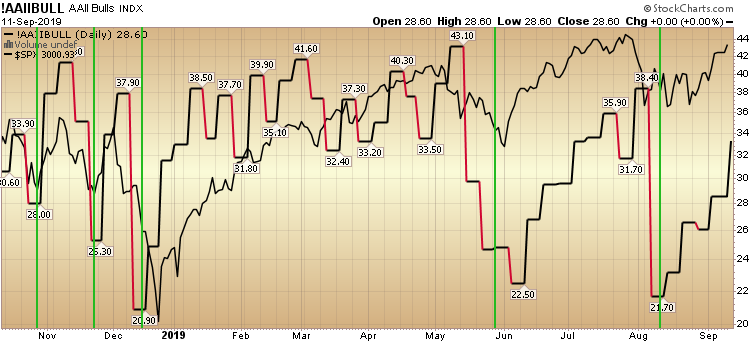 by T.J. Hayes via Hedge Fund Tips
Over the past few weeks we have suggested stepping in as a buyer when everyone else was selling stocks and running into bonds.
August AAII Asset Allocation Survey: Highest Fixed-Income Exposure in 6 Years
You can see our previous notes here:
https://www.hedgefundtips.com/aaii-sentiment-survey-results-pessimism-strong-opportunity-stronger/
This week, the bulls are starting to come out of their slumber.  Bullish Percent rose to 33.13% (from 28.64%) and Bearish Percent dropped from 39.51% to 31.25%.  In other words, folks started covering shorts but were hesitant to reverse and get aggressively long.  This is the type of continued "wall of worry" we will need in place to get to and through new highs.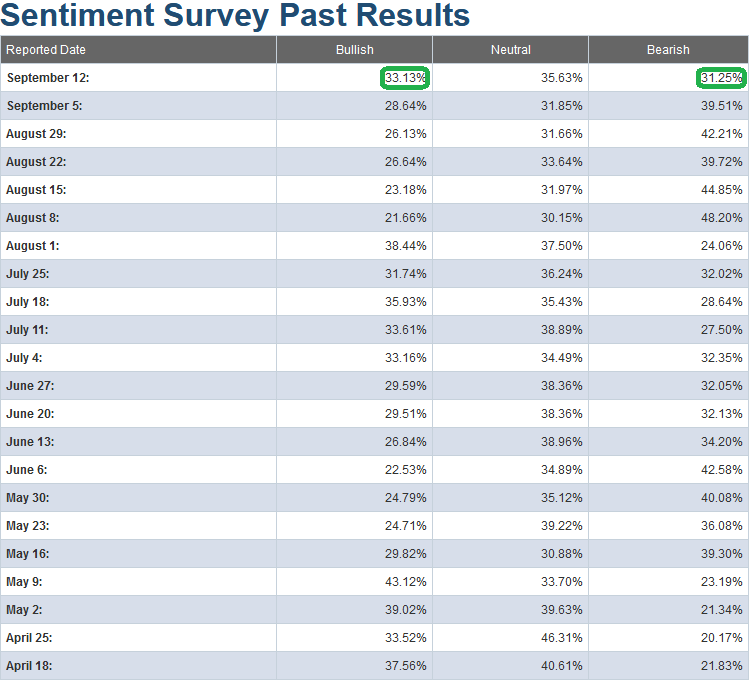 We are right around the mid-point of sentiment (half way from gripping fear to over-exuberance/euphoria) – also known as the "sweet-spot" for getting exposure.  This is when the bears who have reluctantly covered will be forced to become bulls (against their will) – as the market continues to creep up.
We will know it is time to lighten up when those folks who were talking recession and negative yields in mid-August come on with enthusiasm for new IPO paper (or more accurately when Bullish Percent is ~>40% for some time and Bearish Percent has dropped to the mid-20's%).  The ducks will quack and wall street will feed them…
Just as we are right around the mid-point/sweet spot and have plenty of runway on AAII Sentiment, this is confirmed by CNN's Fear and Greed Index, coming in smack dab in the mid-fifties this week: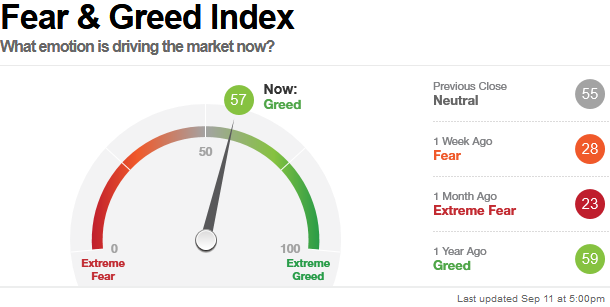 We cover an "Indicator of the Day" in ~60 seconds on video.  So far we've posted ~three dozen indicators you may find helpful.  Most are confirming the abovementioned view that there is still plenty of runway ahead to new highs and beyond.  You can find them here:
Click to view Market Indicators video library