---
GoldFix: "Time to Bury the GoldBug Macro"
  Follow Vince on Twitter; Technical levels courtesy of  MoorAnalytics.com
Good Morning. Today will be the first full trading day post Friday's very strong payrolls number. The dollar is flat. Stock index futures are up across the board. Spot Gold and Silver are softer but well within their ranges of the past two days. Bitcoin is down after choppy weekend sessions. Ethereum was the crypto winner this weekend making new ATH and it has also given some gains back this morning. Oil is lower and has been choppy in a $2.00 range. Grains are all firmer
Bloomberg says: U.S. services and composite purchasing managers index data for March is published at 9:45 a.m. Eastern Time. The ISM services index for the month is at 10:00 a.m. Also at that time, factory and durable goods orders for February are released. The International Monetary Fund and World Bank Spring meetings begin and continue through April 11.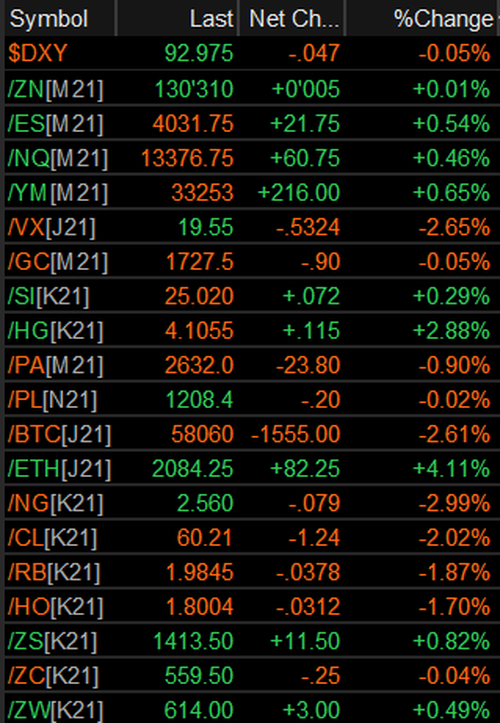 Technicals: Gold Bullish Formations Off Hold
The following are excerpts from Moor AnalyticsTechnical Reports posted here with permission.
The following bullish formations have been on hold since 12/31/20. These are now OFF HOLD.
The break above $1,347.0 projected this upward $80 minimum, $320 (+) maximum. We have attained $744.2 of this. We held another exhaustion within this at $1,416.0-$1,413.7 with a $1,412.1 low and rallied $676.9. On 4/2 we left a bullish reversal below. We have seen $470.7. We have seen $398.2 of the strength warned about above the $1,690.3- $1,691.0 area.
On a lower timeframe basis: The decent break above $1,705.6 also warns of continued strength for days/weeks. We have seen $26.4 of this so far. Friday, we also left a short-term bullish reversal below. Decent trade below $1,716.3-6.2 will negate this. Decent trade above $1,726.6-6.8 (-1.2 tics per/hour starting at 8:20am) will project this upward $54 (+). 'Decent' on GLOBEX/pre-open is $9.1, post open is $8.2.
Get long on a decent penetration and/or pullback $1,726.6-6.8 (-1.2 tics per/hour starting at 8:20am) and look for the move upward mentioned above. If we break above here decently and back below decently, look for decent pressure to come in.
Go to MoorAnalytics.com for 2 weeks reports free.
Funeral for a Friend
Joe Weisenthal, Co-host of the Odd Lots podcast and 'What'd You Miss?' on Bloomberg TV had some sobering comments this morning on Gold in Bloomberg's "Five Things" Newsletter:
It's time to officially bury Goldbug Macro. You know, the school of thought that's always warning about dollar debasement and inflation as a result of money printing. Here is a chart of gold over the last 10 years. It's up about 10%.During this period we've run large deficits the entire time, and in fact over the last year, some of the biggest fiscal stimulus of all time. During this time the size of the Fed's balance sheet rose to nearly $8 trillion from under $3 trillion. Not only has gold performed poorly, the dollar is still dominant.

Not only that, inflation has been mild, contra to what all the Goldbug Macro types would have predicted. Of course, they would probably come back and say that inflation is actually being mis-measured and that it's way higher if only you look at it the right way. Or that it's showing up in asset values or something like that. Even if you were to grant all that as true, gold hasn't benefited, so their case hasn't been helped much. As we saw in the wake of the Great Financial Crisis and over last summer, gold seems to do well during periods of stagnation plus aggressive Fed easing. But that's about it. After two huge crises in just over a decade, plus fiscal and monetary stimulus the likes of which we haven't seen before, we now have enough evidence to bury the economic fantasies of gold's most ardent believers.- Joe Weisenthal on Twitter
The irony of this post combined with a bullish call by a macro technician is not lost on us.
That's it. Good Luck
VBL