---
GoldFix: Baby Bitcoin Born, Ethereum Storm
Follow Vince on Twitter; Technical levels courtesy of  MoorAnalytics.com
Good Morning. The DX is down with Bonds flat. US stock futures are higher again. Gold and Silver are higher ostensibly on the back of a softer dollar and Bonds not getting pummeled yet for a change. Crypto is stronger with fresh buy side flows coming from the Micro Bitcoin contract as a possible catalyst. But it's Ethereum that is strongest for the moment having crossed the 3000 threshold last night. Weekend trading took ETH 13% higher and BTC 2.5% up. Energy is mixed and grains are up again.
Bloomberg: U.S. manufacturing PMI for April is at 9:45 a.m., with ISM manufacturing for the month at 10:00 a.m. Construction spending for March is also at 10:00 a.m. Automakers release April sales numbers today. Fed Chair Jerome Powell speaks at an event at 2:20 p.m. Loews Corp., Avis Budget Group Inc. and Estee Lauder Cos. are among the companies reporting earnings later. Epic Games Inc's lawsuit over Apple Inc.'s App Store fees will be tried today. 
Market Overview- Baby BTC and  BTC side by side
Bitcoin and Gold Technical Excerpts
The following are excerpts from Moor AnalyticsTechnical Reports posted here with permission.
Bitcoin April 30th
Gold May 3rd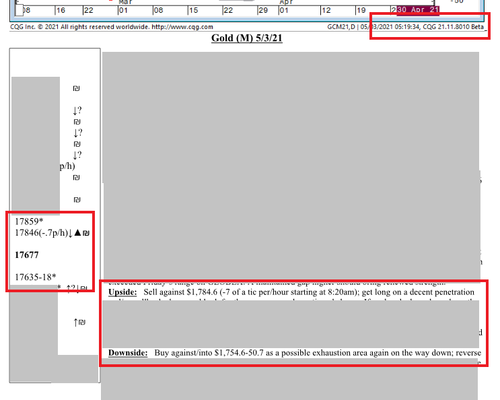 Go to MoorAnalytics.com for 2 weeks reports free
Saturday Observations on the Bitcoin Gold Debate
The erudite @DanielaCambone cornered me again to get some feedback on the Great Debate last week. We talk next level on her and my takeaways.
cc: @michael_saylor @Frank_Giustra #Bitcoin #Goldfix https://t.co/OuW1Of8rbR

— VBL (@VlanciPictures) May 1, 2021
That's it. Good Luck