---
Goldman Likes Gold… Really
Precious: Goldman Likes Gold… Really?
Authored by GoldFix at Substack.com
Damien Courvalin, Goldman Sachs Head of Energy Research joined "Bloomberg Markets: European Close" with Alix Steel and Guy Johnson, discussing the state of the metals market. Courvalin believes gold is on the road to $2,000. Here's that interview and our analysis of his timely recommendation. Click tweet for uninterrupted segment.
November 13, 2021
Analysis: Read Between the Lines
Everything Courvalin says about Gold, Bitcoin, and Oil is accurate to our ears. The only thing worth adding is the meta-message we see here.
When a bank recommends a commodity asset it is always risky to just trust the research blindly. These are global assets that are not necessarily in their control or purview as much as domestic investments can be. Gold is one example of this. But there is a difference when an energy analyst makes Precious metals comments at this time of year. And it is not historically bad
We feel Goldman and other banks will be likely recommending that RIA clients take some profits in energy, which the Banks put them in last year and has been  wildly profitable, and put some money in Gold. That is asset allocation balancing at it's root. And it makes sense on volatility alone.
We've written about this at length before. Here is what premium subscribers read just last month on the topic:
From Gold's Road Map for 2021's Remainder:
Buy Season

Sometime between beginning of November and end of December, asset allocators begin announcing recommendations to their clients for the coming year. These are usually macro percentage allocations like "5% energy, 10% bonds, 70% stocks" and so forth. All done by banks and Registered Investment Advisors (RIAs)
So will Gold continue to go up and Energy keep going down? No-one knows. But you can be reasonably sanguine that oil profits are being booked as we speak and Gold is benefiting from that. Just look at the behavior of Oil and Gold this past two weeks.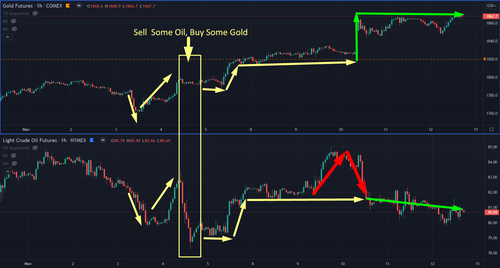 h/t @fedprom for the phrase.
Again From Gold's Road Map for 2021's Remainder:
It is at this time you begin to see the precious metals market begin to turn around based on the allocations suggested by firms.  This serves as catalyst for new money to pull the trigger on its trades. Even better; when the percent allocation increases for an asset, say 5% to 10% for metals, there is more buying.
Bloomberg Weighs In
On Sunday, Zerohedge reported Bloomberg also was getting on the Gold bandwagon:
As Bloomberg writes today, "gold may outperform the S&P 500 Index about 20% as the threat of stagflation becomes real." It elaborates:

Concerns over peak economic growth are coinciding with rising inflation, which pushed the real yield on Treasuries to record lows. The high correlation between the real yield and gold suggests bullion is undervalued. Trading signals based on 20-week moving averages imply a potential breakout rally over the next year.

One of the factors cited by Bloomberg is that gold has a strong inverse relationship with the U.S. real interest rate, which has resumed its slide into negative territory since March. Gold prices and the real yield have an r*square of 0.91 on the regression model over the last five years and the red asterisk below the red line signals gold prices are undervalued for the current level of yield.
So what does it all mean? It means a push for rotation into Gold  as a defensive stagflation asset is underway right now. Will it go up. Well... it already has and now the recommendations are coming out. Can it keep going up? Of course it can and probably will. But who bought it these past 2 weeks?
Is this the end of the beginning, or the beginning of the end? We will know more in December. This flow will be a powerful tailwind if the market gets going. That said: Here's a meme from July 2021 using actual GS analyst quotes

Good luck
GoldFix/Bitcoin Ask: Subscribe if you like this. It's what we're passionate about. It's what matters- providing a service people value. Helping people preserve wealth and grow families. It's $5 a month for daily reports and podcasts like this
---