---
Americans' Income & Spending Rose More Than Expected In September
After a disappointing drop in August, personal incomes were expected to rise modestly (+0.4% MoM) in September, with spending expected to rise 1.0% MoM. However, September was even more positive with personal income rising 0.9% MoM and spending up 1.4% MoM.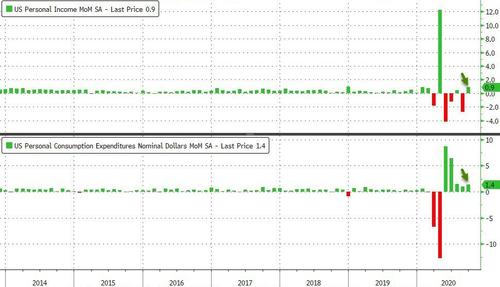 Source: Bloomberg
That is the 5th straight month of rising spending but overall, consumption still remains very marginally lower (-0.6% YoY)...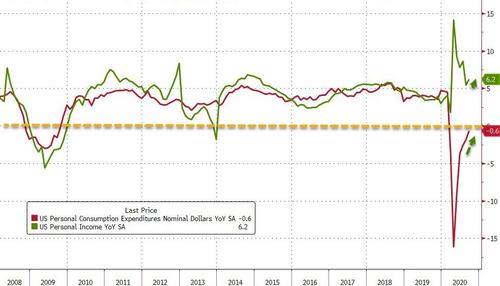 Source: Bloomberg
On the income side, private workers saw wages rise (+1.0% YoY) but government workers saw pay drop (-1.2% YoY)...
The savings rate dropped to 14.3%, but last month's 14.1% was adjusted to 14.8% so technically US savings were more than previously expected...
Finally we note that The Fed's favorite inflation indicator - Core PCE Deflator - accelerated modestly in September from +1.3% YoY in August to +1.4% YoY.