---
Fed's Favorite Inflation Indicator Hotter Than Expected In November
'Twas the last trading day before Christmas and all through the market, not a trader was twitching... until today's PCE print hits...
The Fed's favorite inflation indicator - Core PCE Deflator - printed slightly hotter than expected in November +4.7% YoY vs +4.6% exp (MoM was in-line at +0.2% after an upward revision for October)...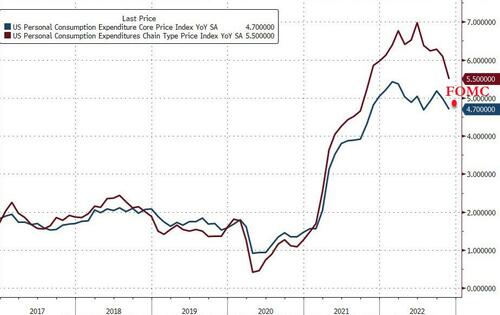 Source: Bloomberg
That is below the 4.8% forecast in the FOMC's December SEP.

As a reminder, it appears the Fed's latest forecast (above) in fact ignored the latest CPI slowdown print also.
Simply put, for the FOMC's forecast to be hit, December's PCE would have to accelerate significantly (which most analysts see as highly unlikely).
What that means is that The Fed will be forced to admit that inflation is slowing faster than they expected - which is implicitly dovish from their 'higher for longer' narrative. However, it seems all the excitement will be left for
And judging by the lagged M2 flow, inflation is set to slow even more dramatically from here...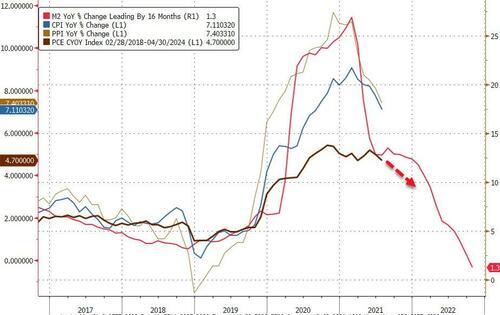 Source: Bloomberg
All the major contributors slowed in November...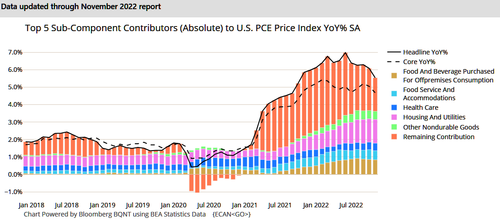 Source: Bloomberg
Away from the headline inflation signal, Americans' spending rose less than expected while income rose slightly more than expected (with real spending disappointingly unchanged MoM)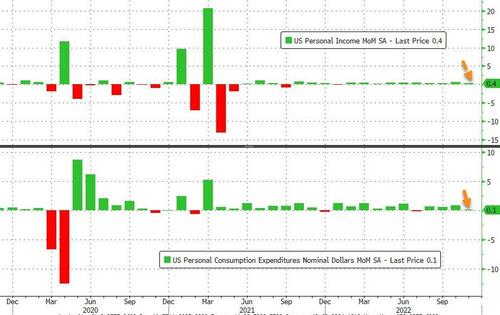 Source: Bloomberg
YoY Spending growth is at its slowest since Feb 2021...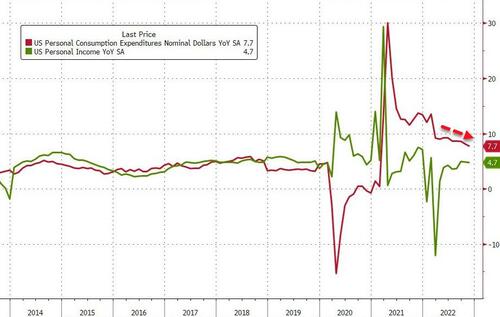 Source: Bloomberg
Wage growth has slowed back to pre-COVID levels with Govt wages +5.5% (vs 6.1% in Oct and vs 5.0% pre-COVID), and private worker wages: 4.9% (vs 4.7% in Oct and 3.5% pre-COVID)...
Finally, the savings rate ticked up very very modestly to 2.4% (but is hovering near 17 year lows)...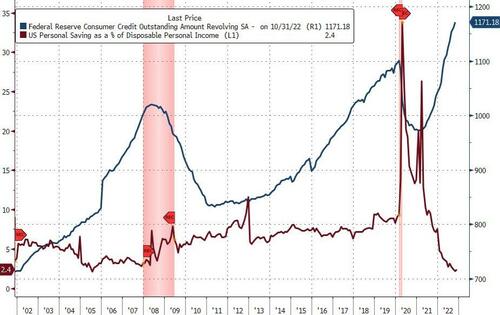 Source: Bloomberg
More credit and less savings will make the new year not so fun for all.
Loading...