---
Sword-Wielding Attacker Kills 2, Injures 5 In Quebec City
Two people were stabbed to death and five more wounded in a horrific attack in Quebec City, Canada, on Saturday night, by a man dressed in medieval garments wielding a sword, according to RT News.
The incident occurred around midnight on Halloween, in the neighborhood of Old Quebec. 
Quebec City Mass Stabbing:
- 2 dead, 5 injured, after stabbing attack in Quebec City, Canada
- The suspect, who is now in custody, was dressed in medieval clothes
- Stabbings occurred near the National Assembly

pic.twitter.com/rHkXdRtkRI

— PM Breaking News (@PMBreakingNews) November 1, 2020
Quebec City Police advised all residents in the area to remain indoors, effectively canceling trick or treat festivities as a massive search for the killer, dressed in medieval garments, was underway for about an hour.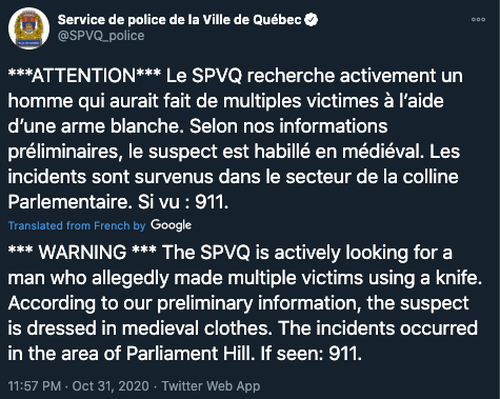 Around 0100 ET Sunday, police made an announcement that an arrest was made: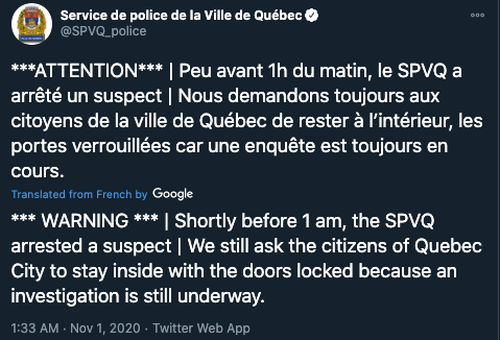 Hours later, around 0420 ET, police tweeted, the situation was "under control," and the suspect did not indicate that he "acted for motivations other than personal."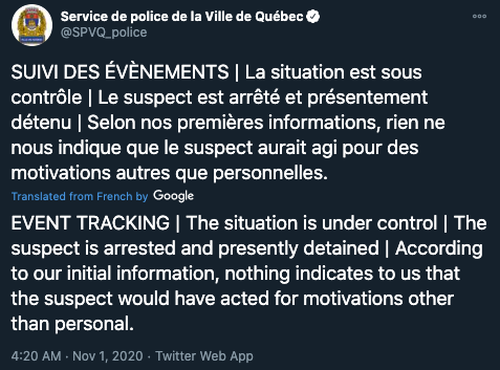 CBC News quoted police spokesperson Etienne Doyon who said the five injured victims were taken to local hospitals for medical treatment. He wouldn't comment on whether the attacks were random or perhaps motivated. 
A Twitter user allegedly captured the suspect on video. 
#Police in #Quebec City arrest man in his mid-20s dressed in a medieval costume after he went on a stabbing rampage in the Parliament Hill area with a long bladed weapon killing 2 & injuring atleast 5 others. This is possibly the suspect.#QuebecCity #Terrorism #Halloween #Trudeau pic.twitter.com/Y5tLglqx5Z

— Equalizer (@Fuq_UrFeelings) November 1, 2020
Reuters noted at 0935 ET, Quebec City Police published a statement indicating the suspect is not affiliated with any terror organization. 
Nevertheless, the incident took place after a month of religiously motivated stabbings has left France in shock. French officials have warned their country is under "attack" by "Islamist and terrorist madness."