---
Californians To Pay 18% Tax On Firearms, Ammo After Anti-Gun Lawmakers Strike
Two weeks ago, the California Legislature passed a new excise tax on the sales price of all firearms, firearm precursor parts, and ammunition. The 11% tax, paid in addition to sales taxes (base statewide sales tax of 7.25%), would take effect on July 1, 2024. As of Thursday, Assembly Bill 28 remains on Gov. Gavin Newsom's desk. 
The bill was introduced by anti-gunner and Everytown and Giffords supporter, Democrat Assemblymember Jesse Gabriel of District 46, who has mentioned on his website, "We must ban the sale of assault weapons and stand up to the NRA. In the State Assembly, he'll fight for tough gun control laws to help prevent mass shootings and keep our kids safe."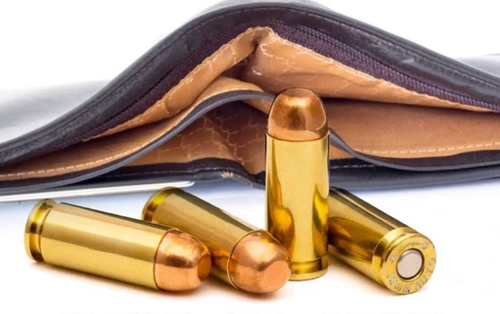 Gabriel told CalMatters:
"We've passed a lot of good gun safety laws. The data shows that we have a lower gun death rate here in California than we do in other states. But this was one of the big things that was still out there." 
Gabriel has been one of the most outspoken anti-gunner lawmakers in the crime-ridden state in his attempts to ban semi-automatic rifles. He has also partnered with former Congresswoman Gabby Giffords' anti-gun group Giffords to wage war on AR-15s. 
Gabriel's move against semi-automatic rifles is alarming, considering FBI data shows handguns are the most common murder weapon in the US. But ignore the inconvenient truth and target 'military-style assault weapons' instead. 
The gun and ammo tax will only make the cost of self-defense even more expensive for law-abiding citizens, especially the working poor, who have been dealing with out-of-control thefts and other crimes in the state as progressive policies backfire. 
Sam Paredes, Gun Owners of California Executive Director and GOA/GOF Board Member, called Assembly Bill 28 "unconstitutional, and in not so many words, it's proponents openly admitted the move was meant to harass gun owners and manufacturers because they've had record profits. GOA fully opposes this measure and is weighing legal action."
Gov. Newsom has until Oct. 14 to either sign the bill into law or veto it. 
"Yet again, we see the anti-gun state of California pushing the envelope when it comes to infringing the Second Amendment and the right to keep and bear arms. Now, they're creating a new tax to prevent the most vulnerable people from protecting and defending themselves—a tax that will do nothing to keep guns or ammunition out of the hands of criminals. These California tyrants may keep trying to disarm us, but that means we will keep suing them into submission. Fall in line, or we will make you," said Erich Pratt, Senior Vice President, Gun Owners of America. 
Loading...