---
Biden Campaign Accuses Facebook Of Favoring Trump After 'Glitch' Takes Down 1000s Of Ads
Facebook announced last month that it would bar new political ads from being run on its platform during the last week of the election, part of CEO Mark Zuckerberg's effort to signal to Democratic lawmakers that the company was taking its role as a 'guardian of democracy' seriously.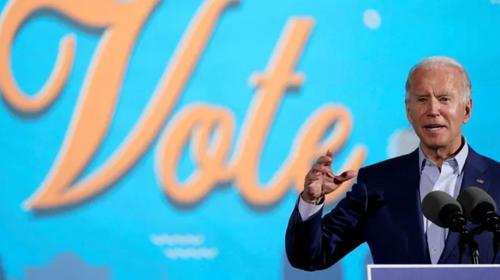 Barring new ads during the final week of the campaign seemed more like a kafkaesque nuisance, rather than a sensible tactic to try and cut down on mudslinging and misinformation associated with the election. And since no half-hearted attempt at virtue-signaling goes unpunished, Facebook is facing backlash from Joe Biden's campaign, which has accused the company of favoring President Donald Trump after thousands of Joe Biden ads were inexplicably blocked.
Here's more from the FT:
Facebook has mistakenly blocked thousands of Joe Biden advertisements from appearing on its platform with just days to go until the US presidential election, according to the Democratic challenger's campaign, as the company struggles to implement its latest policy to combat misinformation.

Mr Biden's campaign said on Thursday night that many of its Facebook advertisements were still not appearing on the site after the social media company attempted to clamp down on new political ads in the final stretch of the campaign.

Facebook blamed the glitches on "unanticipated issues", brushing off suggestions that they were evidence of bias towards the campaign of President Donald Trump or the Republicans.
Ironically, despite all the company's attempts to keep itself out of the media crossfire, the glitches have "once more placed Facebook at the center of a political row in the heat of a US presidential campaign." Biden campaign digital director Rob Flaherty said in a statement that "We find ourselves five days out from election day, unable to trust that our ads will run properly, or if our opponents are being given an unfair, partisan advantage."
Facebook delivered a lengthy explanation to Bloomberg, claiming that the glitch had also disrupted Trump Campaign ads as well.
Facebook Inc. revealed Thursday how internal technical glitches had disrupted the delivery of some ads from the Joe Biden and Donald Trump campaigns, but said it made changes to resolve those hiccups in the run-up to the November U.S. presidential election.

The social media giant's admission followed complaints from the Biden camp about how thousands of its ads had been blocked. Facebook said in a blog post it spotted "unanticipated issues" affecting both campaigns, including technical flaws that caused a number of ads to be "paused improperly."

"No ad was paused or rejected by a person, or because of any partisan consideration," Facebook said in its post. "The technical problems were automated and impacted ads from across the political spectrum and both Presidential campaigns."

Facebook issued a rule for this election season to prevent new ads from entering the system in the week before the vote, to make it easier to address problems with misinformation, such as candidates announcing victory prematurely. But political ads were supposed to be allowed if they were in by the deadline.
Well, now that Facebook has settled that, the Biden campaign and its Democratic allies can go back to bashing the company for allowing the 'information terrorists' Ben Shapiro and Dan Bongino to share dangerous conservative talking points.