---
Ex-FBI Resistance Lawyer To Plead Guilty In Durham's Trump-Russia Probe
Former FBI lawyer Kevin Clinesmith will plead guilty to one count of making a false statement regarding his involvement in the agency's actions against the Trump campaign during the 2016 US election, according to the Associated Press.
In November, the New York Times revealed that Clinesmith was under criminal investigation for allegedly doctoring materials used to obtain renewals of the Carter Page surveillance warrant. Clinesmith -who worked on both the Hillary Clinton email investigation and the Russia probe, was part of Special Counsel Robert Mueller's team, and interviewed Trump campaign advisor George Papadopoulos.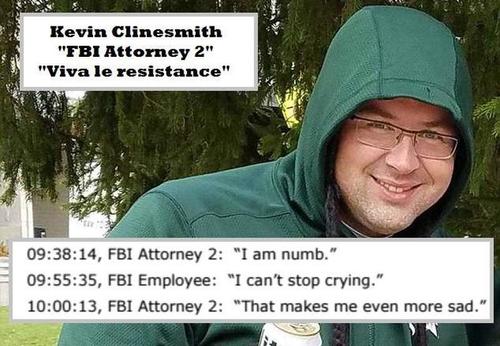 Clinesmith, a 37-year-old graduate of Georgetown Law, "took an email from an official at another federal agency that contained several factual assertions, then added material to the bottom that looked like another assertion from the email's author, when it was instead his own understanding," according to the report.
Mr. Clinesmith included this altered email in a package that he compiled for another F.B.I. official to read in preparation for signing an affidavit that would be submitted to the court attesting to the facts and analysis in the wiretap application.

The details of the email are apparently classified and may not be made public even when the report is unveiled. -New York Times
Viva la resistance
Clinesmith was identified by Inspector General Michael Horowitz as one of several FBI officials who harbored animus towards President Trump, after which he was kicked off the Mueller Russia investigation in February 2018. Two other FBI officials removed for similar reasons were Peter Strzok and Lisa Page, both of whom also worked on the Clinton and Trump investigations, and both of whom have similarly left the bureau.
On November 9, 2016 - the day after Trump won the election, Clinesmith texted another FBI employee "My god damned name is all over the legal documents investigating his staff," adding "So, who knows if that breaks to him what he is going to do."
I just realized something. Kevin Clinesmith was likely an FBI Lawyer involved in coordinating/organizing the $10,000 Papadopoulos operation. He interviewed Papadop upon return...

So setting up Page (falsifying FISA), would go hand-in-hand w/ motive setting up papadop. pic.twitter.com/hkYurp5tnw

— TheLastRefuge (@TheLastRefuge2) December 21, 2019
A former attorney with the FBI's National Security and Cyber Law Branch while working under FBI's top lawyer, James Baker, Clinesmith resigned in September 2019 after he was interviewed by Horrowitz's office. Horrowitz in turn sent a criminal referral to US Attorney John Durham, who was tasked with investigating the Obama DOJ's conduct surrounding the 2016 US election.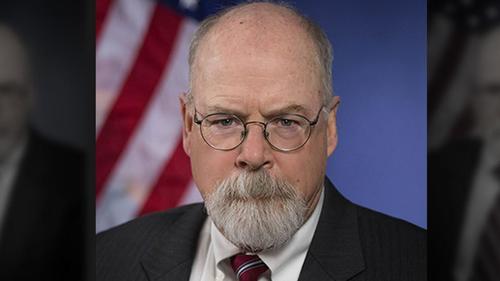 Durham was appointed by Barr last May to examine the FBI's actions against the Trump campaign during and after the 2016 US election, code named "Crossfire Hurricane."
Specifically, Durham has been probing whether Obama administration officials illegally collected intelligence on the Trump campaign, and whether the agency's surveillance of campaign aides was free of improper motive.
On Thursday night, Attorney General William Barr told Fox News host Sean Hannity that there would be "significant developments" before the election - but that today's wasn't going to be "earth-shattering," and would instead provide "an indication things are going along at a proper pace, as dictated by the facts in this investigation."
"We're not doing this on the election schedule," he said, adding "We're aware of the election. We're not going to do anything inappropriate before the election. But we're not being dictated to by this schedule."
Durham's efforts were deemed worthy of a former criminal investigation last October, which undoubtedly spooked many of the spooks involved in the operation against the Trump campaign.
Check out Clapper stutter his way through an interview 20 mins after he finds out he's under criminal investigation pic.twitter.com/C82G3CvH8V

— Quoth the Raven (@QTRResearch) October 25, 2019
By designating it a criminal investigation, Durham was granted the power to subpoena documents and witnesses, to impanel a grand jury, and to file criminal charges.
Last April, Barr said that he believed "spying" had taken place against the Trump campaign, and that he doesn't buy former FBI officials' version of how the collusion investigation began.
The FBI's Crossfire Hurricane counterintelligence investigation into the 2016 Trump campaign was launched in July 2016 to investigate allegations of Russian interference in the 2016 U.S. presidential elections, including possible links between Russia and any political campaigns.

The investigation was taken over in May 2017 by then-special counsel and former FBI Director Robert Mueller. By April 2019, he concluded that the investigation found no evidence to establish that Trump or his campaign had knowingly conspired or coordinated with the Russian government to sway the outcome of the election, although the Russian government was found to have interfered in the 2016 election. -Epoch Times
On Thursday, Barr told Hannity that "if people crossed the line, if people involved in that activity violated criminal law, they will be charged."
And in July, White House chief of staff Mark Meadows said that he was expecting criminal charges to result from Durham's investigation.
"They spied on my campaign, which is treason. They spied both before and after I won. Think of that. Using the intelligence apparatus of the United States to take down a president," Trump said recently during a live phone interview with Fox Business, adding "It's the single biggest political crime in the history of our country."
Of course...
Durham never interviewed Comey, McCabe, Strzok, Brennan, Clapper

So much for that then

— Jack Posobiec 🇺🇸 (@JackPosobiec) August 14, 2020
Read the criminal complaint against Clinesmith below: