---
Girl Who Sued To Stop Biological Males From Running Girls' Track Defeats Trans-Runner For Championship
Now this is a story about actual "girl power"...
It was only two days after filing a lawsuit against the Connecticut Interscholastic Athletic Conference (CIAC) that Chelsea Mitchell made a much bigger statement than one she could have made in the courtroom. 
She had sued because the CIAC was permitting biological males to compete in women's sports, leading one trans runner to win "numerous titles" in women's events, according to The Daily Wire. 
So Mitchell decided not just to make a statement in court - but also to make one on the track. She defeated trans runner Terry Miller in the Class S 55-meter dash with a time of 7.18 seconds in the state championships.
"Mitchell also came first in the 300-meter dash, while Miller was 16th, and Mitchell won the long jump," according to The Daily Mail. 
The Class S girls 55 meter state championship goes to Canton senior Chelsea Mitchell, who edged out defending champ Terry Miller of Bloomfield. #cttrack pic.twitter.com/aDL7ieIEsx

— Shawn McFarland (@McFarland_Shawn) February 14, 2020
And there didn't appear to be any pleasantries exchanged between the two runners after the race, either. The Harford Courant stated: "There was no interaction between the two before or after the race."
Mitchell didn't think her win could negatively affect her lawsuit: "I don't think it could go against, there's still tons of girls that lose on a daily basis," she said.
Mitchell is a senior at Glastonbury High School. Along with another athlete, Alanna Smith, she filed a Federal lawsuit with their families after the CIAC allowed two biological males to compete in girls' athletic competitions. Those males went on to take a collective 15 women's state championship titles, formerly held by 9 different girls. The males took more than 85 opportunities to participate in higher level women's competitions between 2017 and 2019. 
"The three plaintiffs have competed directly against them, almost always losing to Miller and usually behind Yearwood. Mitchell finished third in the 2019 state championship in the girls 55-meter indoor track competition behind Miller and Yearwood," The Daily Mail said.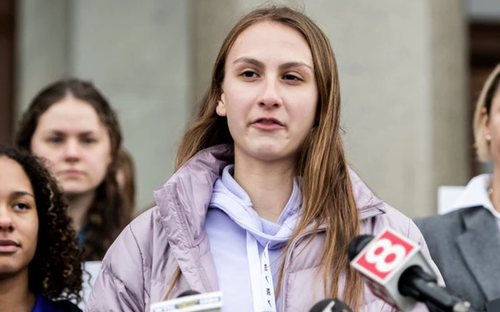 Mitchell is currently ranked the fastest biological girl in Connecticut and had lost four girls' state championships and two all New England awards to the males.
She stated: "I knew that I was the fastest girl here, one of the fastest in the state. I remembered all my training and everything I had been taught on how to maximize my performance … I thought of all the times that other girls have lost. I could feel the adrenaline in my blood and hope that wafted from me. That just possibly, I could win this. Then, the gun went off. And I lost."
Biological male Miller had stated in 2019: "I have faced discrimination in every aspect of my life and I no longer want to remain silent. I am a girl and I am a runner. I participate in athletics just like my peers to excel, find community, and meaning in my life. It is both unfair and painful that my victories have to be attacked and my hard work ignored."