---
Highly-Cited 'Hamilton 68' Russiagate Tracker Is Total Hoax: Taibbi
Out of the caterwaul of cries proclaiming that Russian collusion, and Russian influence operations, were the only reason Donald Trump won the 2016 US election (a hoax funded and promoted by his opponent, Hillary Clinton), a website which claimed to track said Kremlin efforts sprung forth, and was used to justify baseless allegations;
Hamilton 68: a widely-cited, (indirectly) state-sponsored propaganda tool.
The website claims to monitor a secret list of Twitter accounts which they accused of Kremlin control, however it's impossible to verify their claims as the group has never disclosed their methodology.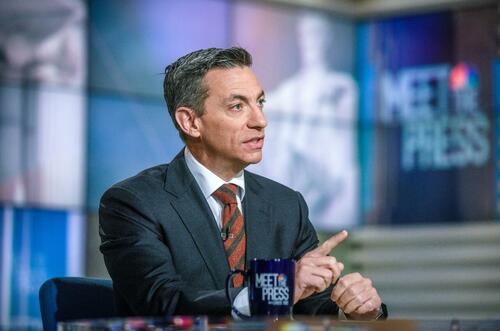 As Matt Taibbi notes via Racket:
Hamilton 68 was and is a computerized "dashboard" designed to be used by reporters and academics to measure "Russian disinformation". It was the brainchild of former FBI agent (and current MSNBC "disinformation expert") Clint Watts, and backed by the German Marshall Fund and the Alliance for Securing Democracy, a bipartisan think-tank. The latter's advisory panel includes former acting CIA chief Michael Morell, former Ambassador to Russia Michael McFaul, former Hillary for America chair John Podesta, and onetime Weekly Standard editor Bill Kristol. -Racket
And now, Taibbi has torn Hamilton 68's 'black box' asunder after reviewing the latest batch of "Twitter Files."
1.THREAD: Twitter Files #15
MOVE OVER, JAYSON BLAIR: TWITTER FILES EXPOSE NEXT GREAT MEDIA FRAUD pic.twitter.com/bLRpDpuWql

— Matt Taibbi (@mtaibbi) January 27, 2023
As Taibbi notes via Racket:
Ambitious media frauds Stephen Glass and Jayson Blair crippled the reputations of the New Republic and New York Times, respectively, by slipping years of invented news stories into their pages. Thanks to the Twitter Files, we can welcome a new member to their infamous club: Hamilton 68.
If one goes by volume alone, this oft-cited neoliberal think-tank that spawned hundreds of fraudulent headlines and TV news segments may go down as the single greatest case of media fabulism in American history. Virtually every major news organization in America is implicated, including NBC, CBS, ABC, PBS, CNN, MSNBC, The New York Times and the Washington Post. Mother Jones alone did at least 14 stories pegged to the group's "research." Even fact-checking sites like Politifact and Snopes cited Hamilton 68 as sources.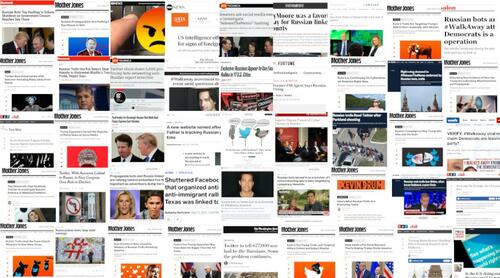 *  *  *
An American group made false claims about Russian election interference to interfere with American elections https://t.co/Bpej1UOlOw

— Mr. Tweet (@elonmusk) January 27, 2023
Twitter thought they were full of shit
Taibbi reveals that Twitter was concerned enough about Hamilton 68's claims that they ordered a forensic analysis which found that of 644 accounts, just 36 were registered in Russia - many of which were associated with news outlet RT.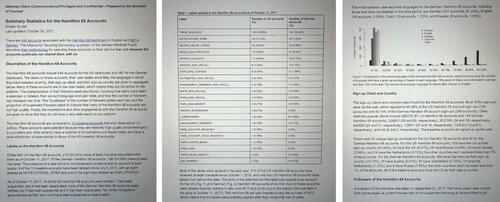 As Taibbi further notes (emphasis ours):
Examining further, Twitter execs were shocked. The accounts Hamilton 68 claimed were linked to "Russian influence activities online" were not only overwhelmingly English-language (86%), but mostly "legitimate people," largely in the U.S., Canada, and Britain. Grasping right away that Twitter might be implicated in a moral outrage, they wrote that these account-holders "need to know they've been unilaterally labeled Russian stooges without evidence or recourse."
10. The secret ingredient to Hamilton 68's analytical method? A list: "Our analysis has linked 600 Twitter accounts to Russian influence activities online," was how the site put it at launch. pic.twitter.com/8ipRLSfzOm

— Matt Taibbi (@mtaibbi) January 27, 2023
Other comments in internal company emails:
"These accounts are neither strongly Russian nor strongly bots."

"No evidence to support the statement that the dashboard is a finger on the pulse of Russian information ops."

"Hardly evidence of a massive influence campaign."
13."These accounts," they concluded, "are neither strongly Russian nor strongly bots."

"No evidence to support the statement that the dashboard is a finger on the pulse of Russian information ops."

"Hardly illuminating a massive influence operation." pic.twitter.com/LMrgWVKe7k

— Matt Taibbi (@mtaibbi) January 27, 2023
Declared Trust and Safety chief Yoel Roth: "I think we need to just call this out on the bullshit it is."
The two founders of Hamilton 68, the blue-and-red team of former counselor to Marco Rubio Jamie Fly and Hillary for America Foreign Policy Advisor Laura Rosenberger, told Politico they couldn't reveal the names of the accounts because "the Russians will simply shut them down." Tchya, right. One look at the list reveals the real reason they couldn't make it public.
This was not faulty science. It was a scam. Instead of tracking how "Russia" influenced American attitudes, Hamilton 68 simply collected a handful of mostly real, mostly American accounts, and described their organic conversations as Russian scheming. As Roth put it, "Virtually any conclusion drawn from [the dashboard] will take conversations in conservative circles on Twitter and accuse them of being Russian."
Twitter execs wanted to out Hamilton 68!?
"Why can't we say we've investigated… and citing Hamilton 68 is being wrong, irresponsible, and biased?" one exec asked, after Russians were blamed for hyping the #ParklandShooting hashtag.
Trust and Safety head Yoel Roth even wanted to confront Hamilton 68 - writing in one email "My recommendation at this stage is an ultimatum: you release the list or we do."
"I also have been very frustrated in not calling out Hamilton 68 more publicly, but understand we have to play a longer game here," said Carlos Monje, the future senior advisor to Transportation Secretary Pete Buttigieg.
But Future White House and NSC spokesperson Emily Horne advised against it.
19."We have to be careful in how much we push back on ASD publicly," said future White House and NSC spokesperson Emily Horne. pic.twitter.com/BRZEESQZlT

— Matt Taibbi (@mtaibbi) January 27, 2023
 As Taibbi further notes:
"So the "legitimate people," as one Twitter exec called them, never found out they'd been used as fodder for mountains of news stories about "Russian influence." Because the #TwitterFiles contain the list, they've begun finding out."
Hamilton's victims speak out
"I'm shocked," said Sonia Monsour, who as a child lived through civil war in Lebanon. "Supposedly in a free world, we are being watched at many levels, by what we say online."
Another person alleged by Hamilton to be a Russian is Chicago-based lawyer David Shestokas.
"I've written a book about the U.S. Constitution," he said, adding "How I made a list like this is incredible to me."
24. "When I was growing up, my father told me about the McCarthyite blacklist," says Oregon native Jacob Levich. "As a child it would never have occurred to me that this would come back, in force and broadly, in a way… designed to undermine rights we hold dear."

— Matt Taibbi (@mtaibbi) January 27, 2023
Continued:
26. I'm listed as a foreign bot?" said conservative media figure Dennis Michael Lynch. "As a proud taxpaying citizen, charitable family man, and honest son of a U.S. Marine, I deserve better. We all do!" pic.twitter.com/HhKE9FPfpO

— Matt Taibbi (@mtaibbi) January 27, 2023
28.What makes this an important story is the sheer scale of the news footprint left by Hamilton 68's digital McCarthyism. The quantity of headlines and TV segments dwarfs the impact of individual fabulists like Jayson Blair or Stephen Glass. pic.twitter.com/zfyjLb5Tkq

— Matt Taibbi (@mtaibbi) January 27, 2023
30.These stories raised fears in the population, and most insidious of all, were used to smear people like Tulsi Gabbard as foreign "assets," and drum up sympathy for political causes like Joe Biden's campaign by describing critics as Russian-aligned. pic.twitter.com/3lsuG1ZTrd

— Matt Taibbi (@mtaibbi) January 27, 2023
The Hamilton 68 story shows how the illusion of ongoing "Russian interference" worked. The magic trick was generated via a confluence of interests, between think-tanks, media, and government. Before, we could only speculate. Now we know: the "Russian threat" was, in this case at least, just a bunch of ordinary Americans, dressed up to look like a Red Menace. Jayson Blair had a hell of an imagination, but even he couldn't have come up with a scheme this obscene. Shame on every news outlet that hasn't renounced these tales. -Matt Taibbi
And Elon with the last word:
Shame on @MSNBC for misleading the public! https://t.co/16VEGTjXnH

— Mr. Tweet (@elonmusk) January 27, 2023
Loading...