---
Pornhub Acquired By Canadian Private Equity Firm 'Ethical Capital Partners'
The parent company of controversial website Pornhub - which has allowed all sorts of child sexual abuse on the platform despite repeated efforts to remove such content - has been sold to Canadian private equity firm, Ethical Capital Partners, which was formed last year and says it's focused on technology businesses that "have legal and regulatory complexity and that put a value on transparency and accountability."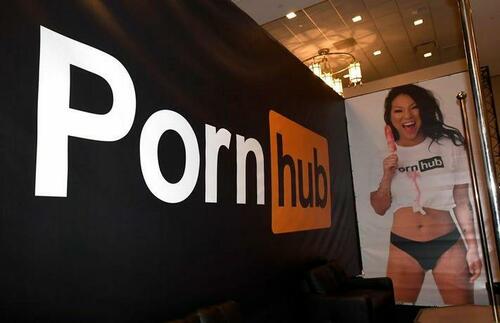 The purchase is ECP's first transaction. The company is led by "cannabis entrepreneur Rocco Meliambro and criminal lawyer Fady Mansour, who is listed as managing partner. Derek Ogden, a retired chief superintendent of the Royal Canadian Mounted Police, is also a partner at the firm," according to Bloomberg.
The move comes amid a lawsuit against the parent company, MindGeek, over sexually explicit videos of minors found on its 'tube' sites, the Financial Times reports.
Luxembourg-registered MindGeek has towered over the adult industry since the advent of video streaming. Its most recently published figures show revenues in 2018 reached $460mn while profit margins have at times neared 50 per cent, according to people familiar with the matter.
The identity of MindGeek's former majority owner Bernd Bergmair — an ex-Goldman Sachs banker who also uses the name Bernard Bergemar — was first revealed by an FT investigation.
Pornhub's multiple scandals has led to the departure of its top management team, and restricted access to payment platforms Visa and Mastercard - which almost led to the site's collapse in late 2020 following investigations that identified illegal content on the platform.
According to ECP co-founder and attorney, Solomon Friedman, the lawsuits and criticism of MindGeek 'stemmed from a misunderstanding' of how the company is now safeguarding its content - which he says changed after the previous owners departed.
"I want to engage regularly with stakeholders, including the media," said Friedman, adding that the new owners 'wanted to exercise transparency.'
While the purchase price, and where the funds came from, have not been disclosed, the current remaining (anonymous) executives will continue running the company.
"At this point we are not identifying the current executives, as there is an unfortunate stigma [attached to the industry]," said Friedman.
According to MindGeek, Mastercard has reinstated access to its subscription sites, however the company's advertising arm, TrafficJunky, remains cut off following a court ruling that found Visa could be held liable for illegal content.
Loading...