---
Report Alleges Trump Quashed Criminal Probe Into Turkish Bank That Funneled Billions To Iran
Prior bombshell claims in former national security advisor John Bolton's book released last summer alleging that President Trump had agreed to quash a federal probe into a Turkish state-owned bank as a personal favor to Recep Tayyip Erdoğan just got a major boost.
Bolton wrote of scandal-hit Halkbank that in a 2018 phone call after Erdoğan insisted the bank was innocent of sanctions-busting by funneling billions of dollars in cash and gold to neighboring Iran: "Trump then told Erdoğan he would take care of things, explaining that the [New York] southern district prosecutors were not his people but were Obama people, a problem that would be fixed when they were replaced by his people," according to the book.
Trump last summer slammed Bolton's presentation of events as "misleading" and "manipulative" but now a fresh New York Times investigation is spotlighting the scandal with new details of the fierce confrontation between top federal prosecutor in Manhattan Geoffrey Berman and Attorney General William Barr.
Berman balked when he was pressed by Barr to allow the Turkish state bank to cut a sweetheart deal despite key individuals - some with close ties to Erdogan himself - still being under active investigation. The pressure from the US administration was also unusual given the strong suspicions Halkbank was secretly helping finance Iran's alleged push to obtain nuclear weapons. 
The NY Times details:
When Mr. Berman sat down with Mr. Barr, he was stunned to be presented with a settlement proposal that would give Mr. Erdogan a key concession.

Mr. Barr pressed Mr. Berman to allow the bank to avoid an indictment by paying a fine and acknowledging some wrongdoing. In addition, the Justice Department would agree to end investigations and criminal cases involving Turkish and bank officials who were allied with Mr. Erdogan and suspected of participating in the sanctions-busting scheme.

Mr. Berman didn't buy it.
"This is completely wrong," Berman later complained to DOJ lawyers. "You don't grant immunity to individuals unless you are getting something from them — and we wouldn't be here."
"This is not how we do things at the Southern District," he would also tell Barr directly amid the negotiations in which top bank officials seemed to think that Trump and Erdogan's relationship gave them immense leverage. 
"That is not how we do things in the Southern District."

Berman's reported reaction when Barr pressured him to drop charges against Erdogan's cronies, including the Turkish strongman's ex-economy minister Zafer Caglayan.

Caglayan got up to $50M in bribes, per a key govt witness pic.twitter.com/4rnUR9tQrK

— Adam Klasfeld (@KlasfeldReports) October 29, 2020
According to the Times report:
Among the defendants with charges pending were Halkbank's former general manager, Suleyman Aslan, and Turkey's former economy minister, Mehmet Zafer Caglayan.

The suggestion that the Justice Department would offer Turkish officials protection from criminal charges, even without their agreement to assist in the investigation, was unacceptable and unethical, Mr. Berman argued, according to lawyers close to the investigation. Justice Department policy specifically says that criminal conduct by individuals is not resolved when a company admits wrongdoing.
At one point Barr argued that settling the issue without charges would help enforce US sanctions law while also ensuring the positive American-Turkish relationship at a moment of multiple sensitive national security priorities at risk in the Middle East. This was also at a moment of intense Turkish lobbying on capitol hill which had already been in full swing for years.
Berman pushed through undeterred and announced charges against Halkbank in Oct. 2019, saying the "bank's audacious conduct was supported and protected by high-ranking Turkish government officials, some of whom received millions of dollars in bribes to promote and protect the scheme." The indictment listed charges of money laundering, bank fraud and conspiracy to violate the Iran sanctions. 
It was considered a direct affront to Erdogan and the special relationship with Trump.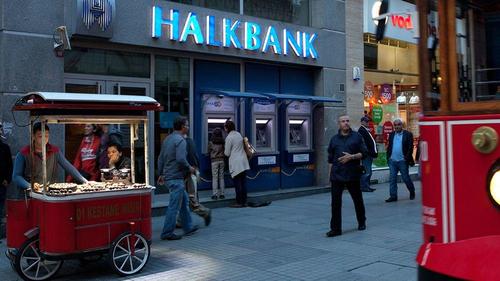 As the Times writes further, "In June, eight months after the indictment was returned, Mr. Trump fired Mr. Berman. Justice Department officials cited his handling of the Halkbank matter, including his blocking of the proposed global settlement, as a key reason for his removal."
Strangely, the whole episode and pressure exerted from the administration in what was perceived as ultimately an attempt to please Erdogan ran completely counter to what otherwise has been the White House's top foreign policy priority of 'maximum pressure' on Iran. Bolton had previously described the apparent contradiction in priorities in his memoir as Trump giving "personal favors to dictators he liked" so that favors would be returned at key junctures down the road. 
These contradictions were somewhat resolved once the US and Turkey clashed over Syria and the fate of US-backed Kurds. "In the case of Halkbank, it was only after an intense foreign policy clash between Mr. Trump and Mr. Erdogan over Syria last fall that the United States would proceed to lodge charges against the bank, though not against any additional individuals," NY Times concludes. "Yet the administration's bitterness over Mr. Berman's unwillingness to go along with Mr. Barr's proposal would linger, and ultimately contribute to Mr. Berman's dismissal."