---
Nevada Berning: Sanders Wins Nevada Caucuses
Update (23:15): With 27% of precincts reporting, Sanders has retained a 46.6% lead over Biden (22.8), with Pete Buttigieg in third at 14.4%.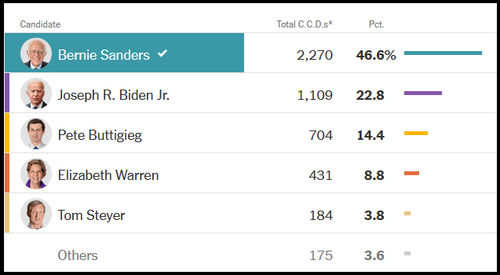 * * *
Sen. Bernie Sanders (I-VT) is projected to win the Nevada caucuses after early reports suggest a landslide victory, according to Fox News, which named Sanders the winner.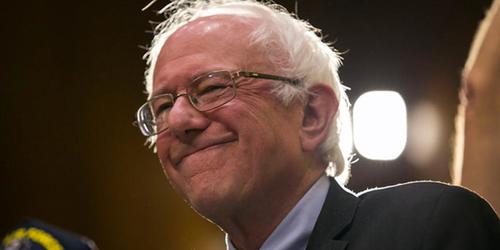 While just four percent of the results are in, Sanders has 56% of the delegates, followed by Biden at 18.8% and Warren at 8.5%.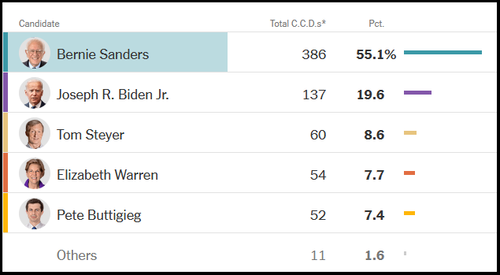 The closely-watched process began with Nevada Democrats optimistic that they would avoid a repeat of the technical glitches that plagued the caucuses in Iowa. Those fears led the state Democratic Party to decide to rely on traditional reporting by phone, rather than an app made by the same developer that created the app blamed for the debacle in Iowa. It has also scrapped a plan to use a Google Forms app loaded onto iPads. -Fox News
Long lines at Desert Oasis High School as people check-in with their caucus precincts. @FoxNewsMMR pic.twitter.com/rdDIQRm40u

— Charles Watson (@chuckreports) February 22, 2020
MSNBC just showed a tie at the Nevada caucus being decided by playing cards where aces were the low card.

Earlier in the day, MSNBC's Garrett Haake reported on what would happen in the possibility of a tie and said, "high card wins, Brian aces are high." #RiggedElection pic.twitter.com/C7rxzCMlX2

— Francis Brennan (Text TRUMP to 88022) (@FrancisBrennan) February 22, 2020
"Nevada Democrats have learned important lessons from Iowa, and we're confident they're implementing these best practices into their preparations," said DNC spokeswoman Xochitl Hinojosa. "We've deployed staff to help them across the board, from technical assistance to volunteer recruitment."
On Saturday, DNC Chairman Tom Perez told Fox News that the party is in "great shape," adding "We have all of the early vote results distributed to the caucus sites. People are checking now…. I think it's going to be a really exciting day."
2020 NEW: @TheDemocrats chair @TomPerez - in a pull aside with @foxnewspolitics -downplays #NevadaCaucus results reporting concerns, emphasizing "I think we're in great shape." ADDS "our goal is to get results out" by tonight. #2020election #Election2020 #NVpol #FITN #scpol pic.twitter.com/pvsPoZCwcF

— Paul Steinhauser (@steinhauserNH1) February 22, 2020
This story is developing, check back for updates.