---
Senate Judiciary Hearing For Amy Coney Barrett To Take Place Oct 12-15
With Democrats unhappy, to say the least, that Mitch McConnell is pushing through the nomination process of Amy Coney Barrett despite two Republican members on the Senate Judiciary Committee, Senators Mike Lee of Utah and Thom Tillis of North Carolina,  testing positive to coronavirus, late on Monday Committee spokeswoman Taylor Reidy tweeted that the dates for Judge Amy Coney Barrett's Supreme Court nomination hearing have been set, and will start one week from today, Monday, Oct. 12 at 9am and continue through Thursday, Oct. 15.
The Senate Judiciary Committee, chaired by Senator @LindseyGrahamSC, has officially announced the dates for Judge Amy Coney Barrett's Supreme Court nomination hearing.

Monday, Oct. 12 at 9am continuing through Thursday, Oct. 15https://t.co/2AxIT38daF

— Taylor Reidy (@taylor_reidy) October 5, 2020
A feed for next week's hearing can be found here.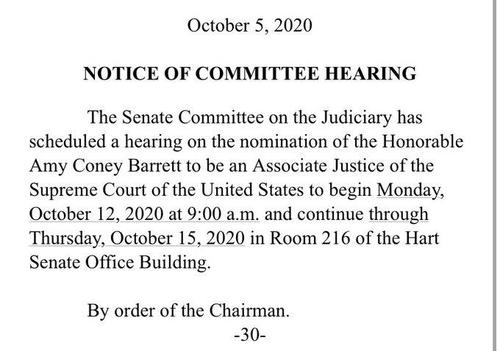 Once the hearings are concluded, Republicans plan to send her nomination to the full Senate by Oct. 22 and confirm her as soon as Oct. 26, eight days before Election Day "even if it meant breaking Senate norms and considering a lifetime judicial nomination by videoconference."
But, as the NYT added, the latest outbreak raised the possibility that Republicans could lose their slim majority in the Judiciary Committee or on the Senate floor: "It gave Democrats, who were already objecting to Mr. Trump's push to install a new Supreme Court justice so close to the election, a new reason to call for a delay. Seeing a potential opening, top Democrats called for the Senate to pause and assess the scope of the outbreak. They declared that a fully virtual hearing for a candidate for a lifetime appointment to the nation's highest court would be unacceptable."
"It's critical that Chairman Graham put the health of senators, the nominee and staff first — and ensure a full and fair hearing that is not rushed, not truncated and not virtual," Senators Chuck Schumer of New York, the minority leader, and Dianne Feinstein of California, the top Democrat on the Judiciary Committee, said in a joint statement. "Otherwise this already illegitimate process will become a dangerous one."
On Friday evening, after Sen. Tillis announced his positive test result, Mr. Schumer renewed his call for delay, writing on Twitter that going forward with hearings would be "irresponsible and dangerous."
"There is absolutely no good reason to do so," he said.
Despite continued resistance by Democrats, Republican officials said they had no doubt that senators would find a way to muscle through the nomination over Democrats' protests. Even so, Republicans cannot afford to have many members sidelined by illness, which could provide Democrats an opportunity to stall the proceedings. Two Republican senators, Susan Collins of Maine and Lisa Murkowski of Alaska, have already raised objections to moving ahead before the election, reducing the wiggle room in the 53-47 Republican majority.
Some Republican advisers were pushing to scrap plans to keep the Senate in session next week, hoping to reduce the risk of more Republican senators becoming infected. But adjourning may not be in Mr. McConnell's control. He had been in favor of allowing senators to go home, but Democrats trying to inflict pain on Republicans for their rush to fill the Supreme Court seat refused to go along, using parliamentary tactics to prevent it.
As for Judge Barrett, it emerged over the weekend that she had already had the coronavirus and recovered this year, potentially providing some immunity for her. But it was not yet clear whether she would continue her courtesy meetings with senators in person next week.