---
Trump 'Alternate Electors' Send Votes Directly To Congress 'To Preserve Legal Options'
While Joe Biden won Monday's electoral college vote 306-232, Trump electors in several states also met, casting their votes for the president anyway, before sending them to Congress.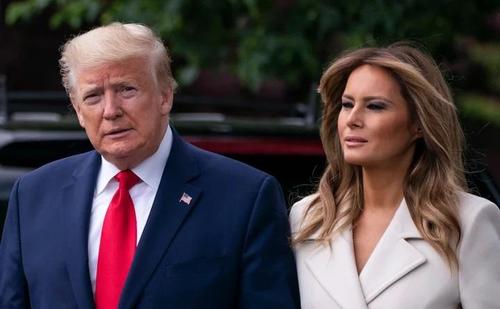 According to White House senior adviser Stephen Miller, Trump's team plans to support this "alternate" set of electors in key states won by Biden as a means to preserve legal remedies in the event any of the remaining legal challenges, while long-shots, bear fruit.
"As we speak, today, an alternate slate of electors in the contested states is going to vote and we're going to send those results up to Congress," Miller told Fox News on Monday. "This will ensure that all of our legal remedies remain open"
Stephen Miller on Fox & Friends says "an alternative" group of electors is also voting today:

"As we speak, an alternate slate of electors in the contested states is going to vote and we are going to send those results to Congress."pic.twitter.com/5kIkfsbOFw

— Travis Akers (@travisakers) December 14, 2020
The Trump electors met and cast votes in Georgia, Pennsylvania, Wisconsin, Nevada and Michigan - with several of them calling it nothing more than a legal formality, despite acting with no legal authority. The move comes after Trump's efforts to pressure GOP leaders in contested swing states to override the election results and send a slate of pro-Trump electors, based on accusations of widespread fraud that courts have thus far been unwilling to consider.
According to Trump elector told the Atlanta Journal-Constitution that the move was "basically, checking legal boxes, if something should come of the lawsuits."
Pennsylvania Trump Campaign chair Bernie Comfort said in a statement that at the request of the Trump campaign, Republican electors cast conditional votes " to preserve any legal claims that may be presented going forward," adding "This was in no way an effort to usurp or contest the will of the Pennsylvania voters."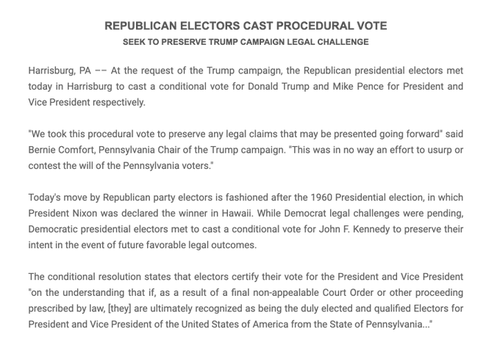 According to Miller, there are three ways that alternate electors could become the real electors.
First, judges could send their votes to Congress should any of the legal cases prevail. Second, "the state legislatures in Georgia, Wisconsin, Pennsylvania, can do the same," perhaps if widespread fraud is proven beyond doubt by January 6, when the electoral college votes are set to be counted. Third, "Congress has that opportunity to do the right thing," according to Miller - referring to what would essentially be a non-starter by which GOP members of Congress, under Electoral Count Act, could challenge Biden's win.
According to this process, if at least one House member and one Senator objects to the results in any state, each chamber will meet and hold a vote for the matter - which must pass in both chambers. With Democrats in control of the House, this third option is highly unlikely to go anywhere.