---
UK's Truss Pressured To Abandon Tax-Cut For The Rich, Throws Kwarteng Under The Bus After Revolt
The chaotic first few weeks of Liz Truss' reign as UK PM are about to get chaotic-er as Sky News reports that she is set to delay the vote on cutting the 45% top marginal rate of tax for Britain's highest earners, ahead of this week's opening of the Tory Party Conference.
With the Labour Party jumping to a massive lead in the polls, Truss is facing pressure internally from her party as a growing number of Tory MPs have voiced their disapproval of the controversial plan which benefits only the wealthiest 1%.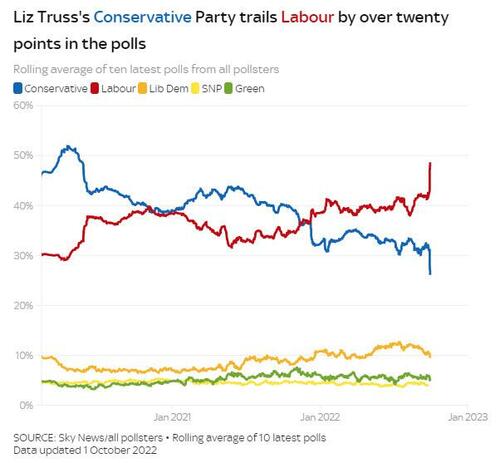 Downing Street warned anyone voting against the plans will be kicked out of the party but The Telegraph reports that more than 13 MPs have now publicly criticized the policy, and on Sunday night, a leading rebel said as many as 70 Tory MPs are considering voting against the move.
The vote - which was expected to take place this week - is expected to be delayed until December, or even next Spring as Tory 'majesty' Michael Gove, a former cabinet minister, on Sunday put himself at the forefront of the Tory mutiny saying it was wrong at a time when "people are suffering".
Reflecting on the market chaos - collapse of the pound to record lows against the dollar being just one example - Gove said the scale of borrowing outlined by Truss "was a contributory factor to some of the turbulence," adding that "my worry is we are betting too much on tax cuts when we are borrowing to pay for them."
The FT reports another minister said a retreat over the scrapping of the 45p tax band was inevitable.
"We can't get it through, so we might as well stop now. Everyone has to U-turn sometimes."
However, this would be truly embarrassing as Truss told the BBC's Laura Kuenssberg on Sunday she was sticking to her guns and that the tax cuts were essential to getting the economy to grow again.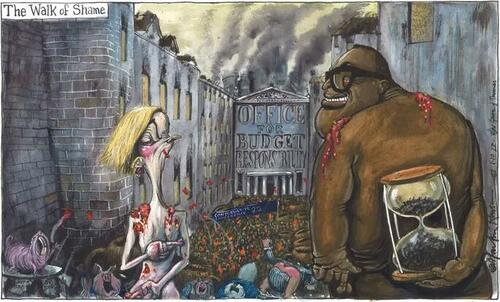 There is no official delay of the vote and Chancellor Kwasi Kwarteng continues to defend the plan and is set on Monday to tell Conservative party members he is "confident" that the plan is "the right one".
"One of the things that really ruined my sleep is the markets. That sort of thing is trying. I've had difficult times reacting to what's happening but you know, I am very confident that this is the right thing to do, and I am a really, really great believer in Britain."
The Telegraph reports that in a bid to reassure the markets, the Chancellor will on Monday pledge an "iron-clad commitment to fiscal discipline".
And he will insist his growth plan is vital to avoid "slow, managed decline" – adding that he would never accept it is Britain's destiny to become a middle-income country.
"We will show that our plan is sound, credible and will increase growth: that is my promise to the people of this country," he will say.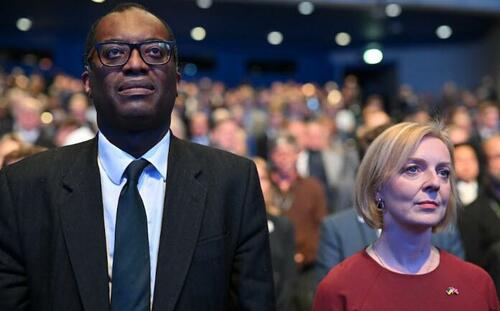 However, while the chancellor appears to be showing no signs of shifting from his plan, PM Truss appeared to throw him under the bus as being solely responsible for the planned tax cut, saying that saying "it was a decision the Chancellor made", rather than one debated by the entire Cabinet.
Former Culture Secretary Nadine Dorries said on Twitter:
"One of Boris Johnson's faults was that he could sometimes be too loyal and he got that. However, there is a balance and throwing your Chancellor under a bus on the first day of conference really isn't it."
It also doesn't help the optics that Kwarteng attended a private champagne reception with hedge fund managers following his mini-budget.
George Osborne, the former chancellor, said that it is "touch and go" whether Mr Kwarteng can survive in his job.
He told the Andrew Neil Show on Channel 4 that "ruthless prime ministers will throw their chancellors under a bus". He said that if Mr Kwarteng's speech on Monday goes badly, "it's curtains".
So, we will see if this headline prompts any positive response in cable (Asian FX will be quiet and very illqiuid given Golden Week) and whether this Sunday evening leak is anything other than a strawman on whether Kama-Kawsi continues.
Loading...