---
To fade or not to fade?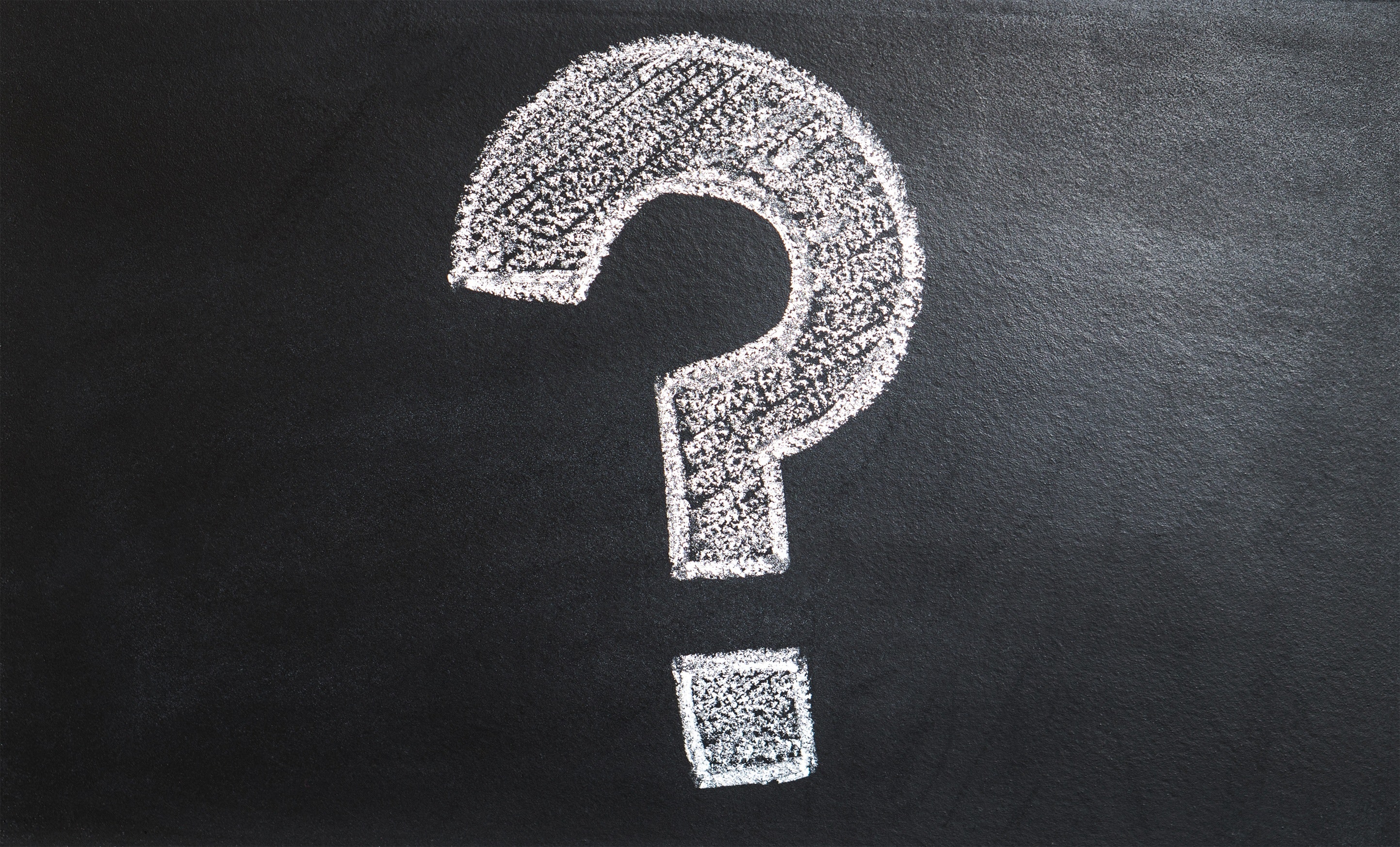 See TME's daily newsletter email below. For the 24/7 market intelligence feed and thematic trading emails, sign up for ZH premium here.
Fade it, or...
BofA says you fade SPX above 4200 and short it above 4343, but use long EM debt, banks or resources as "best" hedge for further upside. Chart shows the BKX vs SPX gap.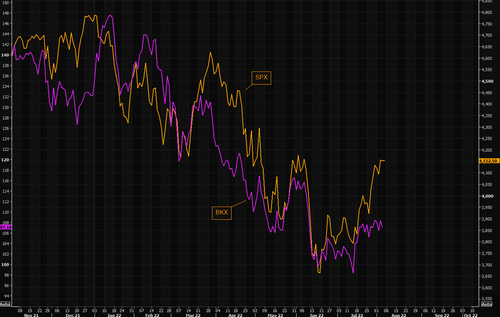 Source: Refinitiv
SPX - 4400 in 2H22
Stifel's macro guru Bannister nailed the bear and has been calling for a squeeze since late June. Why does he see SPX at 4400 in 2H22?
1. Because 36M Fed futures (Eurodollar 36M) shape the 10Y TIPS real yield which, in turn, shapes the S&P 500 P/E ratio, and 36M futures are tapped out, and
2. because S&P 500 Equity Risk Premium indicates 4,400 as a mid-point S&P 500 price target
He prefers cyclical growth as inflation slows, Fed expectations are pulled back and the economy has the "relevant" balance sheet to cope with the recession risk.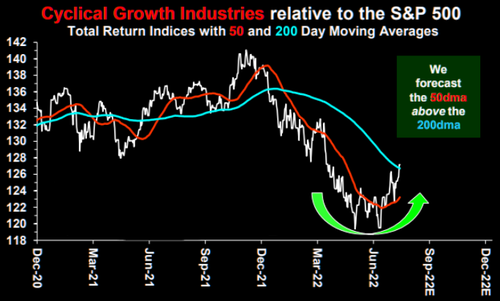 Source: Stifel
Chasers
The 1 vs 3 month realized vol spread has crashed recently and vol/model driven players have been forced into chasing equity exposure. Obviously the models have a slight lag built in, so we should expect more bids from this crowd. Second chart shows some of these model players and equity exposure. The vol crash supports some re-risking according to GS.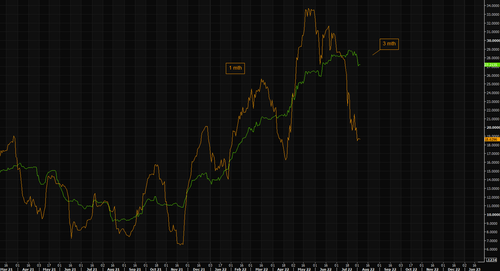 Source: Refinitiv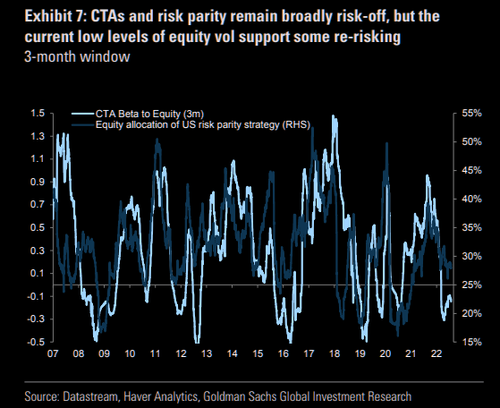 Source: GS
The bull in credit
HYG continues following the SPX higher. We have not seen such a bull in HYG in a long time. Second chart shows this space has seen a lot of inflow "love" recently.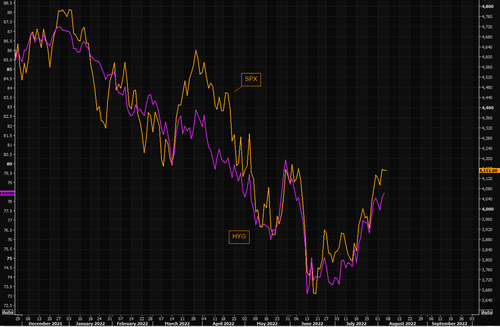 Source: Refinitiv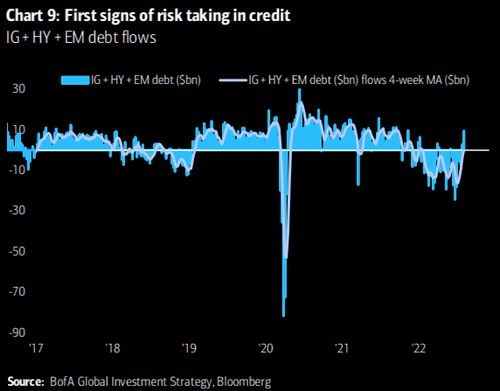 Source: BofA
MOVE not moving in sympathy with the latest VIX move
Bond volatility stays elevated while VIX continues lower. Let's see how things play out, but our "waiting for the volatility puke" scenario is soon getting "triggered".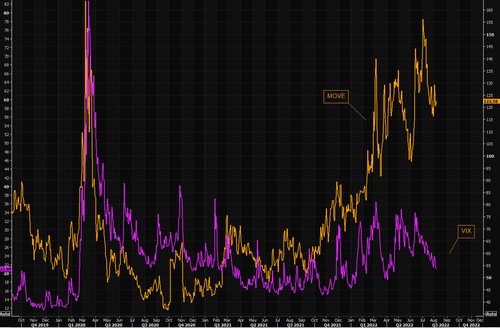 Source: Refinitiv
But we all know the delta is what matters...
Markets rolled over when the "delta" of Fed's BS rolled over. The question is, what is the market discounting from here? The bounce so far can still be classified as a bear market bounce, but it sure has been a violent one, frustrating a lot of people. Does the NASDAQ roll over again, or is something bigger in the making (to the upside)? We are still waiting for the volatility puke and an overshoot in equities....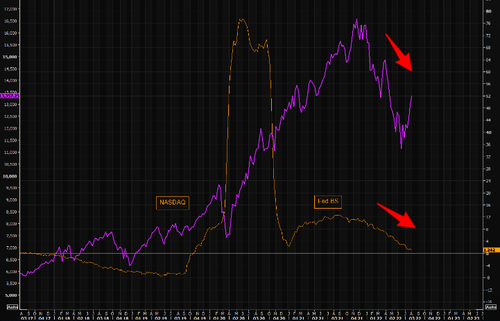 Source: Refinitiv
Ever time for bitcoin?
Bitcoin continues to trade as one of the most boring global assets. It remains stuck in the consolidation it started in June. 24k remains the short term resistance to watch. Note it has managed putting in higher lows, but if this is to (ever) squeeze, we need to close above 24k soon. The long term negative trend line is currently "way" higher and the 100 day comes in at 26k. Second chart shows the BTC vs NASDAQ gap.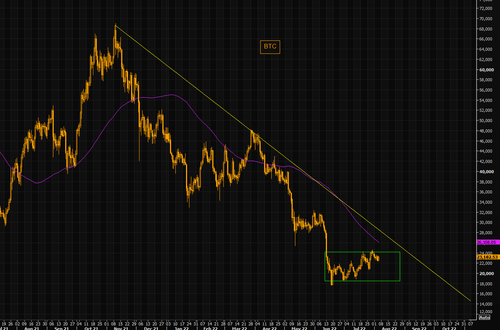 Source: Refinitiv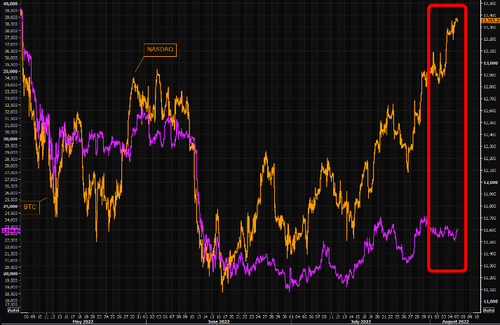 Source: Refinitiv
Bitcoin flowzzzz
Depressing low volatility, now accompanied with depressingly low flows. A close above the big 24k level could change this, but will that happen?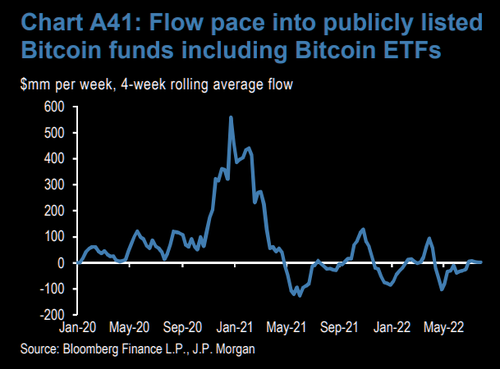 Source: JPM
Dreaming about the mean reversion in inflation
Looks like you have to be very creative with maths in order to see the big inflation drop...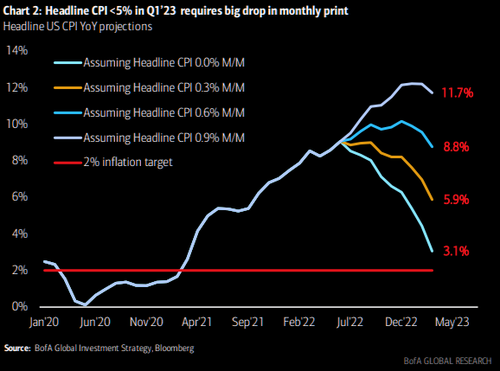 Source: BofA
Oil and the bear
Oil is down over 30% from the high print in early March, but most are still very bullish black gold. Citi asks a relevant question: "(When) Will Oil Bulls Start Revising Forecasts Down?" There has basically been no US gasoline driving season and the inv bank reminds us that "...the US consumes ~35% of global gasoline". As we have been pointing out for a few months, open interest is very poor in oil, another huge problem for all the oil bulls. Citi ends with asking: "Which is more likely, a robust hurricane season, seeing prices skyrocketing? A return of Iranian barrels? Or a recession, with oil in the $60s by year-end/early 2023?"
Chart shows Brent and the longer term trend line. Must hold, or...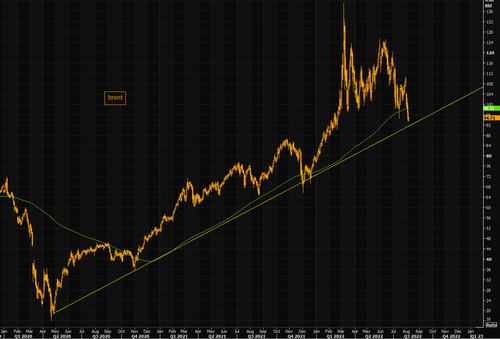 Source: Refinitiv
2008 déjà vu still in place?
That nagging feeling is still with us, although we are "actively" waiting for the volatility puke in order to explore long volatility set ups. SPX futs now vs 2008 in % terms.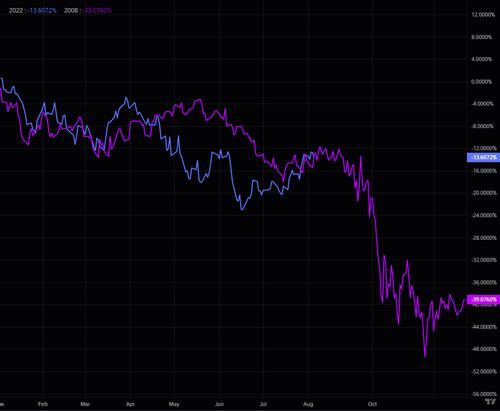 Source: Refinitiv