This page has been archived and commenting is disabled.
An Illustrated Fat Finger In Healthcare Stocks Causes Avalanche Of Broken Trades And Pain For Anyone With A Sub 30% Limit
Submitted by Tyler Durden on 05/03/2011 16:33 -0400
Yesterday we reported that the NYSE was seeking to break a bunch of trades in healthcare related stocks, after an unprecedented surge sent Pfizer up to $90 and Eli Lilly over $60, Abbot Labs to $280, and JNJ to $100. Today, via MarketWatch we learn that this was not a now traditional HFT freak out, but apparently a "brokerage" fat finger. Why a brokerage would be executing in size at 6 pm Eastern, when the market to the best of our knowledge is beyond illiquid, is beyond us. From MarketWatch: "The sharp spikes in dozens of health-care stocks late Monday — trades eventually cancelled by two exchanges — were caused by a brokerage's bad order on a basket of health-care stocks, said Nasdaq OMX exchange spokesman Frank De Maria. The exchange was not releasing the name of the brokerage, De Maria said by phone Tuesday. Late Monday, Nasdaq said it was cancelling trades in 26 healthcare stocks, and exchange operator Direct Edge decided to cancel trades on 52 stocks that traded more than 30% from their previous print and were executed between 4:57 p.m. and 5:05 p.m. Eastern. Cancelled trades included those of Boston Scientific Corp. , Medtronic Inc. , Aetna Inc. , Bristol-Myers Squibb and Baxter International." That said, if you were short into this flash smash with a stop loss that is 10%, 20% or even 29.99% away from the NBBO, you are fresh out of luck. And let that be a lesson to you: if you carry over a short from one day to the next, and have a sub 30% stop loss limit, you will likely see at least a 30% loss.
And here, courtesy of Nanex is what happened in excruciating detail:
PFE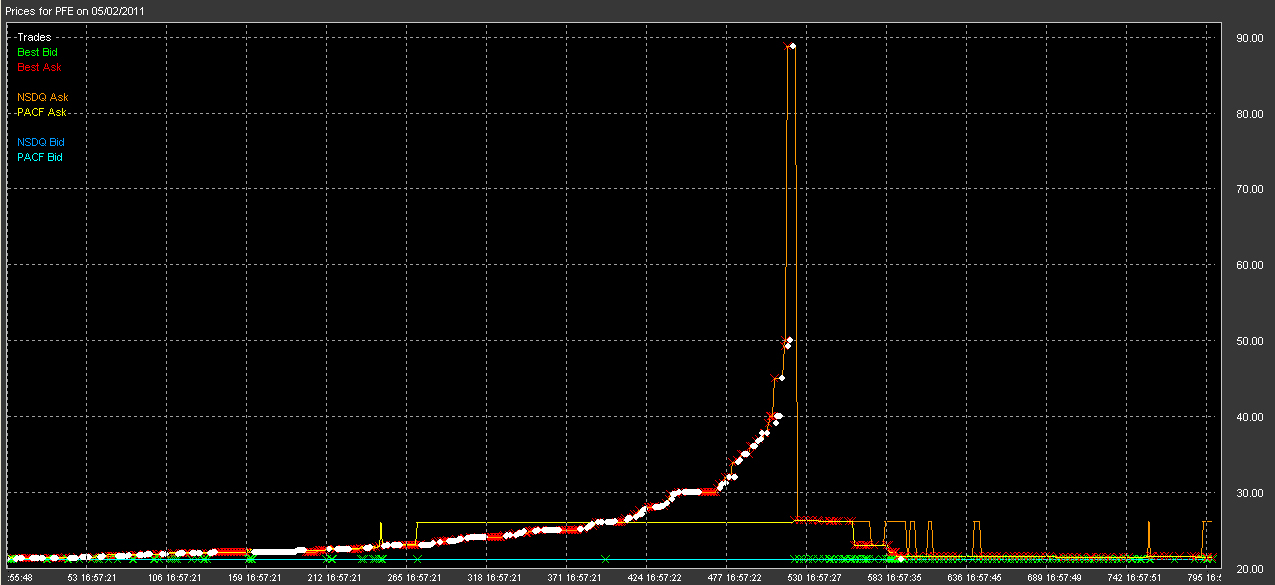 LLY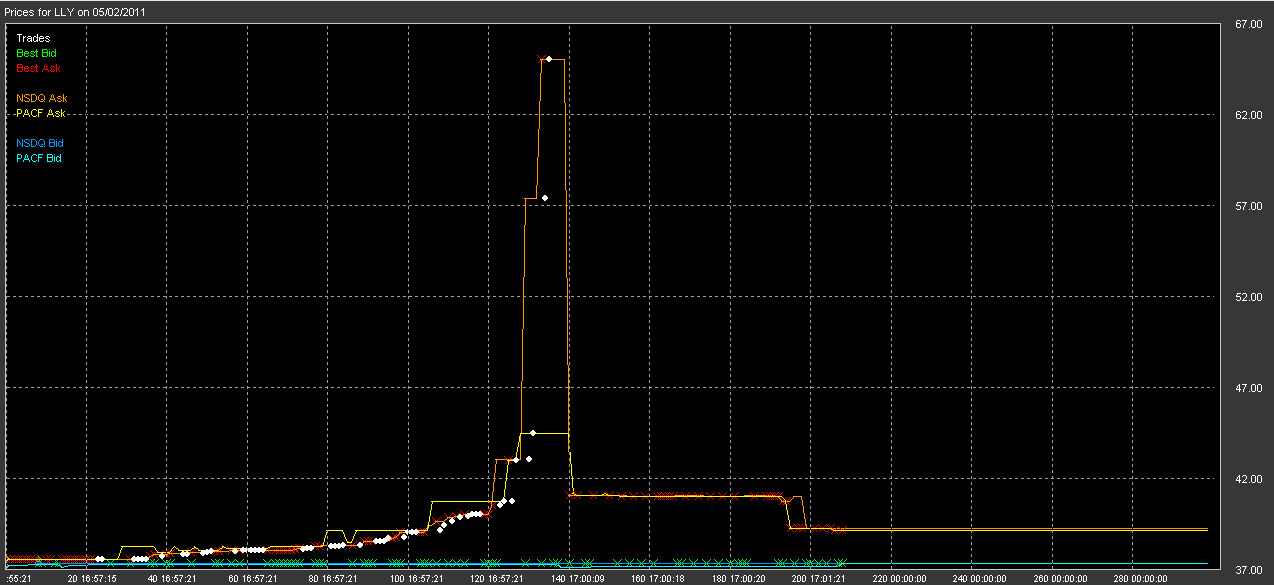 JNJ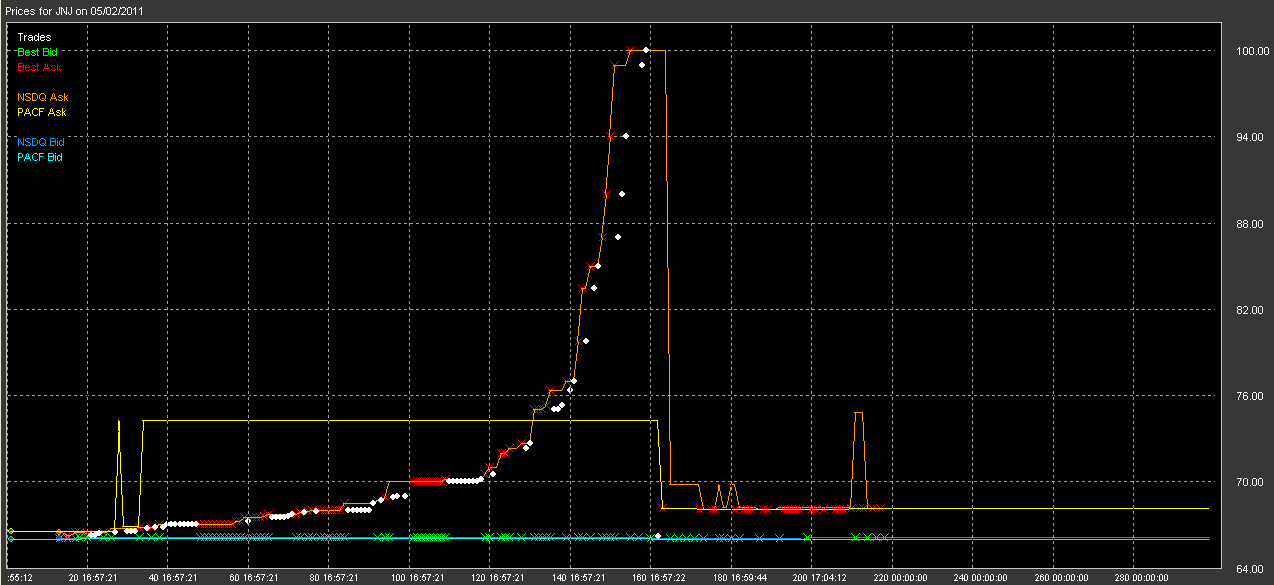 BMY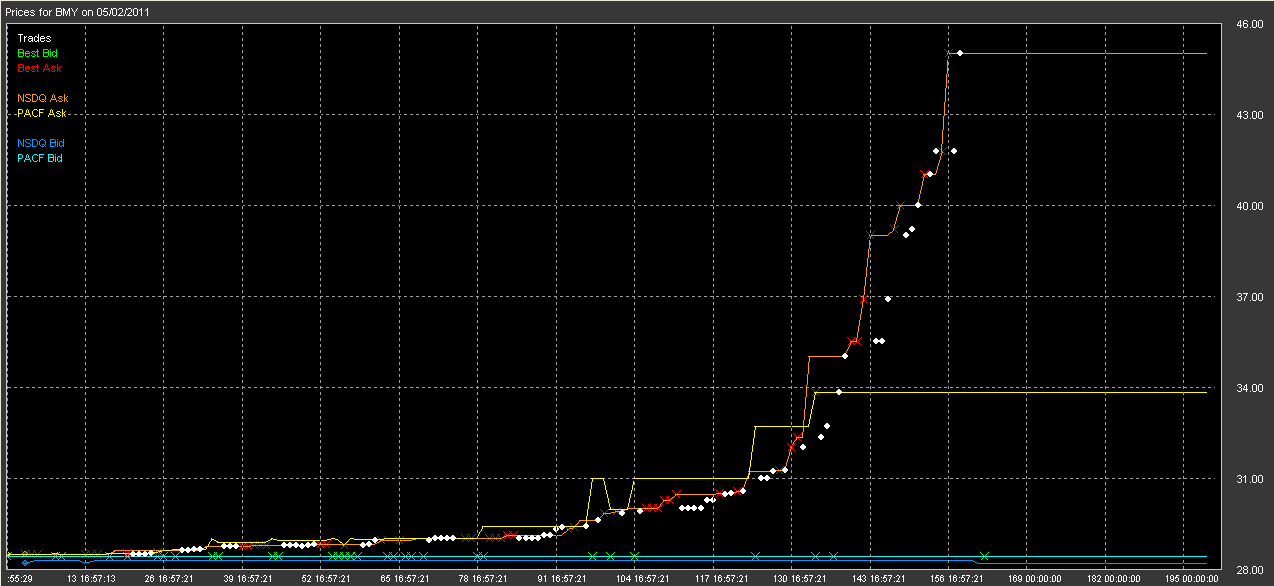 BMY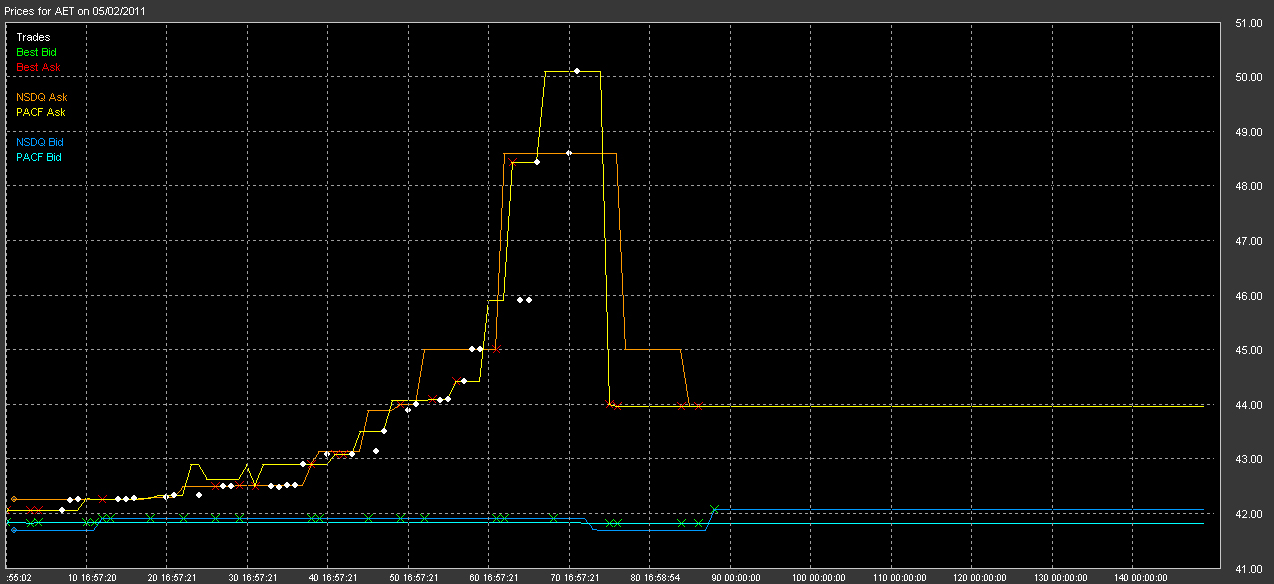 ABT