Submitted by Dr. Housing Bubble
Owning with no equity is just renting with no mobility. 11 million mortgage holders underwater backed by $2.9 trillion in mortgage debt. In California, close to 20 percent of mortgage holders underwater by 25 percent or more.
I think the concept of owning a home is undergoing a radical paradigm shift.  Owning conveys a sense that you actually have tangible equity in a property.  This has always been the connotation of ownership in our society.  In the past it did mean something because of decent down payment requirements that built in an equity buffer when people bought.  Even when I attend conferences and events when someone tells me that they purchased a home in the last few years, most of the group automatically assumes that the person somehow has an automatic buffer of equity in the home.  Unless you live under a rock, we all know that over the past decade most of the popular loans required very little to nothing down.  This is a radical shift to the home buying structure.  Yet psychology is a very powerful thing when it comes to home buying and the mythology of the American Dream which is inextricably linked up to owning a home (for better or worse).  Yet is it factual to call it ownership if you have no equity?  What about millions that now face having a mortgage that is underwater?  Today I'm going to examine new housing data provided by the Census and look at the current status of underwater mortgage holders.
Owning with no equity is renting with no mobility
First we should take a look at the entire housing situation in America:

Source:  Census, CoreLogic
The number of mortgage holders in the U.S. fell on a year over year basis.  This isn't good news because we also see the number of those with no mortgage and owning a home falling (this number fell by 195,000).  The number of homes with a mortgage fell by 867,000.  What happened?  What occurred is the massive number of foreclosures.  A large number of the questionable mortgages are falling into distress and people are still losing their homes.  The trend is still moving along like a bullet train.  It does take years for the mentality of people to change their entrenched views on a strongly held belief.  After all, how can you claim to be a homeowner and actually have no equity in your property?  The recent numbers are startling for many reasons.
If we combine underwater homeowners with renters, we will find that in the U.S. we have virtually the same number of homeowners with equity as we do with renters combined with negative equity mortgage holders.  This is a giant shift in thinking here since the generally accepted idea is that in the U.S. we are a large home owning nation when in fact, we are largely a debt owning nation.  If we look at the actual nominal value of mortgage debt, the amount of mortgage debt underwater is $2.9 trillion: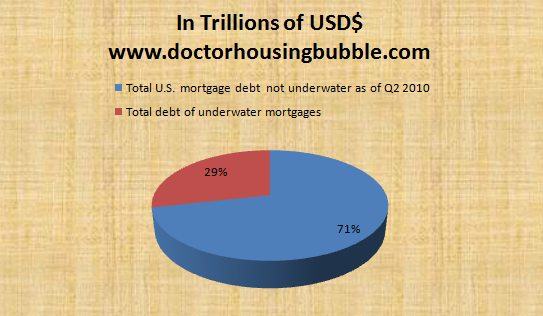 Source:  Federal Reserve
29 percent of all mortgage debt ($2.9 trillion) is underwater.  This is incredible given that the number of underwater mortgages amounts to 22 percent of all mortgages which tells us that there are some big loans skewing the figure here.  In fact, we can see this when the numbers are broken down further: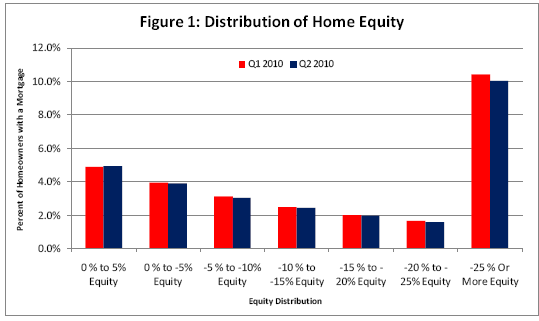 Source:  CoreLogic
Of the 11 million mortgages underwater, 10 percent (1.1 million) are underwater by 25 percent or more!  These loans are setup for foreclosures.  No market is going to recover 25 percent in the near future.  So what will happen to these 1.1 million active underwater mortgages?  As you can see from the chart above, you also have many in the -5, -10, and -20 percent equity ranges as well.  In other words, these people basically rent their home with no mobility.  If they want to move, they would actually have to bring money to the table.  And given the massive number of toxic mortgages in the market, the worst of the worst underwater mortgages are in states that Wall Street lovingly dubs "sand states" or Nevada, Arizona, California, and Florida: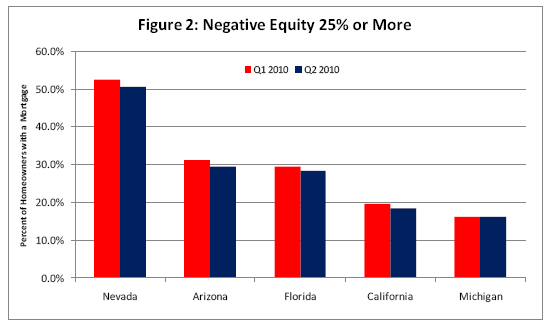 The above chart should give you a good understanding of why some states will have much tougher housing markets moving forward.  It is incredible that 50 percent of all underwater mortgages in Nevada are underwater by at least 25 percent.  In California that number is closer to 25 percent.  But run the numbers:
California housing data

California underwater mortgages:                                                            1,724,774

California underwater mortgages -25% equity or more:                               344,954
We can almost guarantee that those 344,000 mortgages will default in the next year or two.  The 1.7 million mortgages are also in this risky pool.  So in many respects this large group here has it worse off than a renter.  What if a new job opportunity came up in a different location?  Or out of state?  Their mobility is completely constrained.  Being underwater by 25 percent or more in California will likely mean they are underwater by tens of thousands (or even hundreds of thousands) of dollars.  Since many bought with no or low money down mortgages, it is likely that they do not have the funds to make this deal happen even if they wanted to.
The sand states also have the biggest problems moving forward: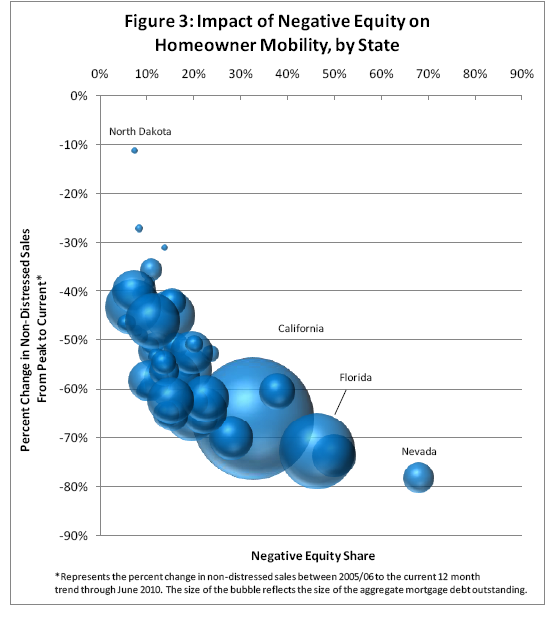 Nevada is so bad it is literally by itself far to the right.  But California by sheer size has the largest nominal amount of these mortgages.  In California just by statistics you can say that every one out of three people that tell you they are a homeowner is likely underwater.  And every one out of five of those people is underwater by at least 25 percent.  We look at certain examples even in more select cities and we realize that this is happening all over the place.  And what if home prices fall as we expect in the next year?  Then more people will find that they are now in the position of renting their home from the bank and not having any equity.  Isn't that renting in a nutshell?  Plus, what metrics are they using to claim homes being underwater?  They are being too generous in many areas that still are largely in bubbles.
And keep in mind in many of these higher priced areas renting is much cheaper than buying even with multi-decade low interest rates.  You also have to ask why do we as a nation so heavily subsidize home buying.  For many Americans, the tax breaks from owning a home are minimal because of already built in standard dedications (plus the fact that they live in more moderately priced areas – the median home price in the U.S. is roughly $179,000).  Yet someone in California who purchases gets an overwhelmingly high subsidy to buy (forget about the extremely wealthy that have giant advantages in terms writing off interest and other deductions).
I am happy to say that many more people are becoming more comfortable with the notion of renting and will only buy if it makes sense.  You will always have people especially here in California that will view a broke homeowner in a better status than a wealthy renter.  Just like I'm sure many of you know folks who lease BMWs and live in tiny apartments.  That you can't change.  But you also can't change the fact that owning with no equity is basically renting with no freedom to move without forking money over to the bank.  Hard to think of something more American than freedom.