Just out from Reuters:
OSLO EXPLOSION BLOWS OUT MOST WINDOWS OF GOVERNMENT BUILDING HOUSING PRIME MINISTER'S OFFICE-REUTERS WITNESS
Several people injured in explosion at Norwegian Government building in central Oslo

More from Reuters:
A huge explosion damaged government buildings in central Oslo on Friday including Prime Minister Jens Stoltenberg's office, injuring several people, a Reuters witness said.

The blast blew out most windows on the 17-storey building housing Stoltenberg's office, as well as nearby ministries including the oil ministry, which was on fire.

Reuters correspondent Walter Gibbs said he counted at least eight injured people. The cause of the blast was unknown but the tangled wreckage of a car was outside one building. Police and fire officials declined comment on the cause.
Update from Sky News:
Norwegian police have said that an explosion in Oslo this afternoon was a bomb which has caused "deaths and injuries".

Police said there were "one or several powerful explosions in the government building in Oslo."

They have told people in the Norwegian capital to stay away from the city centre and limit the use of mobile phones.

The building housed the offices of the Prime Minister, who was not thought to have been in his office at the time, and was reported to be safe.

The explosion was also thought to be near Norway's biggest tabloid newspaper.

Wreckage with bombed out buildings and paramedics

Norwegian police have reported there were 'deaths and injuries'

Journalist Asgeir Ueland said that Oslo is a popular destination for people from other parts of Norway.

He said the streets were crowded: "It happened when people were packing up for the weekend and leaving their offices.

"There were lots of people with blood on their faces and severe cuts."

Craig Barnes is in Oslo and said that he is shocked at what has happened.

"It is a very nice, safe place to live.

"Norwegians are very friendly and I think everyone gets on.

"I think this is going to change a lot of views now. There will be questions regarding safety."

Nearby offices in the Norwegian capital have been evacuated.

Large amounts of glass and metal have been seen in the street
Images: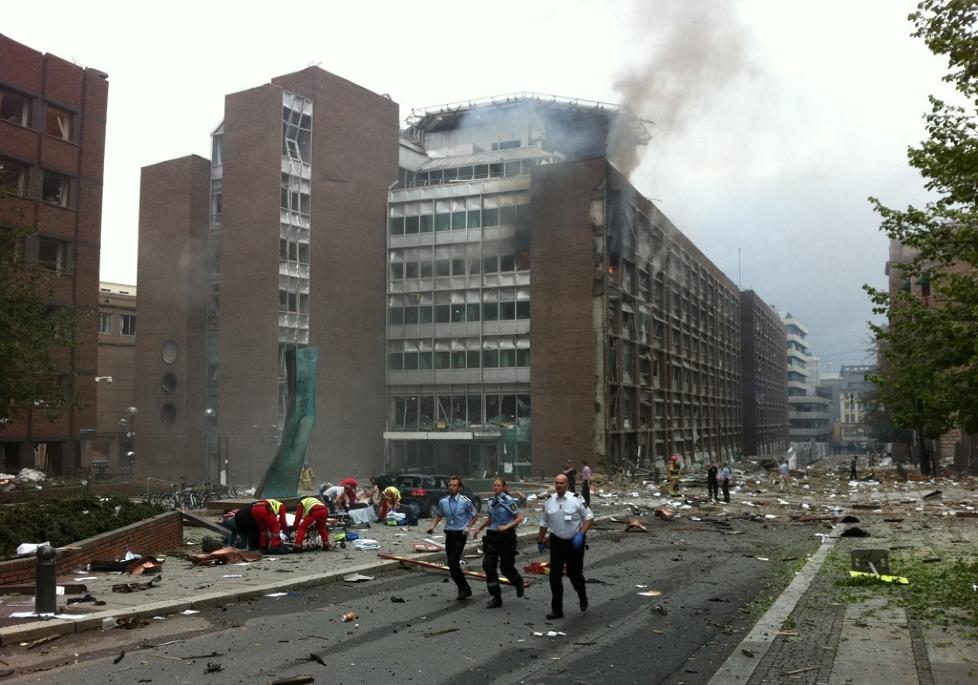 From Norway's Aften Posten (google translated)
There has been a major explosion in downtown Oslo. Windows are broken in VG-built and government officials in Oslo.

All we know is that there is a kind of explosion. We are on the way out there, are the short and hasty message Aftenposten.no get the police in Oslo for the call just after half past four.
Several injured
Both windows in the government quarter and VG building is blown out, according to Aftenposten reports on site. She looks more damaged.
A huge røyksy rose several hundred feet in the air. Large parts of Oslo heard a huge explosion which led to Darren Hayes literally shook when the explosion happened at five at half four in the afternoon.
Entire facades blow out
Our reporter passed Market Street and there is full chaos people running around bewildered. Several places are a fire alarm-
You can smell the sulfur fumes.
Shop denim gallery has received the entire façade blew
The case updated
---
As a reminder, as BBC reported a year ago, three people were arrested in a "bomb plot"
Norway 'al-Qaeda' bomb plot: Three arrested in Oslo

Three people have been arrested in Norway on suspicion of preparing terrorist attacks.
Unnamed Norwegian and US officials told the Associated Press that the men were members of al-Qaeda and had been under surveillance for a year.
They said it was not clear whether the men had selected a target, but they were attempting to make peroxide bombs.
The BBC's security correspondent says Norway may have been targeted because it has troops in Afghanistan.
"The Norwegian Police Security Service (PST) has today, July 8, 2010, arrested three people suspected of preparing acts of terror," the PST said in a statement on its website.
Prosecutors say the Norwegian case is linked to foiled bomb plots in New York and the English city of Manchester.
Twin plots
On Wednesday, US prosecutors charged five men in New York over a plot to bomb the underground system. The plot was foiled in September.
The New York plot also involved peroxide bombs, prosecutors said. One man, Najibullah Zazi, has already pleaded guilty.
"The charges reveal that the plot... was directed by senior al-Qaeda leadership in Pakistan," the US Department of Justice said in a statement.
One of those charged in New York is Abid Naseer, 24, born in Pakistan and arrested in the north-east of England on Wednesday. The US is now seeking his extradition.
Mr Naseer was remanded in custody by a court in the UK on Wednesday night.
The former construction site worker is suspected of being the ringleader of a plot, thwarted in April 2009, to bomb targets in Manchester city centre
A bid to put him on trial in Britain was aborted last year and his deportation was blocked when a judge said Mr Naseer could face torture in Pakistan