There they go again!  No sooner had we finished praising the Wall Street Journal for their blunt assessment of the coming train wreck in municipal bonds than they do a hit-job on gold.    The article, which appeared in Thursday's editions, would seem to have exhausted the inventory of clichés employed by establishmentarians these days to put the knock on the yellow stuff. Here's their short list:
Worries that China will "slam the brakes on its economy"
Improving U.S. stats that diminish gold's safe-haven status
A too-strong rally in 2010 that has made "some" fund managers skeptical
Stepped-up redemptions in SPDR Gold Shares
A hike in margin requirements by the CME
Markets that are "increasingly betting" against new Fed stimulus
And if all that weren't enough, the authors of this piece, Carolyn Cui and Liam Poleven, trotted out Dennis Gartman, the Darth Vader of the precious-metals world, to spout the kind of vague hyperbole that could sound even dumber a few months down the road, as so many of Gartman's bearish pronouncements on bullion have over the years.  "Everywhere you went," said Gartman, "everyone you knew was aggressive long [sic]. That's a bad sign because it means everybody has already bought."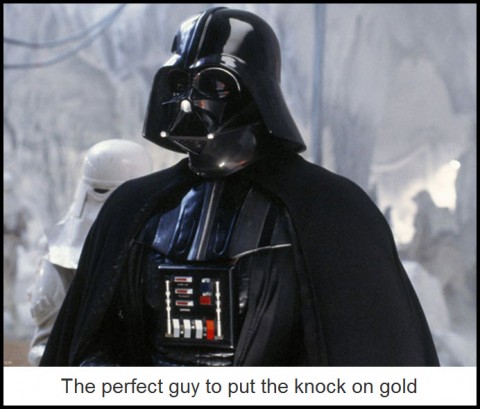 We might ask, have you bought gold yet?  How about your relatives? Friends? Neighbors? That's what we thought.  It's not exactly as ubiquitous as beer in the 'fridge, is it? You can write Gartman c/o Kitco, to set the record straight. As for the bullet points listed above, even taken together they have about as much heft as a bullish economic forecast from the Fed chairman. For starters, although China's slamming on the brakes could conceivably send the global economy into a fatal tailspin, that would only put more pressure on the Fed to monetize Treasury debt. Concerning the alleged improvement in the U.S. economy, it looks like little more than a blip in manufacturing to us – one that is vastly overshadowed by a gathering budget crisis at all levels of government.  As for gold's "too-strong," 30% rally in 2010, mightn't it prove to be just a warm-up for a push to heights that would actually begin to discount the intrinsic worthlessness of the world's currencies? And how about those stepped-up SPDR redemptions?  In fact, they've amounted to just 29.3 metric tons so far this year – too small an amount to even interest such sovereign buyers as China, India, Russia, Brazil and Saudi Arabia.  As for the hike in futures margins, it's just a banana peel tossed out by the regulators to give their friends, the bullion bankers, more time to cover.  Finally, there are those bets against new Fed stimulus.  That is one wager we'll be eager to fade.
From a technical standpoint, we do see more downside to this shakeout – to at least 1322.20, basis the Comex February futures.  That's $24.30 below Thursday's settlement price, and if it is reached, gold will have corrected a whopping six percent from December's record highs. Frankly, because we like to see symmetry in our charts, we'd be more comfortable with a correction of 15% that matches the one that occurred at the beginning of last year. That would bring the price of gold down to about $1217. Whatever happens, and regardless of whether it is inflation or deflation that is perceived as the bigger threat, we would be inclined to view the selloff as merely corrective rather than the beginning of a long-term bear market.
Signup here to get my newsletter each day.