By Dian L. Chu, Economic Forecasts & Opinions

Despite repeated warnings going back several years from Moody's, S&P et al that the U.S. could lose its top credit rating with ongoing fiscal deficits and heavy debts, the platinum-plated AAA rating of the United States seems all untouchable.

The top notch rating certainly has helped with continuing debt financing and bolstered the confidence of some government officials. Secretary Geithner, for example, said in a February interview that the U.S. government "will never" lose its credit rating, despite big budget deficits and a newly raised debt ceiling of $14.3 trillion.

Along came a Beijing-based rating agency--Dagong International Credit Rating Co. (????????????.)  Its first order of business is to downgrade sovereign debt ratings on some major Western nations, while slamming its Western counterparts.
"The reason for the global financial crisis and debt crisis in Europe is that the current international credit rating system does not correctly reveal the debtor's repayment ability."
Dubbed as the world's first "non-Western" sovereign credit rating agency, in its debut international report, Dagone (means Big Justice in Chinese) downshifted the US to AA with a negative outlook, while UK and France were given AA-; Belgium, Spain, Italy with A-.

It also rates debt risk of the US above China, and listed the US as one of the countries with exposure to increasing borrowing costs and default risks.

In June, the total US debt topped $13 trillion for the first time in history. The International Monetary Fund (IMF) projected that the U.S. deficit will stand at 64% of GDP this year, rising to just over 96% by 2020.

Concerned that high unemployment may force a double dip recession, the IMF--just last week--urged the United States to rein in its budget deficit.

Some see Dagong's report as mere political propaganda by Beijing to counter the repeated pressure by the U.S. on its yuan policy. Nevertheless, the national debt by country chart (below) should say that Dagong's assessment is not entirely baseless, regardless of any possible hidden agenda.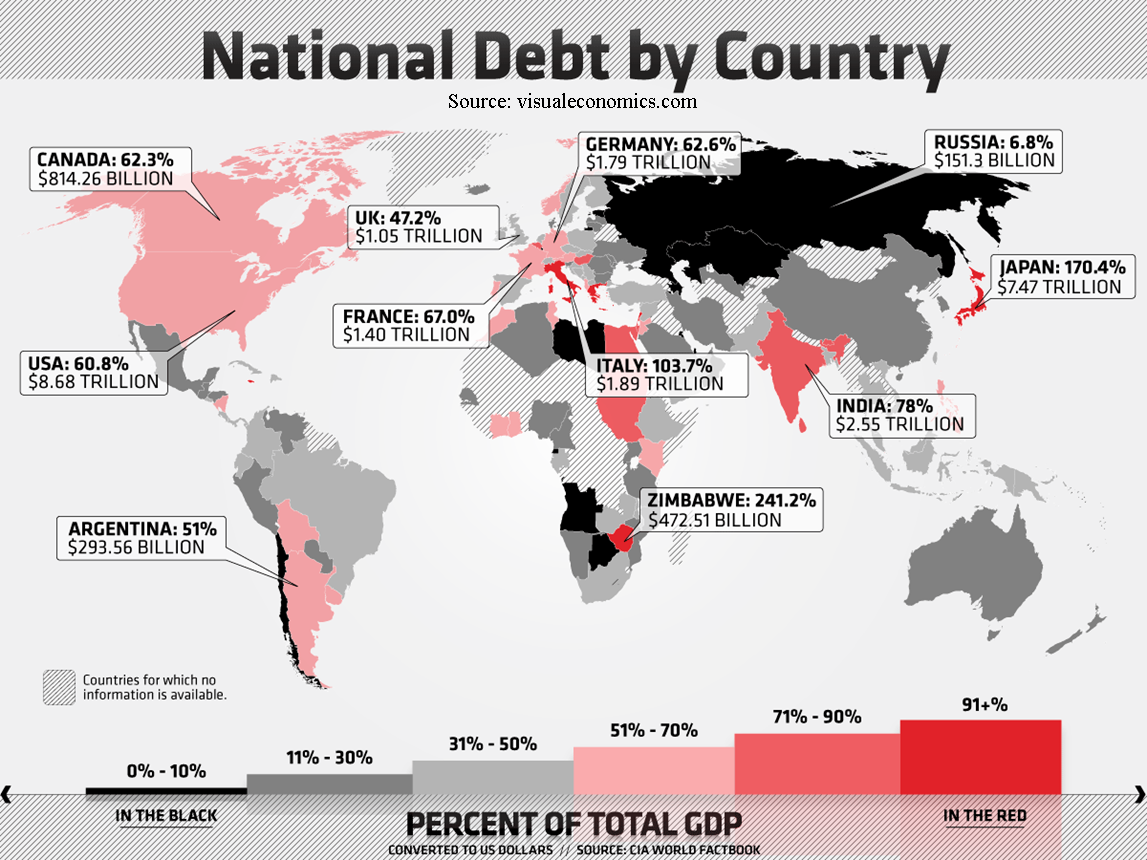 Meanwhile, the flock to the U.S. treasury in recent months due to the European debt crisis--temporary in nature—is by no means a testament to America's credit worthiness.
This downgrade, although might not carry much weight and influence on the bond market, does give a sobering glimpse into the unthinkable……, well, at least to Geithner.
"Perceptions of a large U.S. borrowing capacity are misleading." ~ Alan Greenspan