---
Americans Hosting Super Bowl Parties Breathe A Sigh Of Relief After Chicken Wing, Avocado Prices Drop
Tens of millions of Americans are preparing to host Super Bowl LVII parties on Feb. 12. Unlike last Super Bowl, food inflation for chicken wings and guacamole has subsided -- a relief for football fans hosting parties.
A new report from Wells Fargo's Agri-Food Institute shows chicken wing prices have fallen 22% since last January. Last year, around this time, Americans were irritated by expensive wings, priced as much as $3.38 per pound. Now prices are around $2.65 per pound as supply remains plentiful. 
Besides chicken wings, guacamole is the second most popular food at a Super Bowl party. And there's more good news because the price of avocados has slid 20% versus a year ago. In Mexico, prices for a 20-pound box of avocados have plunged 67% since peaking at $51.25 in May 2022.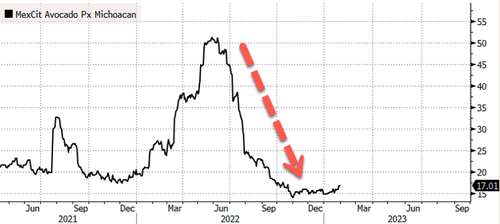 Data from National Retail Foundation (NRF) and Prosper Insights and Analytics expect 192.9 million Americans will tune in to the big game. Of that, 103.5 million are planning to attend or host a Super Bowl party. 
With nine days left (as of Friday) until the game ... just how long until President Biden's 70-person social media team touts all these cost savings on Twitter? Remember, they did a few years ago for the Fourth of July -- when the consumer saved a few cents. 
As for beverages, the Wells Fargo report noted beer prices increased 11%, and soda jumped 25% versus last year. The latest Bureau of Labor Statistics data shows food inflation is around 11.8% versus last year and 8.3% for food outside the home. 
For those planning to host a party, don't wait until the last minute, as surging demand before the game might entice retailers to increase prices. 
Loading...