---
Arctic Blast Puts Texas' Power Grid At Risk
U.S. natural gas futures have risen for the seventh day on prospects of another winter storm and colder weather for the U.S. There are emerging concerns Texas' power grid could be tested again amid a cold snap. 
Futures for March delivery were up at 4.5%, or about .21 cents to $4.87/MMBtu (as of Monday morning). Prices have advanced for the seventh consecutive day, retracing 61.8% of the down move from early October high to the low in late December. The squeeze in natgas comes as weather models have recently shifted to colder outlooks.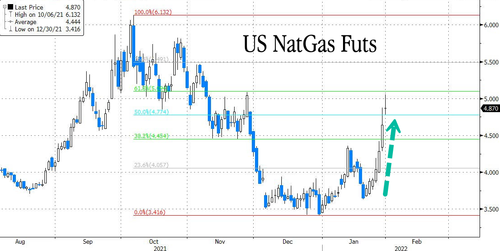 Average temperatures across the U.S. have been hovering below a 30-year mean for the second half of January are expected to remain below normal through the first half of February.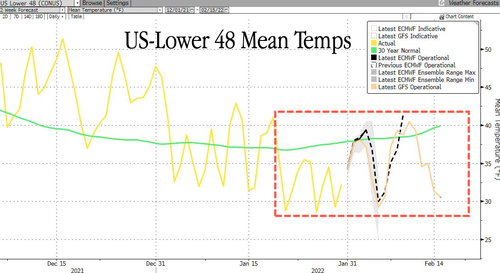 Cold weather for the U.S. has boosted heating demand, as shown in heating degree days well above a 30-year average. 
Shifting our attention to the south, average temperatures are expected to dive below freezing in Texas this week. In the Permian Basin, the largest shale-producing region in the U.S., temperatures will plunge to 15 degrees Fahrenheit on Wednesday. The cold snap will spread across the eastern half of Texas, with temperatures diving well below 32 degrees in Dallas, San Antonio, and Houston this week.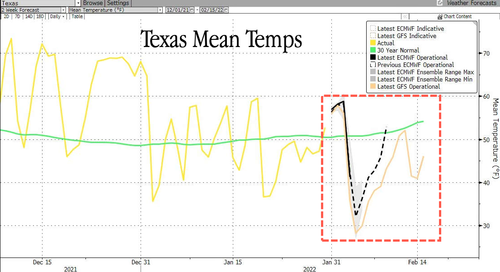 "There is going to be a pretty solid push of Arctic air into the southern high plains," said Rich Otto, a forecaster at the U.S. Weather Prediction Center.
The problem we see is the primary grid operator for Texas, the Electric Reliability Council of Texas (ERCOT), could run into trouble as bitterly cold weather may disrupt natgas to power plants.  
BloombergNEF data based on pipeline flows show there have already been two instances where pipeline flows dipped due to cold weather this month. 
Gas wells are particularly susceptible to freeze-off, though Otto said this week's cold spell wouldn't be as severe as the one in February 2021 that nearly collapsed the state's entire power grid.