---
Atmospheric River Strikes California
On Tuesday, Bloomberg points out that multiple weather systems are traversing the country with high accumulating snow probabilities from the Southwest to the Northeast.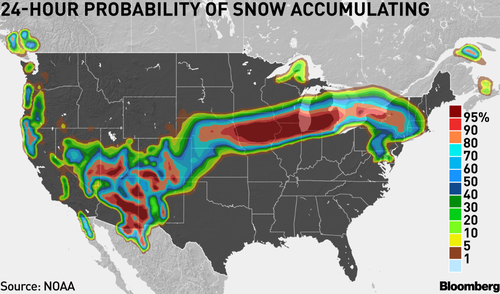 Today's top weather events (courtesy of Bloomberg): 
California ordered evacuations in some parts as a drenching storm known as an atmospheric river is poised to dump rain and snow, potentially setting off mudslides in a state that's still recuperating from its worst-ever fire season.

Atmospheric rivers can unleash about the same amount of water that flows out of the Mississippi River's mouth. They cost an average of $1.1 billion in damages annually.

Wind gusts and 17-foot waves are further snarling port traffic in Los Angeles.

The Midwest is being pummeled by snow and areas of the Southwest, including Arizona and Utah, are in for more than a foot through tonight. The Northeast may get a sprinkling.
* * * 
A narrow corridor of highly concentrated moisture in the atmosphere, otherwise known as an atmospheric river (AR), is set to strike California by mid-week, leaving lower elevations with torrential rainfall and higher elevations in the Sierra Nevada, with feet of snow.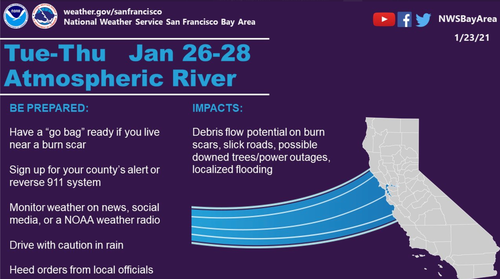 AR will approach the Golden State by midweek. The long plume of moisture in the atmosphere stretches from the Pacific Ocean subtropic will dump much-needed rain and increase the snowpack to combat an ongoing drought in the state.
Atmospheric river set up looks more probable Wednesday - Friday as moisture values 200-400% above normal stall over Southern and Central California. With vulnerable and fire scarred landscape, threat for flooding and landslides and mountains of mountain snow! #CAwx pic.twitter.com/4FYUbi4tL8

— Jeff Berardelli (@WeatherProf) January 23, 2021
The Weather Channel reports the heaviest rain this week will be observed in Northern and Central California that will start late Tuesday and continue through Thursday. Other locations, including the Bay Area southward to Big Sur and parts of San Luis Obispo and Santa Barbara counties, could see more than 3 inches of rain. 
By late week, the system will shift southward toward Los Angeles and San Diego.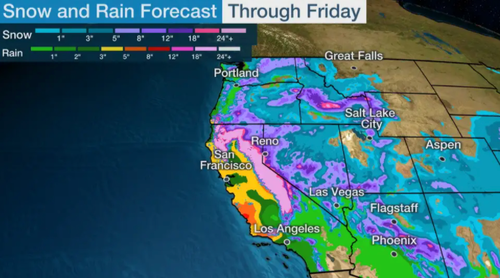 The National Weather Service (NWS) has issued flash flood watches from the northern Bay Area southward to Monterey.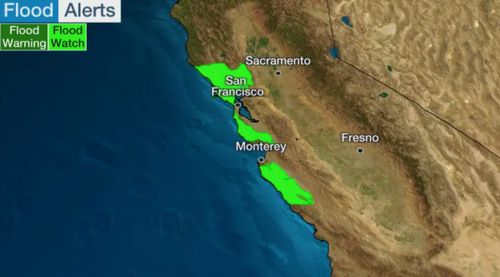 NWS has also issued high wind watches from the Sacramento Valley to the Bay Area southward to around Monterey.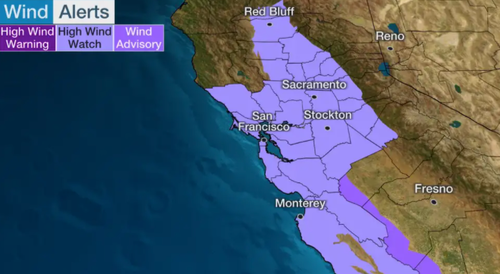 In elevations above 4,500 feet, especially in the northern Sierra, this region could see accumulating snowfall of 7 feet this week.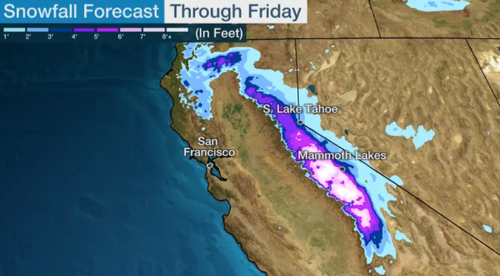 In about a week, California goes from one of the driest six-month stretches (as we noted last week) in state history to one that could potentially be very wet and snowy depending on elevations.