---
Brazil's First Corn Shipment To China Indicates Shifting Trade Flows Could Endanger US Dominance
Brazil, the world's second-largest corn exporter, sent its first vessel carrying corn to China this month. Global trade flows are shifting away from the US, the largest exporter of corn, as China reduces its reliance on the Midwestern US farm belt. 
Commodity traders have tracked the Star Iris, the bulk carrier hauling 68,000 metric tons of grain for Chinese trader Cofco Corp., which left Brazil late last month and just arrived in Singapore.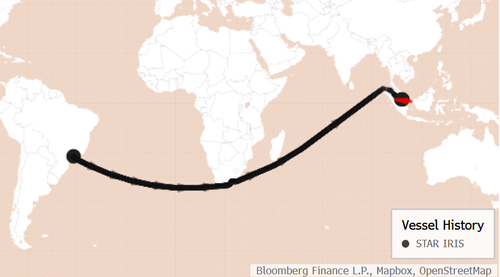 Bloomberg said Beijing decided to purchase Brazilian grains in May to "reduce dependence on the US and replace supplies from Ukraine cut off by the Russian invasion." 
Reuters recently quoted Brazil's National Association of Grain Exporters as saying Brazilian corn exports could surge next year because of China. 
There's still a while until Brazil threatens the US dominance of the China ag market. More than 20 bulk carriers with US corn are currently en route to China. Still, Brazil's first corn shipment to China might indicate global trade flows are shifting. 
Loading...