---
Oil Jumps After Russia Says It Will Cut 500,000 Barrels Of Oil Output
Crude prices jumped this morning after a top Russian official said it would reduce oil production by 500,000 barrel-a-day, or about 5% of output, next month, in retaliation against western sanctions, Reuters reported.  Deputy Prime Minister Alexander Novak said in a statement on Friday that Russia believes the mechanism of Western price caps on Russian crude and crude oil products is a destructive energy policy:
"As of today, we are fully selling the entire volume of oil produced, however, as stated earlier, we will not sell oil to those who directly or indirectly adhere to the principles of the 'price cap.'" 

"In this regard, Russia will voluntarily reduce production by 500,000 barrels per day in March. This will contribute to the restoration of market relations." 
The Kremlin has frequently mentioned crude output reductions since the EU floated the idea of Russian crude oil price caps last year. The tit-for-tat move creates renewed volatility in oil markets. 
Brent crude rose as much as 2.3% early Friday morning on the announcement.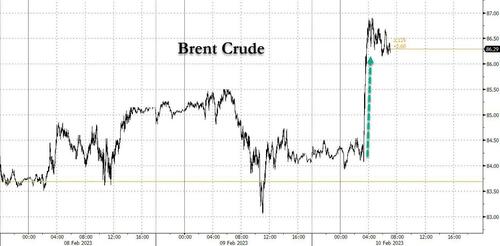 Russia's move adds to the 2 million barrel-a-day supply cuts announced by the Organization of the Petroleum Exporting Countries (OPEC) and its oil-exporting allies (OPEC+) in October. Earlier this month, OPEC+ Joint Ministerial Monitoring Committee made no recommendation to change the group's current production policy. 
This means the global oil market will likely tighten in the second half of this year, supported by a China recovery. 
"We see the oil market coming into balance in 2Q and turning tight in 3Q and 4Q, supporting higher prices later this year," Morgan Stanley analysts told clients last month. They also said risks to Russian supply, a decline in US shale production, an end to SPR releases, China's re-opening, and recovery in jet travel would support higher prices. 
In response to Russia's announced cuts, the OPEC+ group led by Saudi Arabia signaled there would be no need to boost output. Interfax reported that ahead of today's announcement, Russia discussed its oil output reduction plan with some OPEC members. 
Though some reports say, Russia didn't discuss the voluntary cut with OPEC members. 
Russia did not consult with Opec-Plus on the 500k voluntary cut. However this does not mean that Russia is seeking to leave the group, far from it. #OOTT #Opec

— Amena Bakr (@Amena__Bakr) February 10, 2023
Giovanni Staunovo, an analyst at UBS Group AG, pointed out that no oil producer can fill the Russian supply gap. And it's only a matter of time before the Biden Administration panics, although any further releases from the SPR are now unlikely. OPEC nations and partners don't appreciate the G7's price cap on Russian oil. These sanctions will likely backfire with higher crude prices. 
Amusingly the oil price spike comes just hours after Goldman, one of the biggest commodity bulls, said it was cutting its oil price forecast: As Goldman's Callum Bruce wrote, "we are nudging down our Brent price path by $5/bbl. This adjustment reflects a modest softening to our 2023 balance, with the bulk of the revision due to a lower path for long-dated prices. Introducing monthly forecasts, we now expect Brent to rise gradually to $100/bbl by December, where we expect it to stay in 2024." (full note available to pro subs).
A new record: oil spikes 5 hours after Goldman cuts its price target pic.twitter.com/6JYAHePzT6

— zerohedge (@zerohedge) February 10, 2023
Loading...